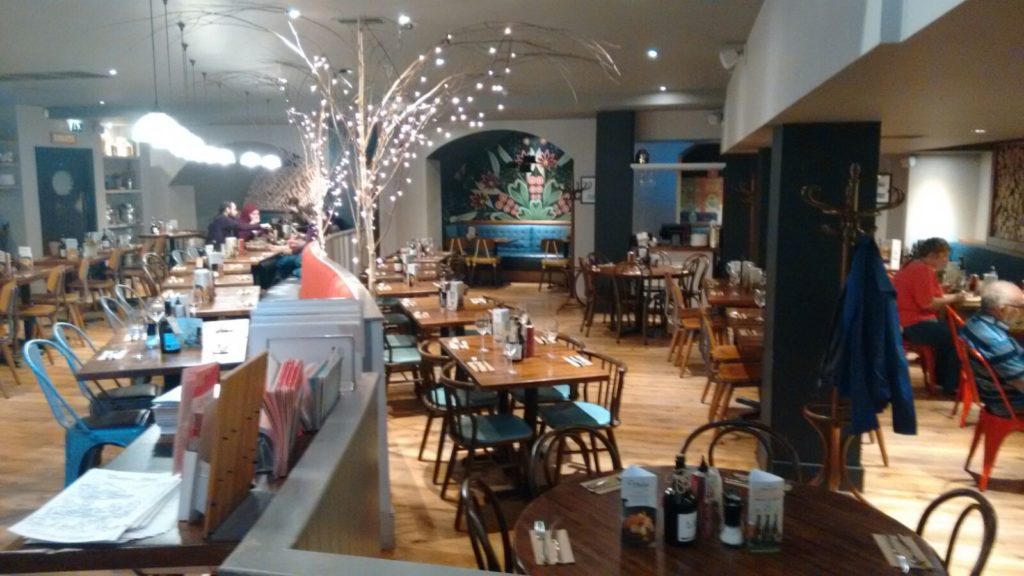 I was looking for a decent place to meet a friend on a Saturday – a lovely friend who, though not vegan, is totally on board with eating at vegan restaurants with me.
She told me to choose the venue.
My criteria were location (I couldn't be bothered travelling that far on a Saturday, and it needed to be easy for us both to get to), and price. I remembered it was my turn to treat us to a meal and I wanted amazing food at a good price.
I remembered a friend had emailed me a £10 Zizzi voucher, and I'd heard that Zizzi now have a separate vegan menu.
They also had a branch in London's Victoria, which was a perfect location for us.
Done, done and DONE!
I was quite optimistic about what the experience would be like. I'd visited Zizzi about 10 years previously and had a super-yummy pizza with tomato sauce and a few veggies on top (no cheese) that they'd had no problem sorting out for me.
Once at the restaurant I asked for the vegan menu which was brought to me immediately – it definitely seemed like they were used to people asking for it. I say that because I've been in other restaurants where you ask to see the vegan menu and they look at you like 'oh jeez, I have to remember where I put that thing?'
The vegan menu was of course much more diminutive in size than the carnist one – but there was a small selection of dishes that, if each dish was good, would constitute a fair selection.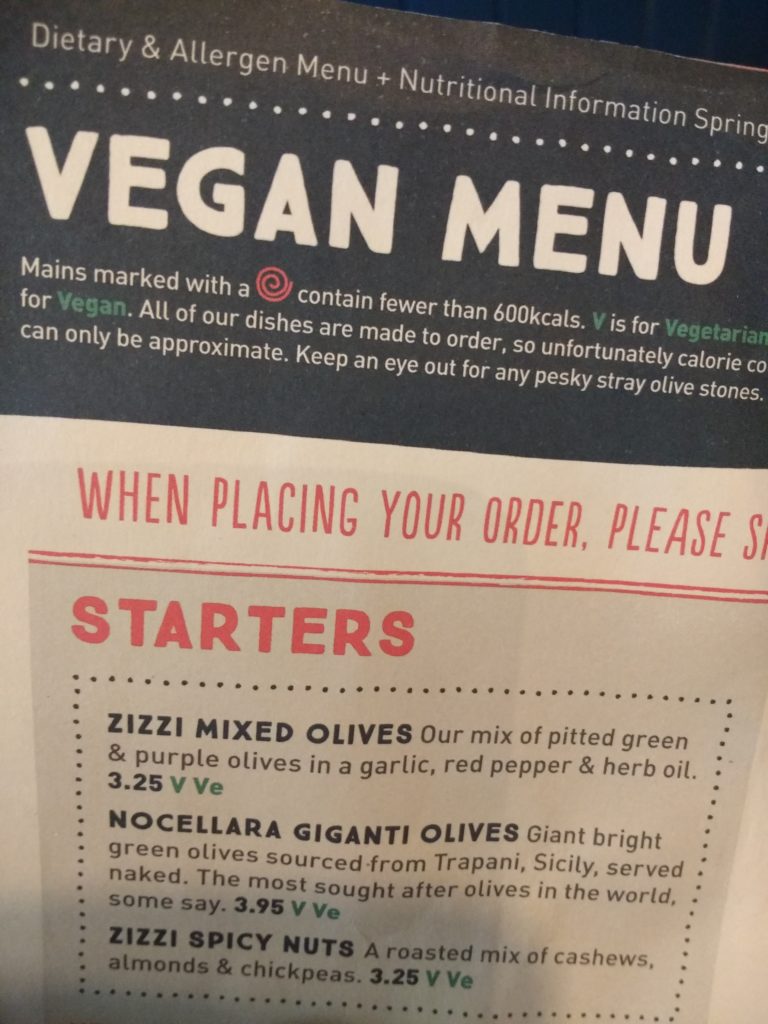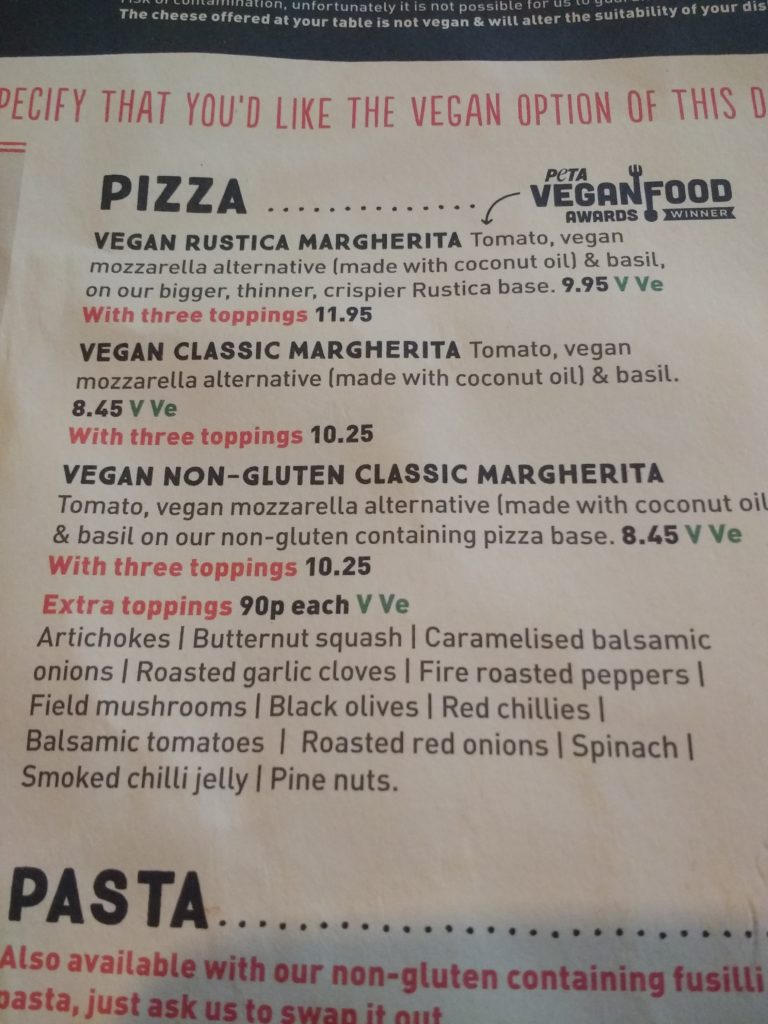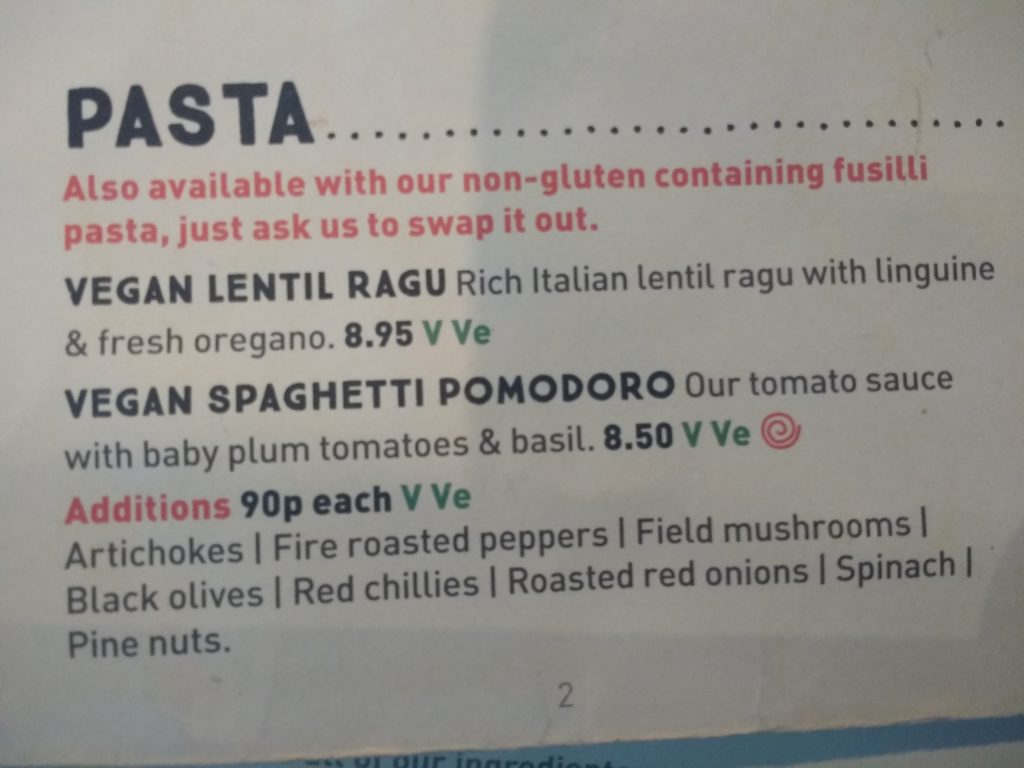 There was a margherita pizza where you can add your own topping; a couple of great-looking pasta dishes; salads; bruschetta; and several nibbles and sides that were exactly the same as on the carnist menu.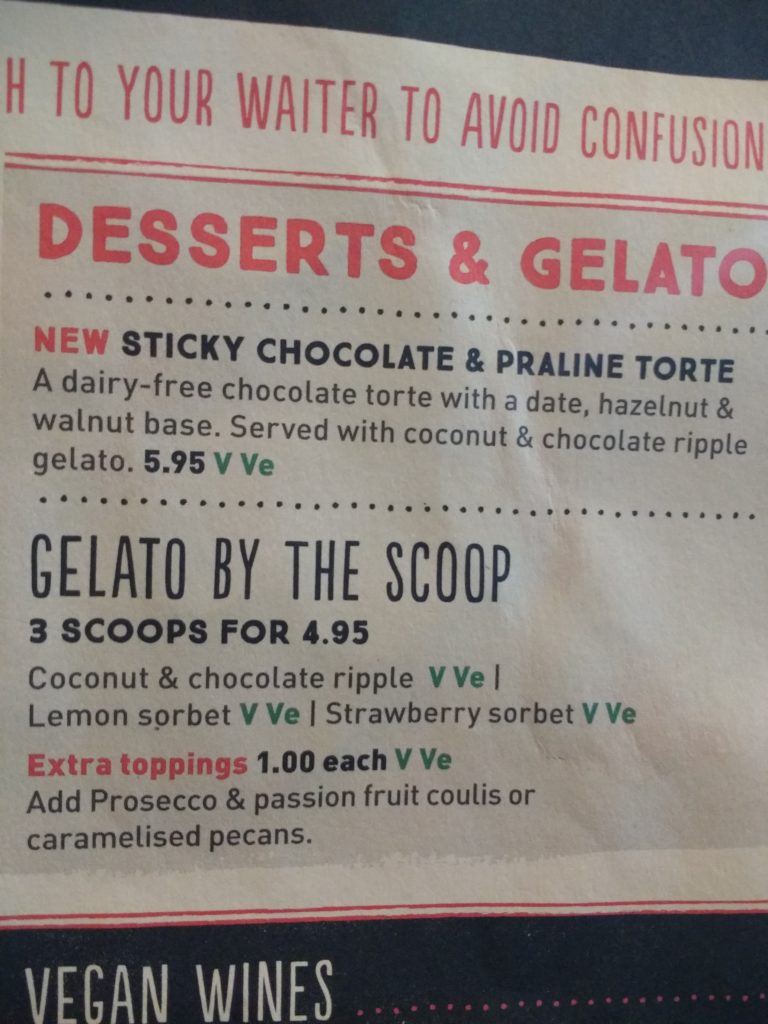 The main dessert option – sticky chocolate praline torte with coconut and chocolate swirl gelato called my name loud and clear, and I kinda couldn't wait to get to it!
It's not many places that do vegan pizza with ACTUAL vegan cheese in the UK as of yet, so I wasn't gonna hesitate in ordering pizza.
Normally a basic margherita wouldn't hold enough interest for me (I like a TON of shit on my shit!), but you could add three toppings for the same price, so I plumped for artichokes, field mushrooms and red chillies.
I also chose the gluten-free crust (made of rice-flour) as I try and avoid white wheat flour. If you want to know why, read this post.
While waiting for the pizza I ordered some green tea, and was thrilled to find out they serve Teapigs super quality fancy muslin teabag tea! Not being a millionaire, I can't afford to buy boxes of Teapigs tea in the supermarket, so it's great that I can sample it at places like this.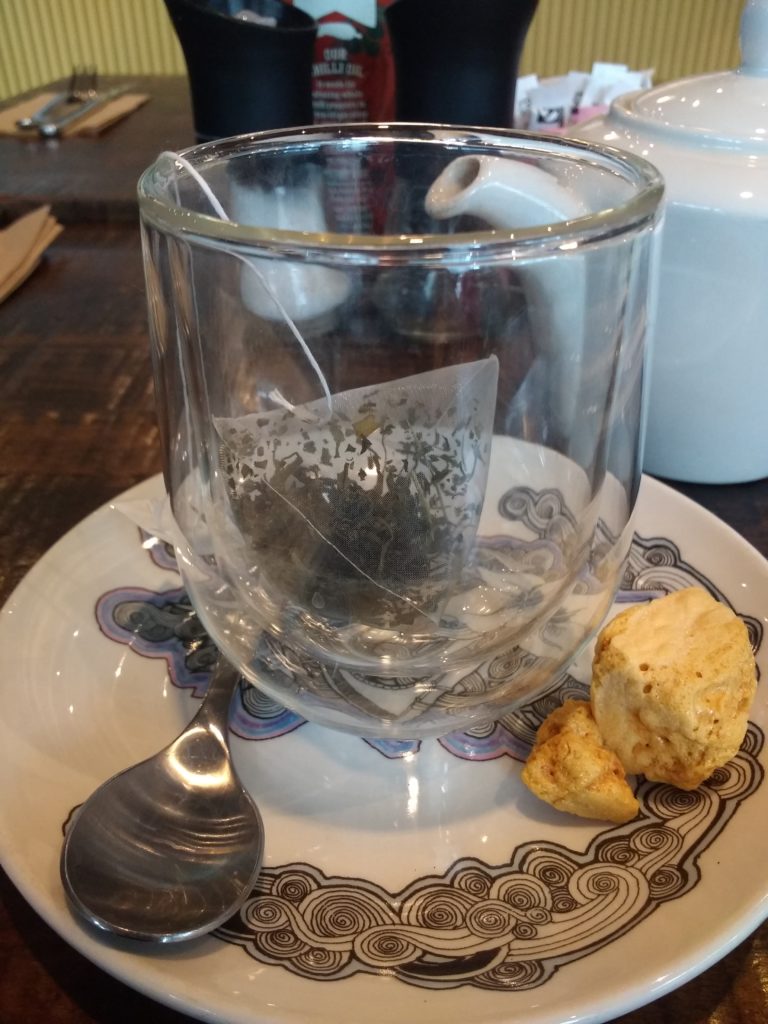 It was served in a glass (I LOVE tea served in a glass!), on a very artsy saucer, with a block of honeycomb (not ACTUAL honeycomb, but the stuff that we Brits call 'honeycomb' but which is actually caramelised sugar).
Everything boded well for the food…
The pizza came, and while a nice size, I was struck by the thin-ness of the crust. To be fair, I think it was described as thin on the menu, and I'm probably comparing it to American pizzas – which are the only other vegan pizzas I've experienced.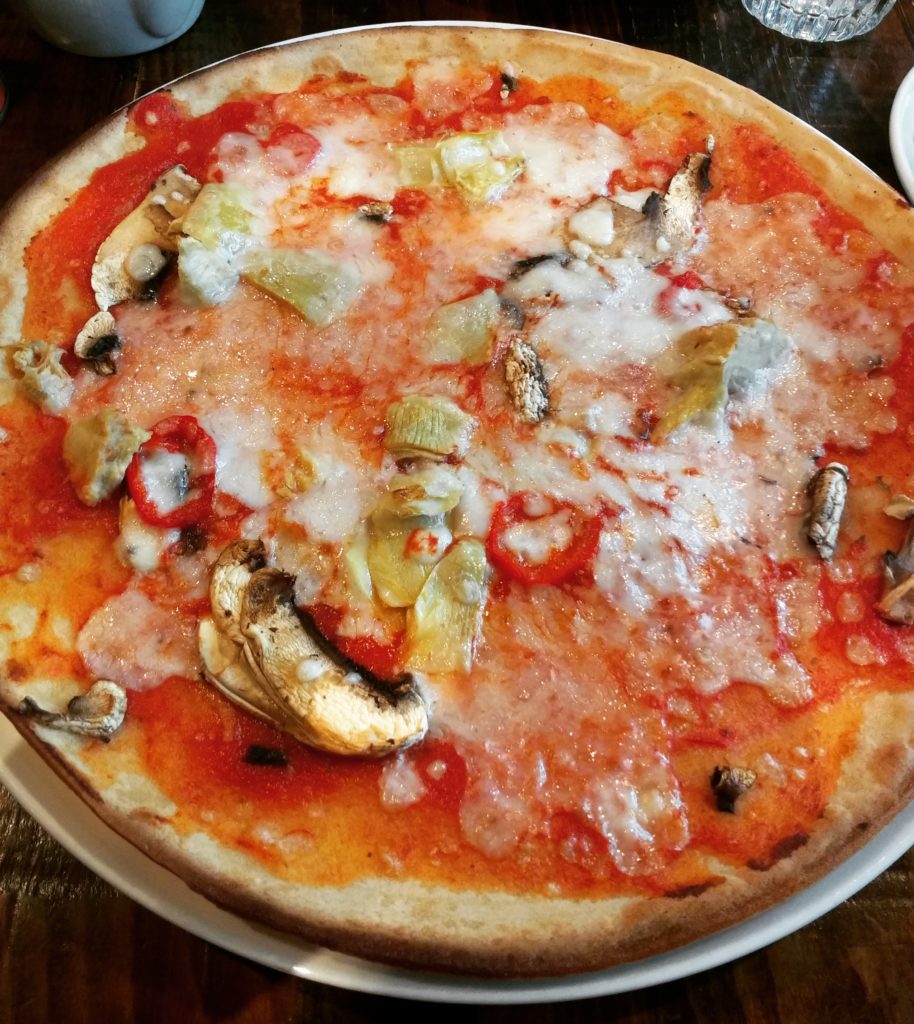 It looked fine, but not super-pretty. I can't help but be blunt here – visually the melted cheese had a jizzy appearance, like someone had just serviced themself over the pizza (if that needed explaining!) I've noticed that lots of the UK vegan cheeses have that kind of an appearance when melted. As opposed to the amazing Daiya cheese in the US, which when melted, looks, like…well….melted cheese. We clearly still have a way to go on the visual side of things!
I could have done with slightly more of each topping too. Though I can accept that this might be me being Greedy Gertie.
Now I've had a moan – I'll tell you what it tasted like.
It tasted pretty great. It was a perfectly fine pizza.
The cheese tasted a lot better than it looked! It tasted of cheese, not rubbery or weird – definitely cheesy. I think a non-vegan would tell it wasn't dairy cheese by the look of it, but perhaps not by the taste.
I gave some pizza to my non-vegan friend and she was surprised at how nice it was. I'm pretty sure the vegetable toppings were fresh as fresh, and the crust was not too hard – as crusts sometimes can be.
Even though I love my American pizzas, I'm pretty sure that this is a more authentic Italian experience.
I'm definitely coming back for this pizza, and I'm going to encourage my local vegan (and non-vegan) community to try it too.
Now for my favourite bit.
The dessert choices other than the above-mentioned chocolate praline torte were just your classic lemon or strawberry sorbets. But why in the name of all that's holy would you not go for the torte???
I wasn't ready for just how delicious the torte was.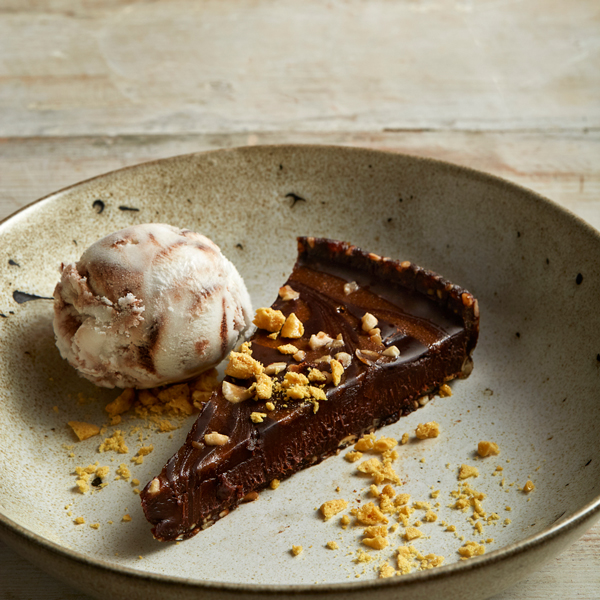 I was expecting a nice chocolatey, gooey vibe; but this was beyond Beyond.
You know when you involuntarily make a sex face while you're eating something extraordinarily delicious? Well, that happened.
The coconut and chocolate swirl gelato made for a perfect pairing, and more flakes of 'honeycomb' were sprinkled on top.
It was rich and creamy, not bitter and not too sweet.
I don't know what else to say about the torte except that when you eat it time stops and it becomes all about what is going on in your mouth. I can normally eat and yak and do fifty other things at once, but this torte demanded my absolute attention. It violently stole my attention in fact (um, in a good way!),  and I become a slave to the taste and texture sensations I was experiencing. Hehe – yes, I know I'll never be a food writer, but I don't know how else to explain it.
The portion size was spot on. When I'd finished – I was definitely done, but didn't feel like I'd eaten too much.
Another wonderful thing – I don't think this torte is particularly unhealthy either, since the base is made from dates, hazelnuts and walnuts. And we all know dark chocolate is good for you, so…
Without exaggeration, I've spent a large proportion of my time since that Saturday dreaming about the torte, trying to conjure up the taste and checking over and over again online to see which branch of Zizzi I could get to this weekend to grab some more (they do take away, so I knew this was possible).
The space was large and with all different types of seating, so you can sit in a cosy booth; on the banquette seating; or at the tables for two in the middle. And unlike lots of UK restaurants, the tables weren't too crowded together. It felt like there was enough space for everyone, even when it got busy.
Service was efficient and friendly, and the staff were all knowledgeable about the food.
To conclude: I highly recommend Zizzi for vegans. If my pizza and the standard of the food I tasted was anything to go by, then all the vegan dishes are totally solid.
It's a great lunch spot, but personally I'd even go there for a long dinner with friends or family. But possibly that's just me; I prefer hustly-bustly places full of a cross-section of the community rather than your swanky-wanky gaffes.
Hustly-bustly, swanky-wanky. Hee.
And when you go, for the love of Pete – get the torte!!