So last week, I gushed about how New York caters to all the vegans, not just the studenty, beatniky ones. I totally adore students and beatniks, but more diversity was needed, and New York delivered.
I also shared some food pics from the beginning of our wee break there.
If you missed that post? Click here.
This is SOME of what we ate for the rest of the vacation.
Cashew based ice-cream – check out the coconut whipped cream and hot fudge sauce on top!
And with chocolate sauce on top –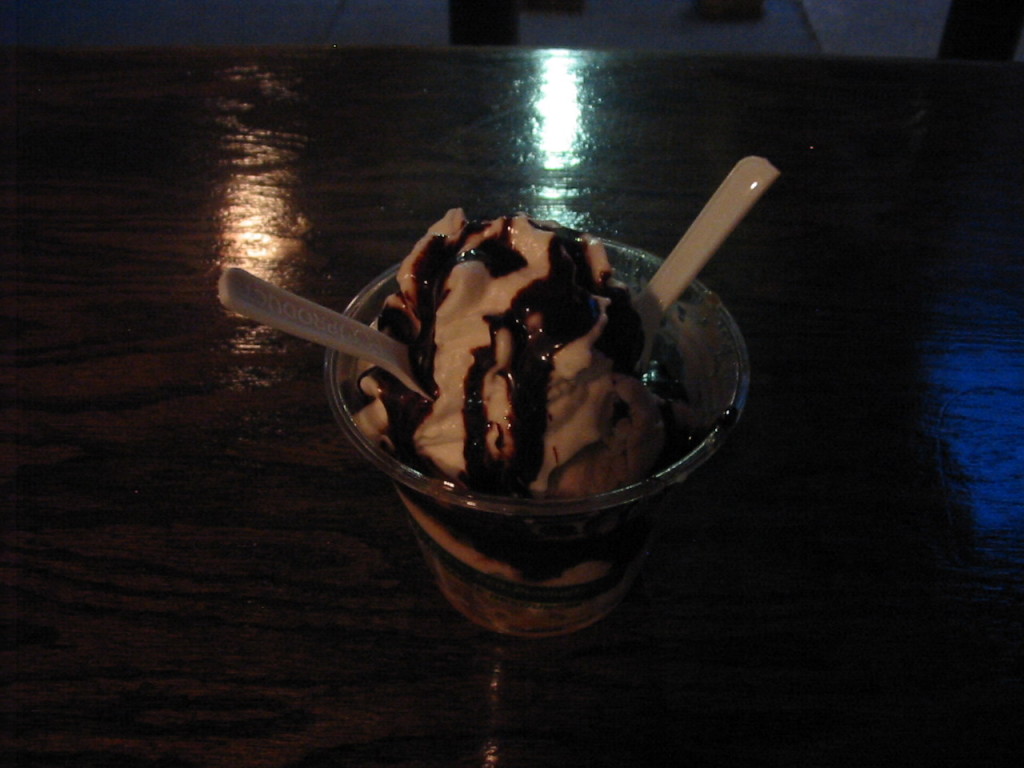 V-Note (part of the Blossom group)
South of the border salad: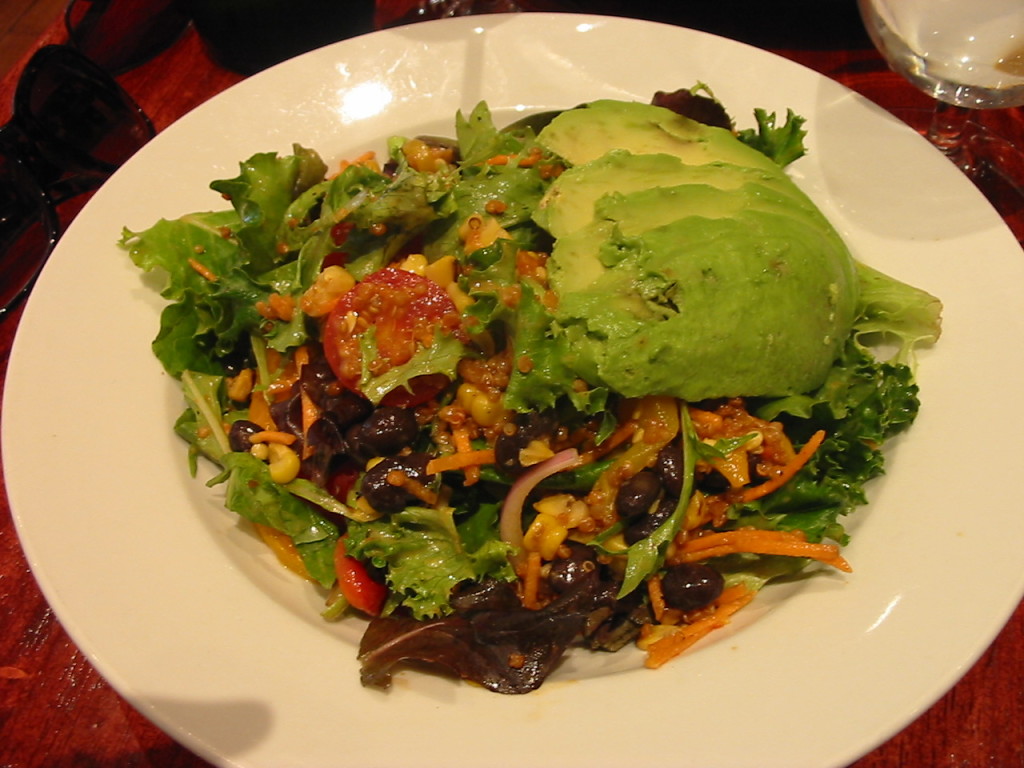 Mushroom scallops, tofu salmon, broccollini and forbidden rice in a white wine and mushroom reduction: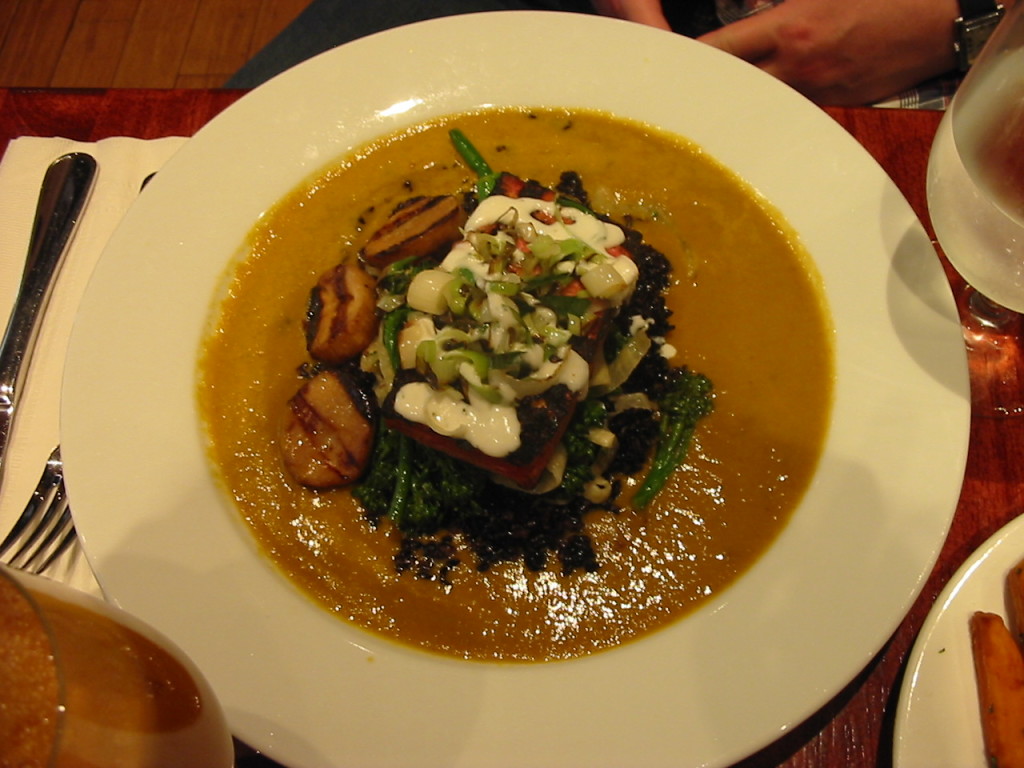 Hearty, but non-greasy, sweet potato fries: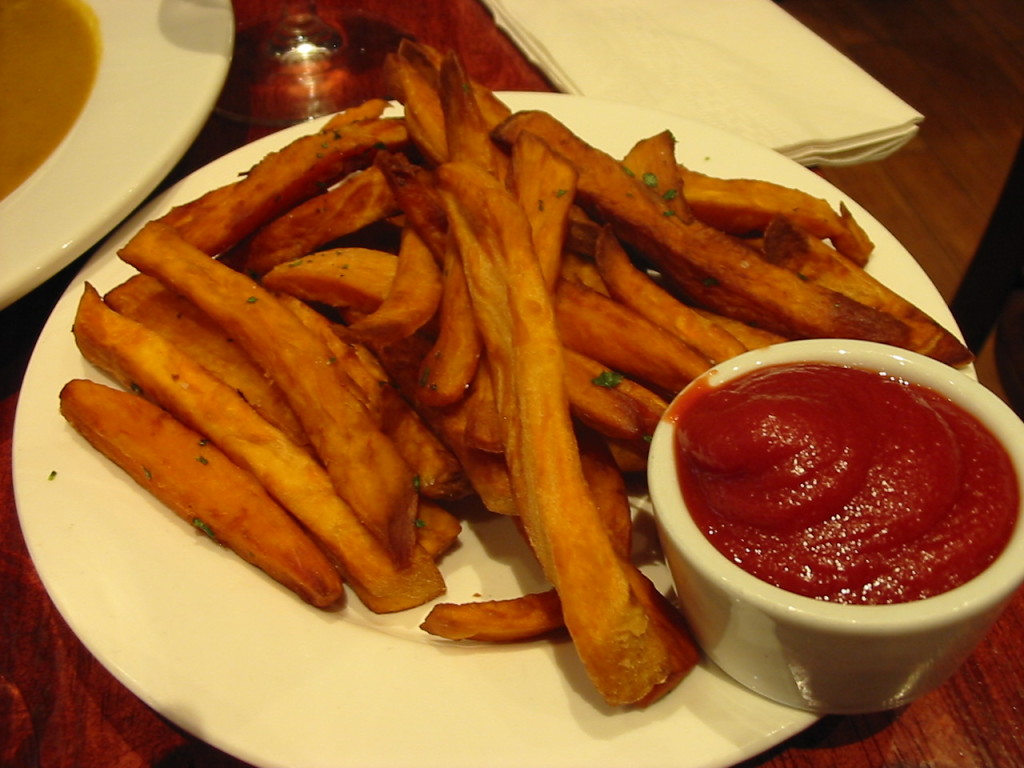 Blossom greens and cream of celeriac soup: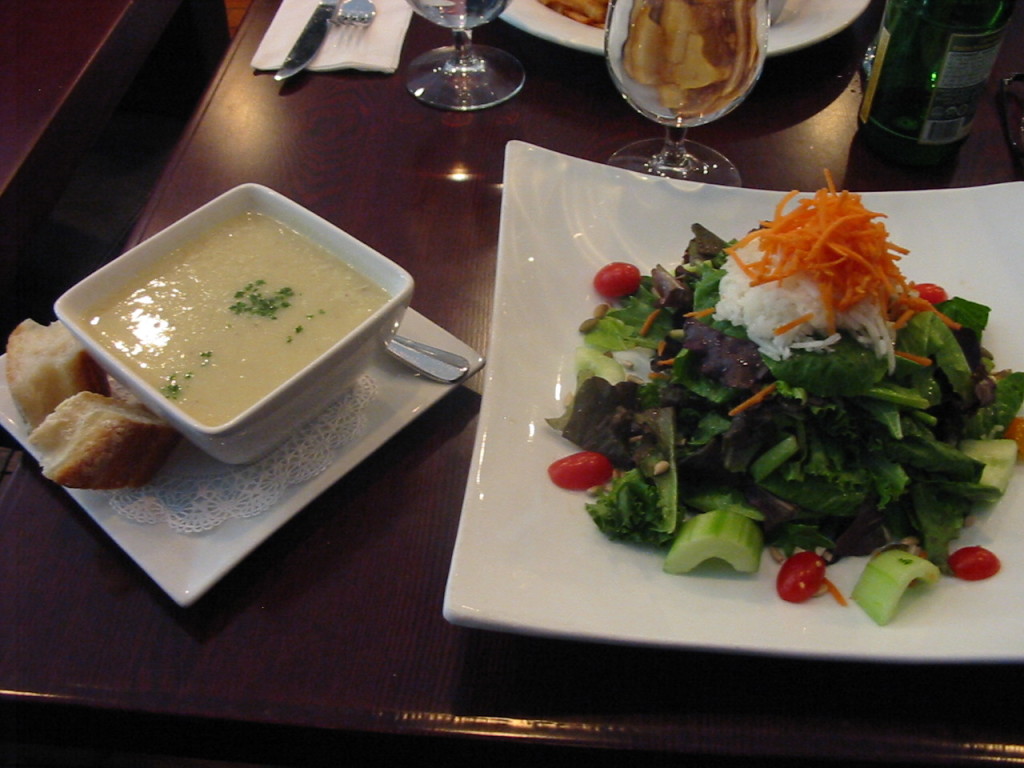 Part of my intention with these pics was to help quell the common misconception that vegans only eat salad. It was so hot while we were here however, that I ended up wanting to eat salad pretty often!
————————————————————————————————————————–
Aaaaannnnd, mah reKOmenDAYshiuns…
My overall recommendations for vegan dining in NYC are as follows. Though I've been four times, there are tonnes of plant-based restaurants I haven't yet visited, so this is based on my current experience:
Absolute Must Do's. Go There Yesterday

Franchia – if you love Korean and Japanese food, but want the healthy versions, try this beautiful mid-town restaurant. I love it for the imaginative maki rolls (try the spicy 'tuna', the guacamole, or the shiitake ones in particular), the teas, and the space. Don't forget to look up at the gorgeous ceiling.
Erin Mckenna's Bakery – If, like me, you are a health conscious, whole food vegan, then you want something healthier than veganised regular cakes. You want goodies that, ideally, are made without refined flour or sugars. So what do you do? You visit Erin Mckenna's Bakery. They use a gluten-free fava/broad bean mix flour, and use agave as much as possible to sweeten. The excellent thing is, none of the taste is compromised. The cupcakes are deliciously moist and rich. I've occasionally had a slightly stale cupcake here, but I'm prepared to accept that it could have been a bad day/member of staff, and even though they've down-graded some of their ingredients recently (possibly to increase profit margins, but I have no evidence this is the reason)  I'll always, ALWAYS go back there when I'm in New York. They were the first and are still the best. Try the vanilla and red velvet cupcakes. And the doughnuts. And the banana bread. And the cookie sandwiches. Ok try everything.
Peacefood Cafe – There are now two branches of this vegan restaurant, one on the Upper West Side, and one downtown, which I just visited for the first time. Though I'd heard about Peacefood a while ago, I avoided visiting it the last couple of times I was in NY because I thought the name sounded corny and overbearingly hippie and mother-earthy. Shows what a silly I was. Never judge a restaurant by its name. At the very least, judge it by its online menu. When I finally got around to looking at theirs, the chickpea fries called my name from the screen, and that was my initial reason for going. I can report that they were excellent, along with the drinks (brazil nut chai highly recommended ) and the desserts – the key lime pie was insane. We actually took this to-go, and ate it a couple of hours later in the Plaza Hotel food hall. I feared it would have turned to mush in the afternoon heat, but it was still pretty sturdy. I loved the decor too, very elegant, yet friendly and inviting. We went back to Peacefood a couple of days later, and will definitely return on our next New York trip.
Re: The Plaza Hotel food hall;  not much doing for vegans I'm afraid, apart from a froyo kind of place that always has one (rotating) non-dairy flavour – but I guess if you don't like that one flavour, you're screwed.
Lula's Sweet Apothecary – This was our first visit to Lula's. We tried to go last year but it was all closed down. This was doubly disappointing, as we'd just tried to go to Stogo, another amazing ice-cream place (one we'd previously tried) that had also just shut down. Before we left, I read that the shop had kind of opened again, that it was opened on some days, and it might not be called Lula's Sweet Apothecary any more. Yes. I was confused too. We went on a Saturday night, we figured it HAD to be open on a Saturday night, and it was. It's kind of at the address advertised for LSA, but maybe one or two doors along (if you go to the given address, you'll come across it) and I think it's open Thurs, Fri, Sat and Sun, until late.
We happily slurped and munched on cashew-based strawberry and vanilla ice creams (they have lots of sexier flavours, we were just being boring), with hot fudge and marshmallow sauce, and coconut-based whipped cream. This was while sitting outside the shop in the dimming East Village light, listening to the strains of something very Woody Guthrie-esque (Ramblin' Jack Elliot?) coming from the cosy interior. Go.There.Now.
As for the Blossom chain, for location I recommend Blossom on Carmine (on a pretty street in the West Village), but for food it has to be V-Note. V-note is not in a great location but absolutely worth making a trek to for the food.
Hangawi – sister restaurant to Franchia, it is also midtown, but a little more expensive and fancy. You take your shoes off at the entrance, and sit at traditional Korean tables. The kimchi stews are amazing.
Bliss Cafe – Let's not forget Brooklyn. Vegan or vegan curious in Brooklyn? Go here. I had a great bowl of chilli with Daiya cheese on top and some gorgeous house blend iced chai.
If you're hungry and passing by…
Gobo – We've been to their West Village location twice now (they have another on the Upper East Side), but if I'm honest it was more because I like the space than the food. This restaurant doesn't seem to know what it is, and some of the items just seem a bit, well, weird. It always seems buzzy, and other people's food looked and smelled good, so I'm happy to believe I just haven't yet chosen the right thing from the menu.
Angelica Kitchen – I loved this old East Village vegetarian mainstay when we discovered it in 2002, but revisiting in 2011 and 2013, it just really wasn't great. The cornbread is fabulous, and I've never tried the desserts, some of which sounded great, but I would probably only revisit if I was in the 'hood and starving.
Next time, I'll be excited to visit…
So, so many, but the places that come to mind are Souen, Village Natural, Beyond Sushi, and Pure Food And Wine