Having visited the US lots in the past 10 years, and having consulted Happy Cow a bazillion times to find vegan restaurants (or restaurants with vegan options) in various towns and cities, I've long been aware of the Pain Quotidien chain of rustic, casual bakery/restaurants.
I've just read they are Belgian of origin, but the headquarters are now in New York. You can find them in London; many cities in the US; Paris, Belgium and Australia; and you can find franchises of PQ in places such as Japan, Brazil, UAE and Spain.
To vegans they are known for having very clearly marked vegan options on all their menus, and to others for having communal tables in their spaces (don't panic Brits! They have smaller, private tables too. Or is it just me that gets nervous at the word communal 🙂 )
The vegan options are not just salad or hummus and celery sticks, but proper, grown-up starters and main courses that feel like they would rival the non-vegan dishes in taste and texture.
I have no idea why I didn't try them out for the longest time.
Earlier this year, I finally got around to trying my first Pain Quotidien in Los Angeles (the Larchmont branch).
I couldn't believe I hadn't discovered them earlier!
The space was attractive, with a little shop selling some of their own artisanal products – jams, chutneys etc. The garden was beautiful, full of sweet-smelling flowers – but this was Los Angeles, you wouldn't get this everywhere!
I opted for some lentil soup and salad, which were both substantial and thoughtfully flavoured. The salad wasn't too heavily dressed (this is a common mistake in restaurants!), it was just perfect. My partner had a killer tofu scramble, and I washed my meal down with some delicious house chai with almond milk.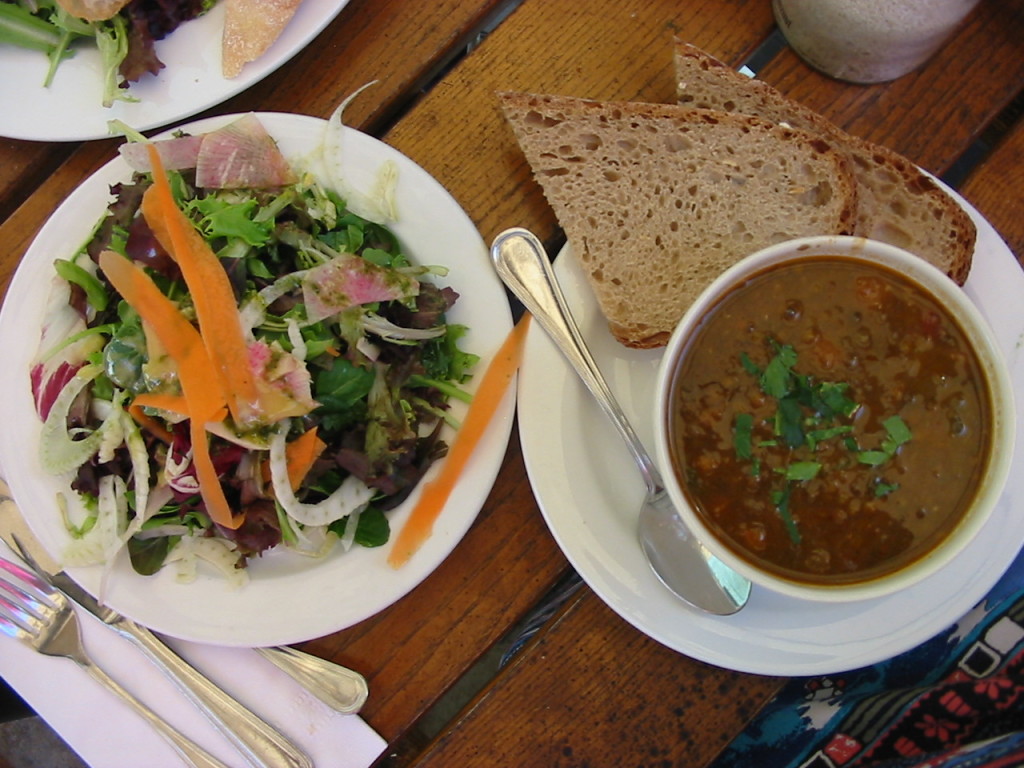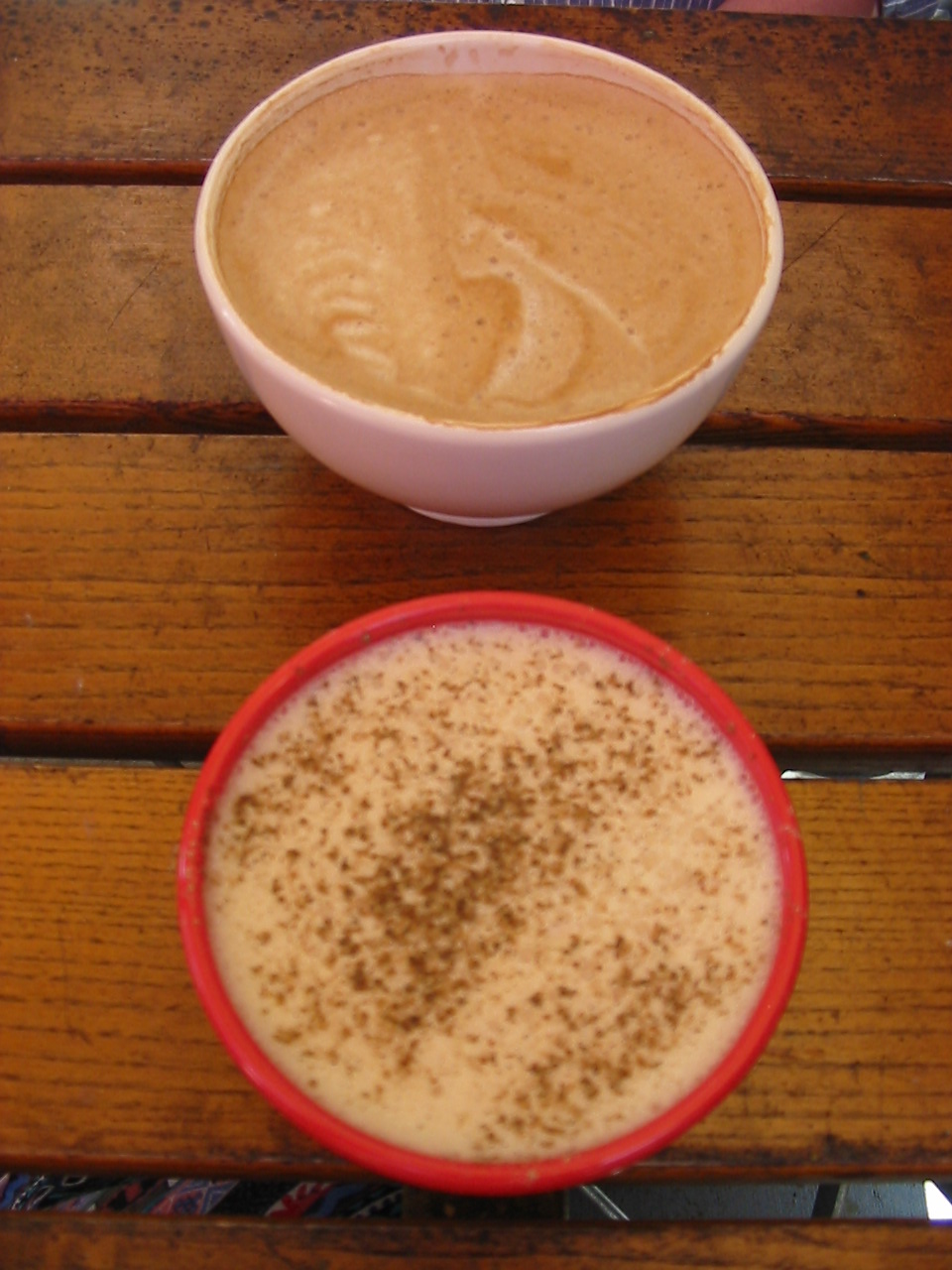 The hot drinks are served in bowls, which I love; it reminds me of when I lived in the south of France.
I was really impressed with the food, value, service and ambience at this Pain Quotidien and will always bear PQ in mind now when looking for somewhere to eat in the US.
So how does Pain Quotidien UK measure up?
Well, I can only truly speak of one branch, I have no idea if it's representative or not, though there are elements that are the same in every PQ – the wooden chairs and tables, the rustic atmosphere, the communal seating etc.
The menus are all similar but there are variances based on locale and season. There always does seem to be solid vegan options however, this doesn't change.
On the rainy August Bank Holiday Monday, after an event that ended up being a washout at the Royal Festival Hall, we decided to try the local (Royal Festival Hall) branch of Pain Quotidien, for a late lunch.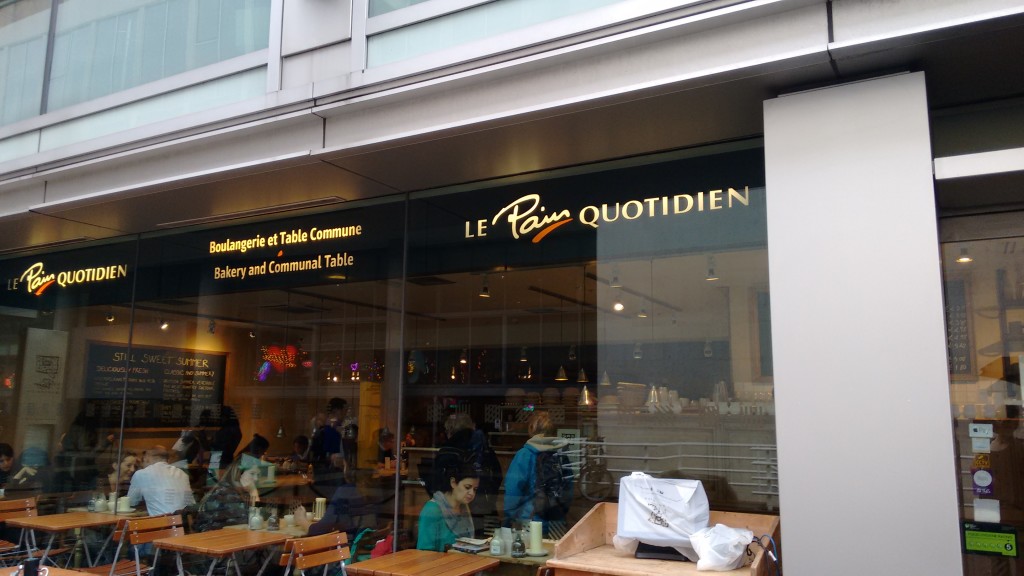 This particular branch is very close to Waterloo station, so as well as the space you see in the above photo, there's also a basement level hall under the actual railway arches, which adds a nice local touch.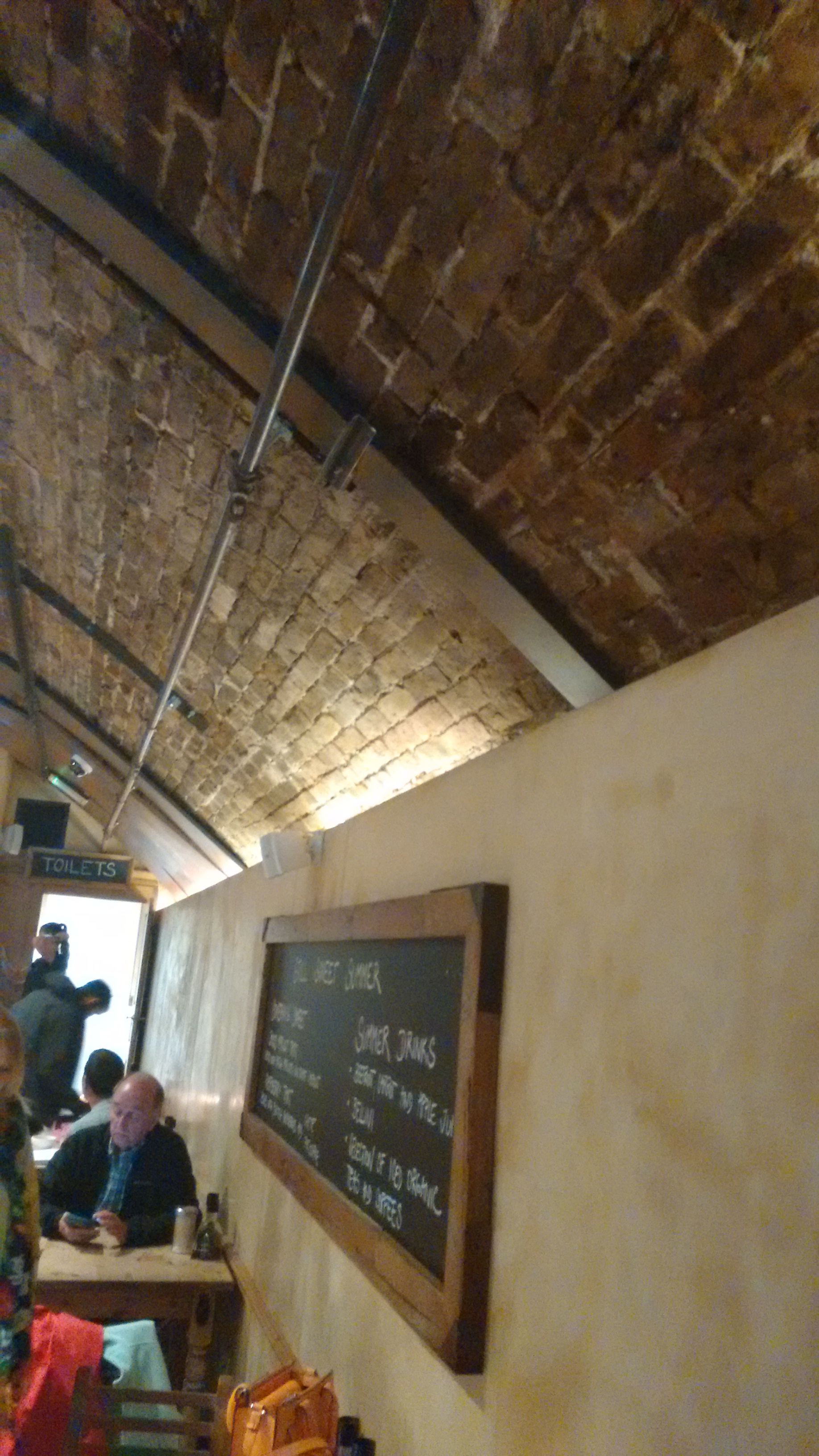 The vegan options are clearly marked on the menu with a carrot sign, like so: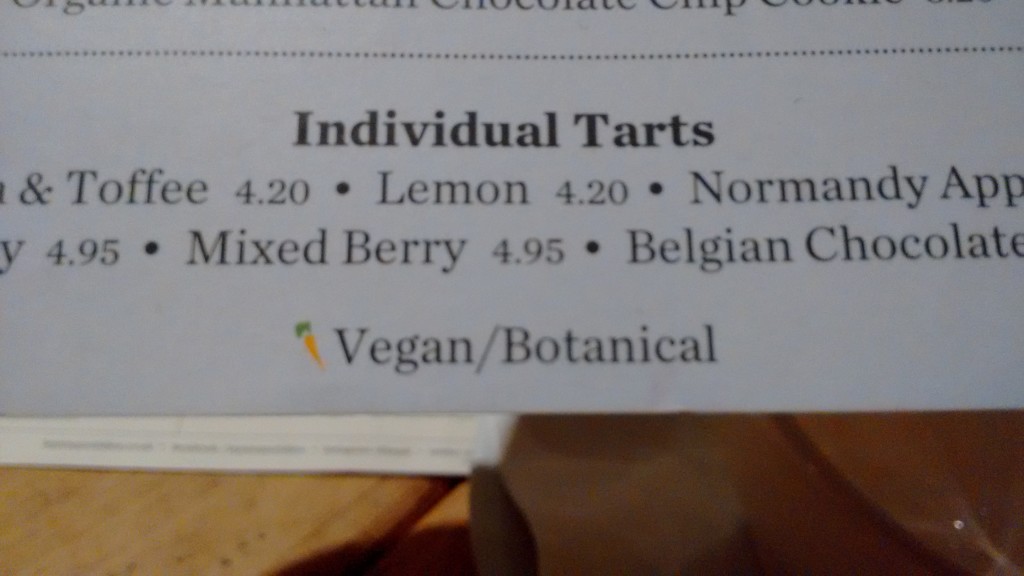 As well as a vegan soup and a couple of decent vegan salads (forgot to take a photo – one had quinoa, taboulé, raw vegetables, avocado and organic rapeseed oil and the other was freshly shaved fennel, raw slaw, chickpeas and basil vinaigrette – no iceberg lettuce here!), they have a couple of vegan 'tartine' options: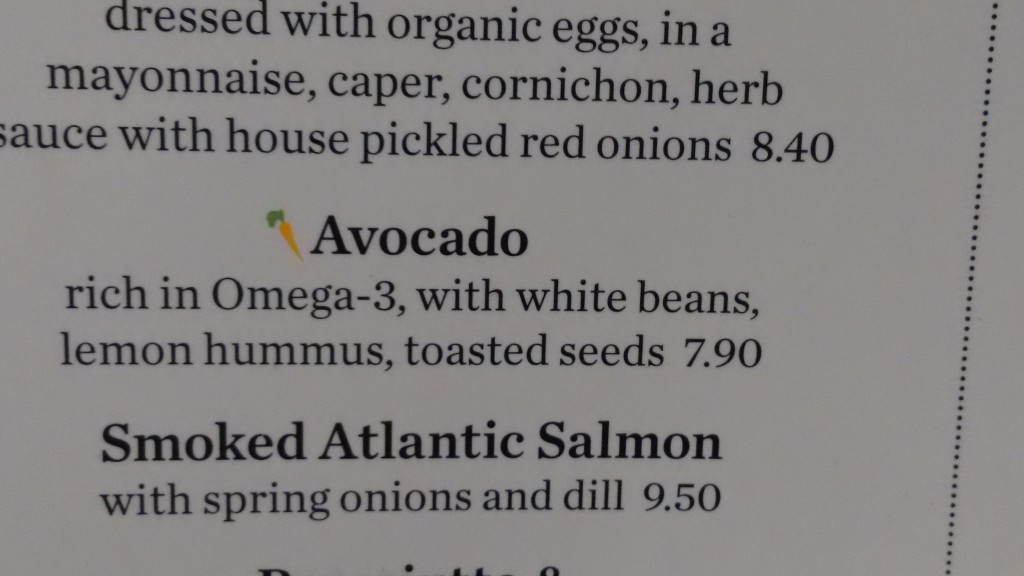 The other was also avocado toast but with lemon and cumin.
These were the hot dishes, or mains (the chilli seems to be available at most locations):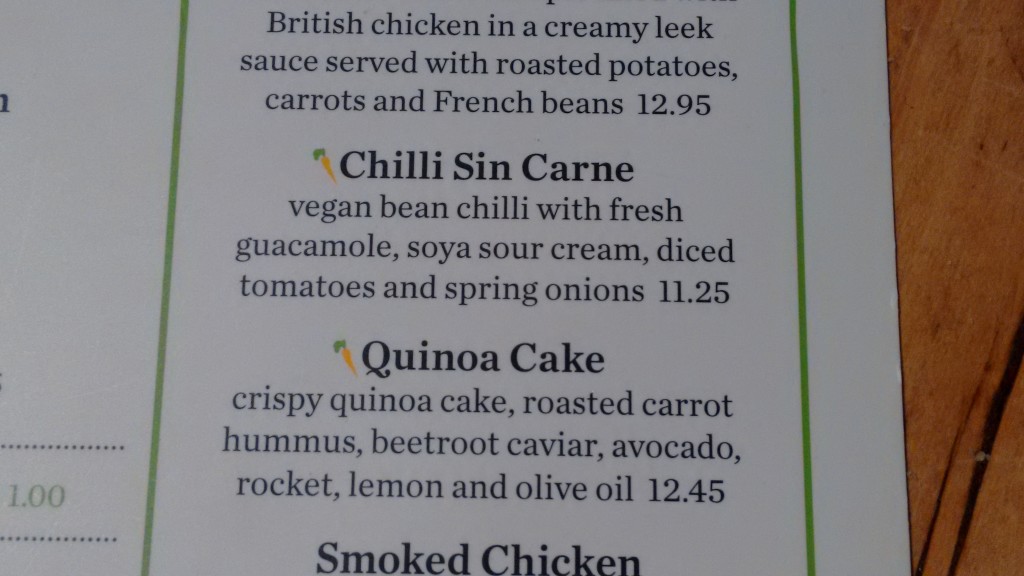 Some straight-up sides: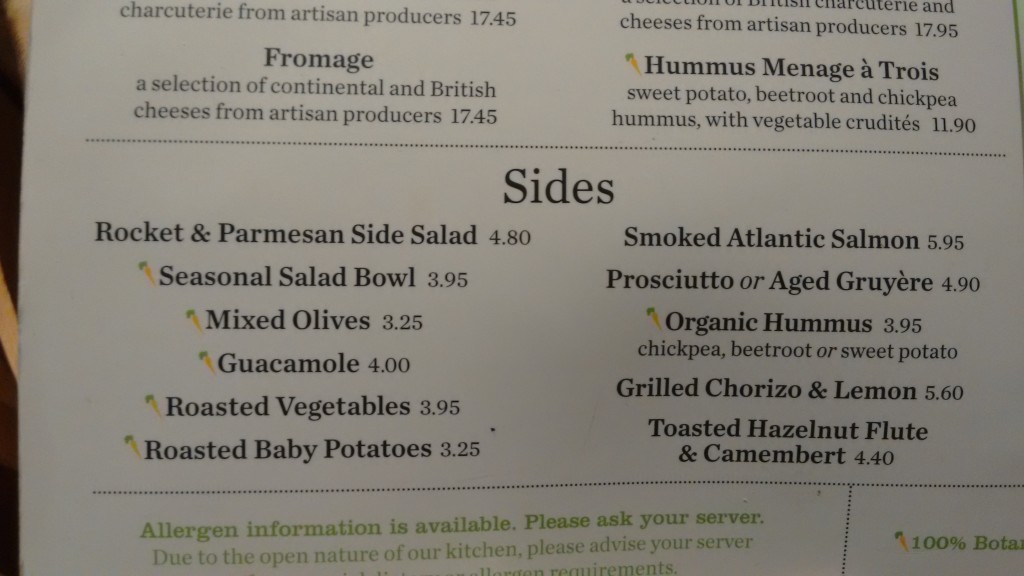 And desserts: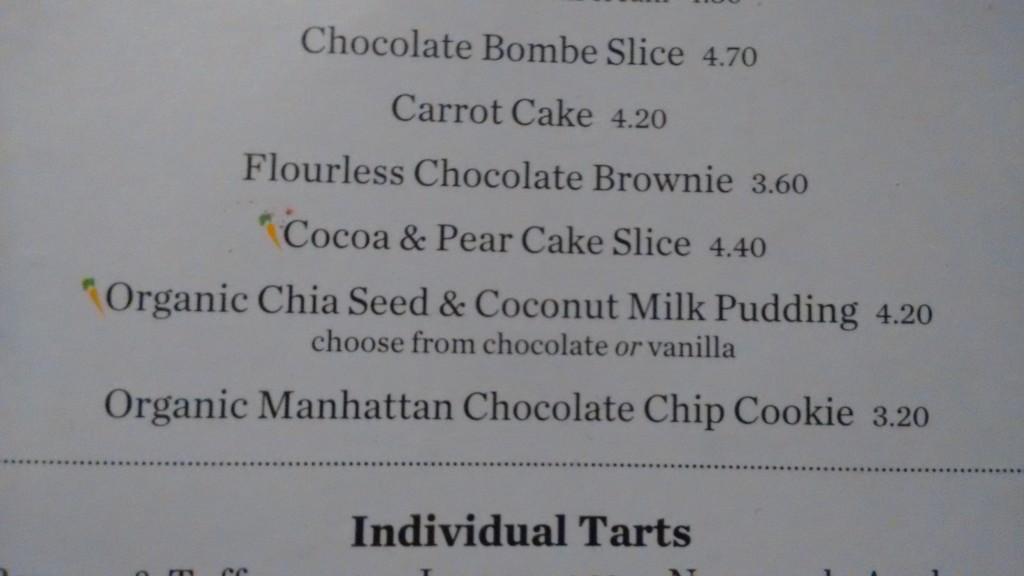 They also do breakfasts, and vegan choices include porridge, fruit salad and granola.
Now I'm a huge lover of chilli, and have wanted to try PQ's version since I learned they had one, so my choice was easy. My partner went for the quinoa cake.  We figured we couldn't go wrong adding a side of roasted baby potatoes!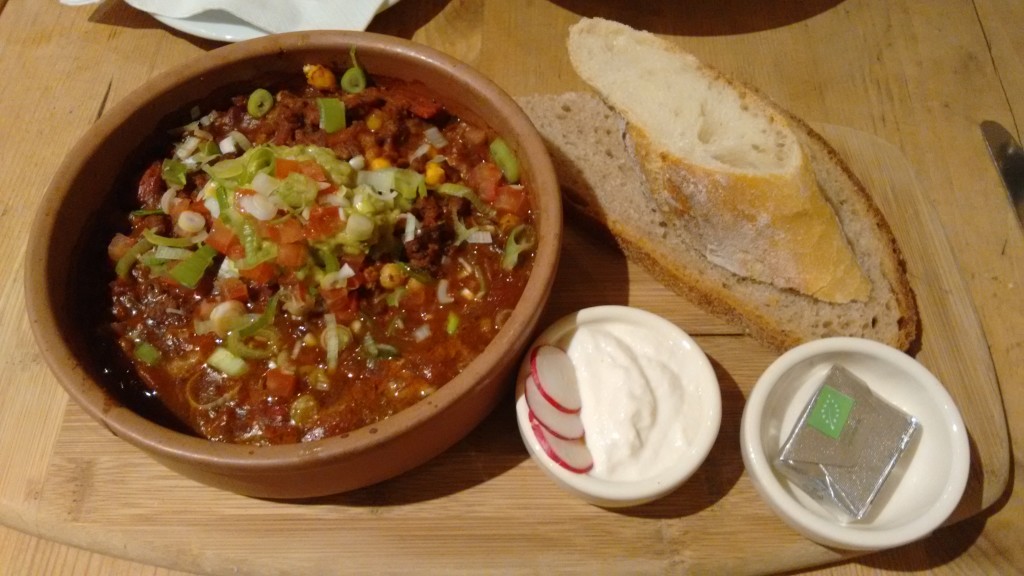 This was a bean chilli, But I think I counted just 3 beans in the entire dish!
I ADORE chilli and it's a great dish to veganise because it really doesn't need meat. The beans carry the flavour marvellously, and if you have enough beans in there (you can chuck some corn in there too if you want to add another texture) you don't need anything else.
Unfortunately, this chilli contained a tonne of  – I'm guessing it was soy protein or TVP? Now a little of this would have been fine, especially if there were more beans for variance of texture.
But whoever made this dish had been a bit heavy-handed with the soy protein, or maybe this is just the PQ recipe? It felt like a meat-eater had made it and thought 'I'll chuck a tonne of this meat-substitute in 'cos that's what vegans want.' It definitely made for an, um, 'over-chewy' experience.
Yet…the actual taste was great. It absolutely came up to scratch flavour-wise. The guacamole that came with it was good too.
The soy sour cream was completely superfluous, and tasted more like soy yoghurt. Then one of the wait-staff told us it actually WAS soy yoghurt.
The dish came with a couple slices of bread, and it was strange that it was served with regular butter when it's a vegan dish! I get that non-vegans may order this dish too, but maybe give us some vegan spread, and if someone wants regular butter they'll ask?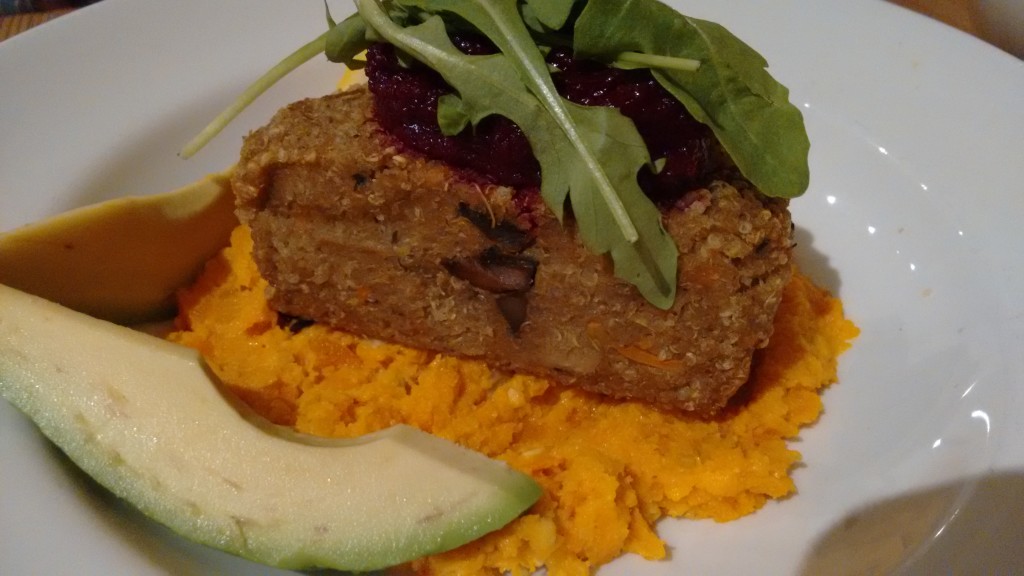 This was the quinoa cake. You know, it was ok. It tasted just fine. But I don't know how they came up with it. The beetroot 'caviar' tasted just like mashed-up beetroot, and the carrot hummus tasted just like, well, mashed-up carrot.
Because these things are nice enough in and of themselves, this dish was, uh, nice enough. The quinoa cake was lightly flavoured with herbs, and not as dry as it perhaps looks. It was slightly weird to me that the cake was hot and the other elements were cold, but maybe this is a thing, I don't know.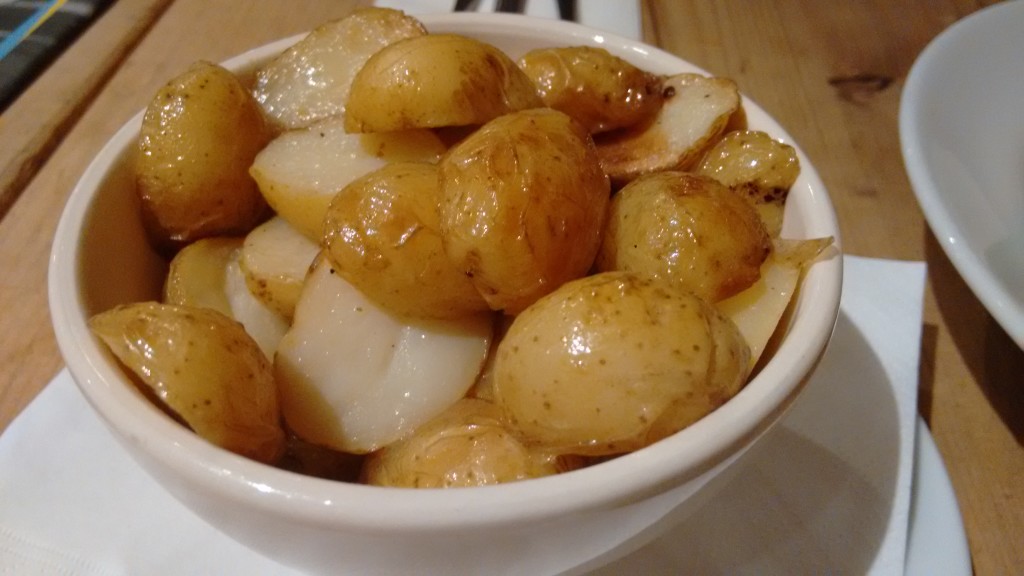 The roasted baby potatoes were great, but I thought roast potatoes were supposed to be a bit browner and crunchier? Look, they were good, let's leave it at that.
I LOOOVVED my matcha latte! Hurrah! But can I have one final moan and say it could've been a bit hotter?
My partner enjoyed his coffee 🙂
I'm always thrilled to see agave available as a sweetener. This has been available for years in many US cafes, but I think it's the first time I've seen it here,
Verdict:
If my experience of PQ in Los Angeles was pretty representative of all US branches – I'd say it's an excellent choice for snacks, breakfasts, brunches, lunches and early dinners (they tend to close earlier than regular restaurants).
Service was second-to-none, as was the freshness, taste and value of the food.
If you find one with outdoor seating in a pretty space as we did, even better.
I'll ALWAYS consider PQ while in the US if there is no dedicated vegan restaurant available, and you know what? Maybe even if there is.
As for PQ UK (which maybe should be PQ London – it's the only city in the UK with branches) I'd still consider it. It wasn't bad, it's just that nothing was great, and a few things just niggled. It's so great to not feel niggled when dining out!
I don't know how much the fact that I'd consider it is due to there not being many other options.
Next time I'd probably stick to a soup and salad, which I'm sure they'd do well.
The service at this particular branch, like the food, was just ok. The ambience was nice, especially in the basement arches, and they do have free wifi – but it was painfully slow, so maybe not great for working, just playing.
For the portion sizes, it's definitely overpriced, and there is a discretionary 12.5% service charge added onto the bill. The wait staff told us they get 70% of this and the restaurant gets 30%.
I will say that I definitely want to pass by and grab a matcha latte to go. They're a whole quid cheaper to take out, and extra hot, it'll be yummy.
Have you visited PQ anywhere, specifically for the vegan options? How did YOU find it? Does my review hit home? Or you think I'm being a bit of a grumpy-pants?
Hit reply and let me know!