I'm freshly back from a short jaunt to NYC, and I HAVE to share my experience at Beyond Sushi.
We've visited New York several times, and I'd heard tell of the gloriousness of Beyond Sushi, and even walked past the branch in Chelsea Market; but not stopped to eat there because it looked tiny, and didn't seem like there was an area to sit down comfortably.
When we're on vacation, we like to sit down properly ya know? We like to enjoy our time in a restaurant – we do this so little at home in London so we really like to savour the experience when we're away, rather than just grabbing food and eating it quickly at a bar or a high table.
However, we're MAJOR sushi lovers, and on this visit it was time to try this place we'd heard so much about.
There are three branches of Beyond Sushi – in Chelsea Market, Union Square, and Midtown West.
Since we knew we wanted to spend our last afternoon in Central Park, we chose the Midtown West branch.
I had no idea if the space was as small as the Chelsea Market branch but decided to give it a go anyway, if the food was as good as I'd been led to believe, it would be worth the discomfort, right? I'm a foodie and I'll suffer a LOT to satisfy my palate 😀
But when we hit West 56th, I saw the frontage of the place and my heart sank. It was obvious the place was REALLY tiny. Even kinda hole-in-the-wall'y.' This wasn't how I'd envisaged spending my last precious lunchtime in NYC.
On walking in I saw there were around 5 or 6 high chairs at a wall bar, and maybe 3 or 4 tiny tables for two. The place is SO narrow though, and it was SO PACKED, that nothing looked comfortable. Wherever you sat (IF you got a seat in the first place) people would be brushing past you, constantly knocking you.
It was too late to turn back now, so as soon as I saw two of the better wall bar chairs become free, I got my partner to bag them, and I got in line to order.
The menu looked delicious but there wasn't much time to make selections before someone was yelling at me for my order. It was so noisy and bustly it was difficult to think straight. I went for three of the sushi rolls, but if the atmosphere had been more relaxed I'd probably have ordered from the rest of the menu too.
They have noodle salads, noodle soups, incredible sounding dumplings and wraps; but if you're new to the place, you don't have long enough to peruse the menu in this cramped, crowded type of set-up; which is a shame.
I guess this place is great for if you know the menu well, and can go in and order what you want straight away.
There seemed to be lots of workers on their lunch breaks that had ordered take-out, and were just there to pick up their food. The place (at least this branch) seemed to cater best to these people; OR, those that just waltz in knowing exactly what they want 'cause they've been so many times before.
As well as the sushi rolls, I also ordered a seaweed salad, and a small bowl of kimchi. We had to catch the red-eye home to London later that night, and kimchi is great for keeping the bugs away!
The kimchi and salad were served quickly, and before too long, out came the rolls, and OMG, they looked specTACular.
I'd ordered these: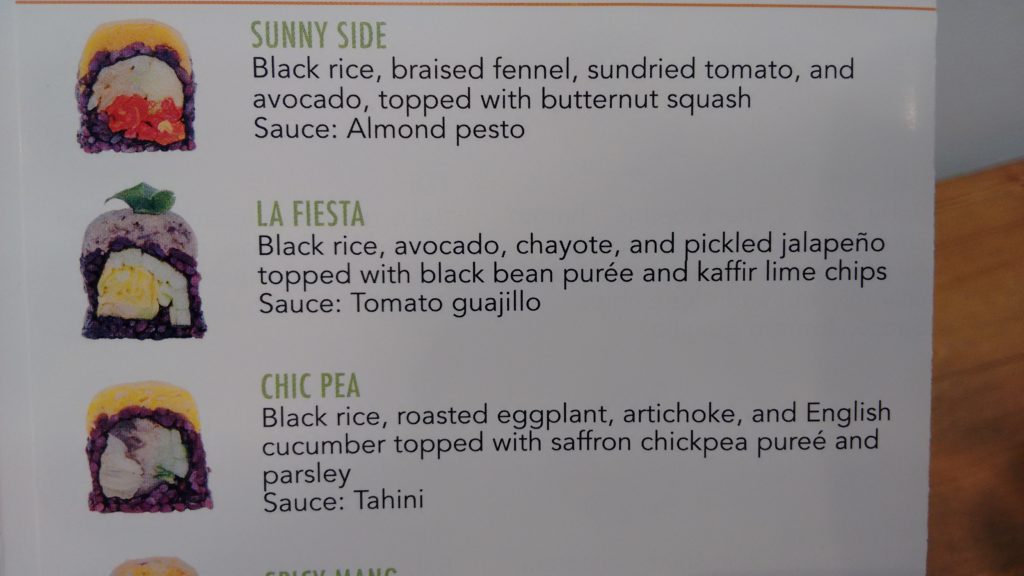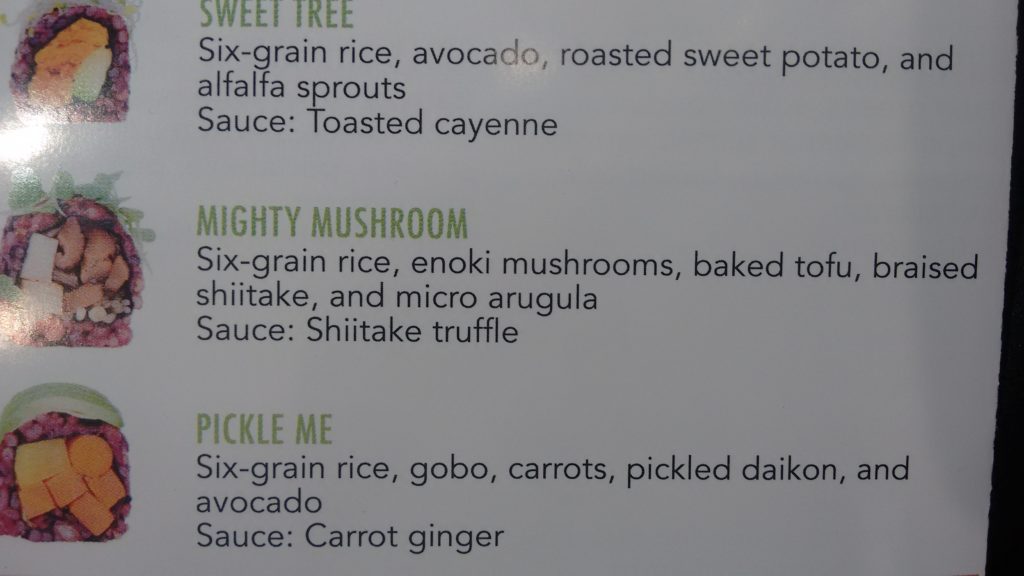 They looked like this: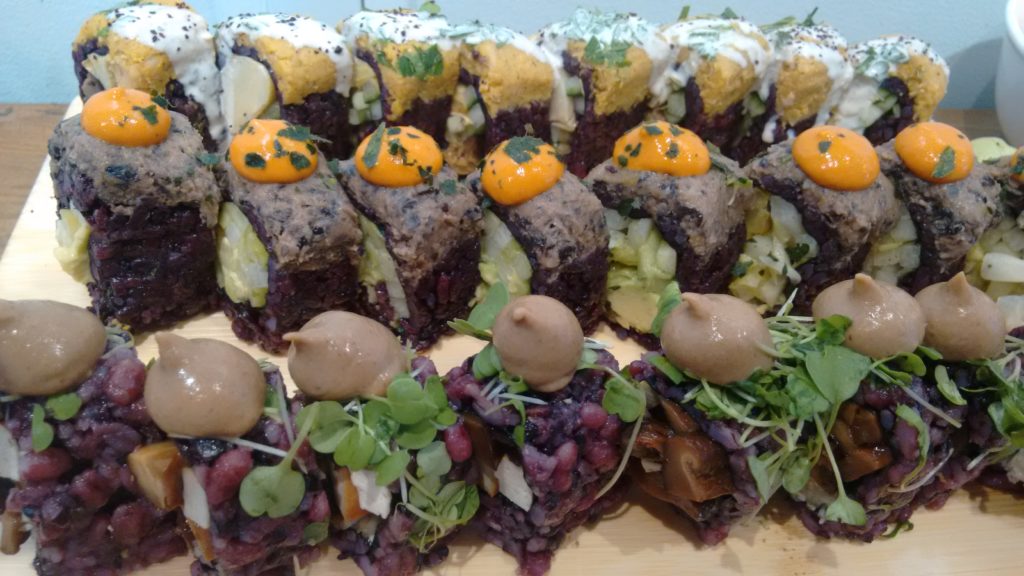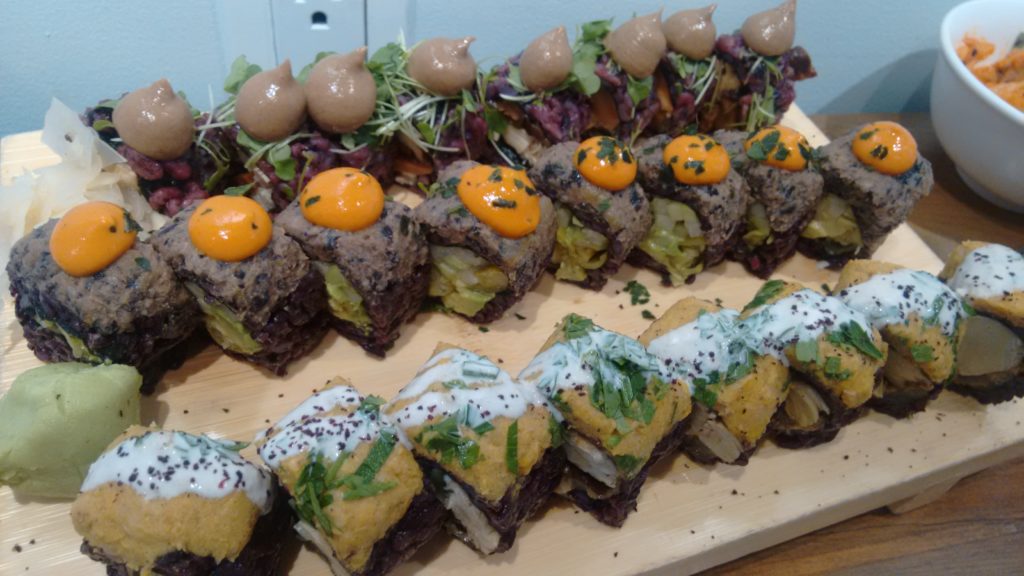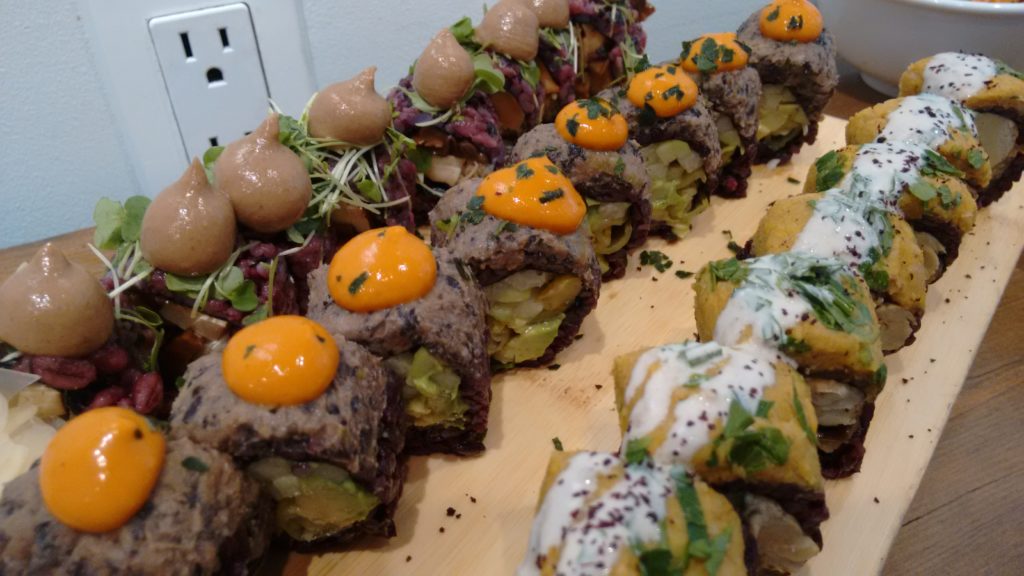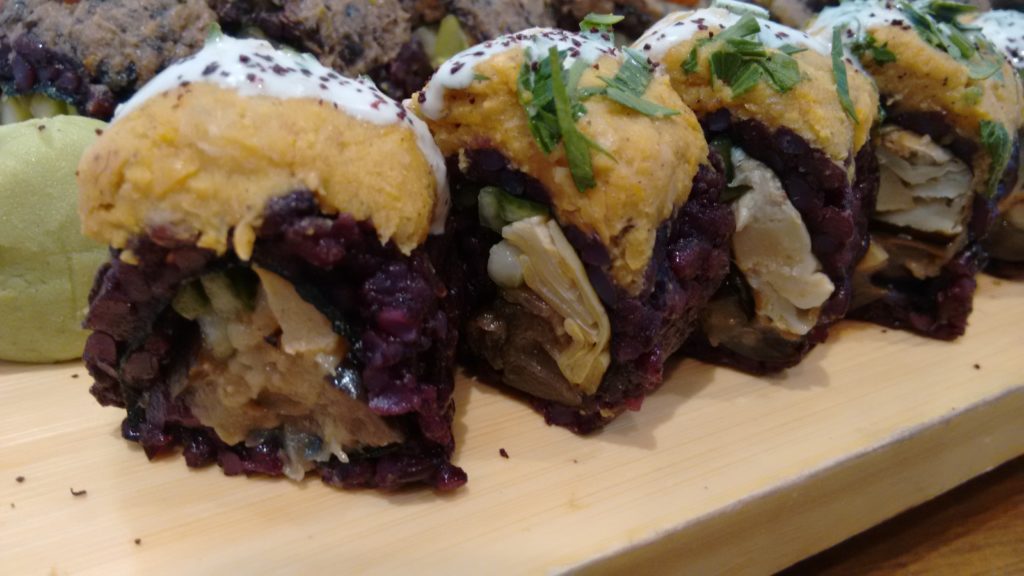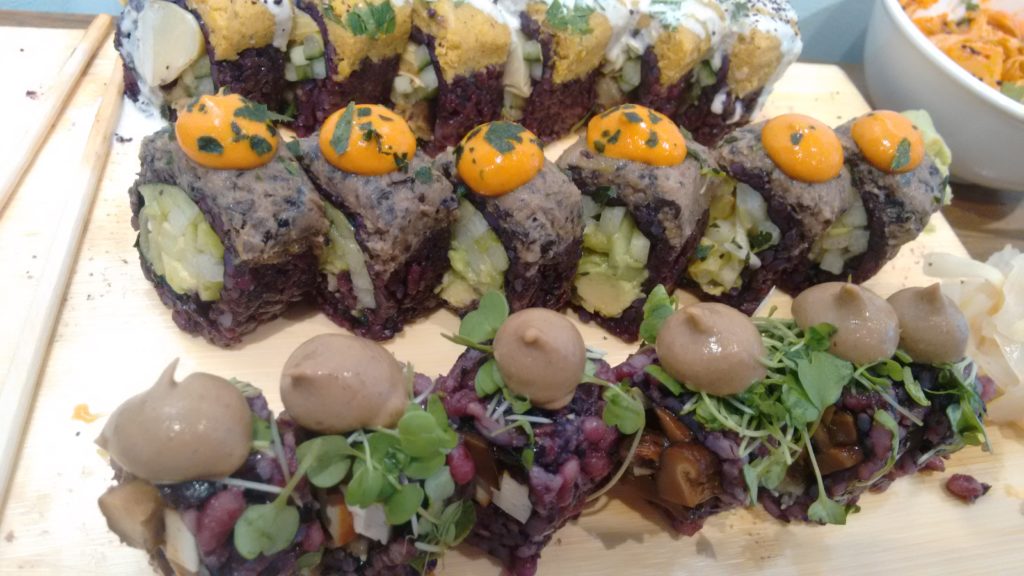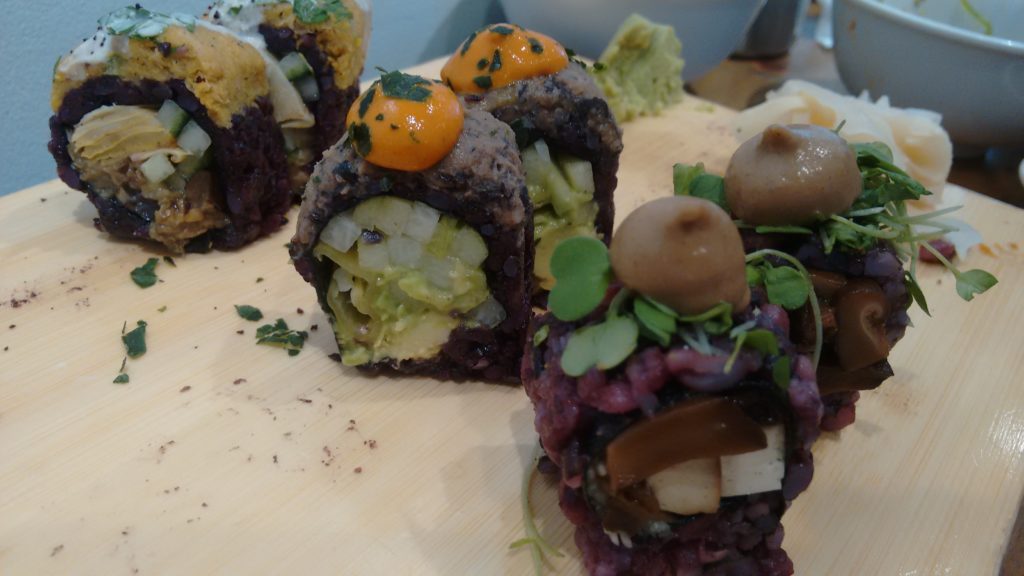 WOW!
What magnificent, gourmet sushi.
The one that stood out for me was the Mighty Mushroom. That blob of shiitake truffle on top so perfectly and subtly infused each piece with smoke and salt and…just…shiitake-ishness (!) I could've eaten these all day.
The next best for me, La Fiesta, was still incredible. You could taste each element just enough, and each complimented the other delightfully in taste and texture.
My other choice, the Chic Pea, was still delicious, even though the other two were slightly better. I love tahini with anything, so I was always going to love this.
The seaweed salad couldn't have been any better unless it had been brought to me by a hot naked dude. I've had plenty of crappy ones where there's too much added sugar and the seaweed is too hard and chewy. This seaweed was fresh, soft and delicately flavoured.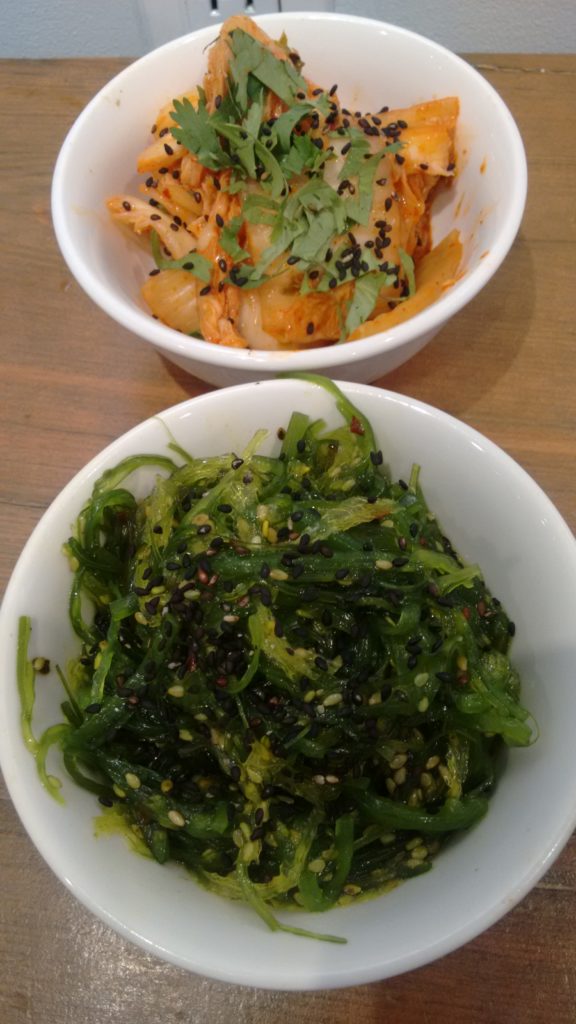 As for the house-made kimchi, it looked like a classic kimchi, but I felt it may have contained  pear? I thought I could taste it. I'm normally weird about fruit in savoury stuff, but pear or no, it was great.
I learnt later that it's the Spicy Mang roll that everyone raves about (avo, mango, cucumber, spiced veggies and toasted cayenne). I saw it on the menu, but again, BLECH with the whole fruit in savoury stuff.
So I didn't go there.
Next time I'll quit being a special snowflake and try it.
I was absolutely blown away by this food, and could've easily eaten another round of everything – not because I was still hungry, but just so that eating this scrumptiousness wouldn't have to stop.
As we were eating, the place cleared out a bit (this happened around 1pm) and it became a much more comfortable atmosphere. If we'd have known, we'd have come a bit later to avoid the lunch rush.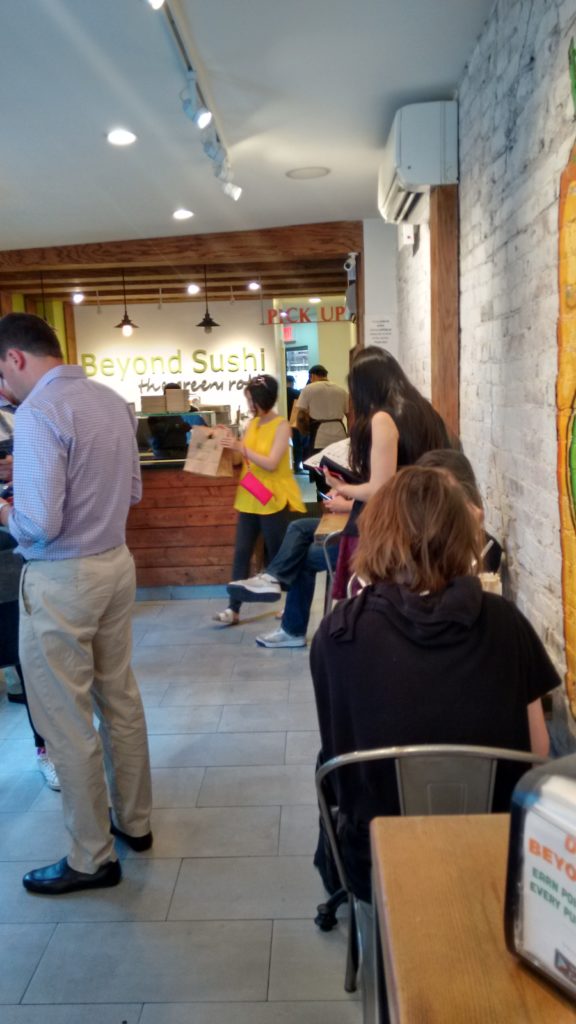 Look. The food really IS beyond sushi, it's BEYOND BEYOND. I'd come back in a heartbeat. I'll dream about these rolls until I get the chance to come back and eat them again.
But, it's such a shame Beyond Sushi don't have bigger spaces and can't make newbies more comfortable, and feel more welcome.
I mean, I get it – they don't need to. You taste it; you're hooked, and you'd come back even if they set up in a public toilet.
You'd go and see a good gig in a cramped, hot hall without a/c; you'd go to the theatre and sit on the floor to see a good play – anything that is so good it feeds the soul you'd happily suffer a little discomfort for.
It'd just be nice to be able to eat this gorgeous food in a comfortable space, like omnivores get to do all the time.
My recommendation:
Go to Beyond Sushi ASAP. Avoid lunch hours and rush hours. Maybe look at the menu online first, decide what you want, order take-out then eat in a nearby park.
I think next time we'll get take-out from the Chelsea Market branch, then go up to the High Line, bag sunbeds, and eat in (relative) peace.