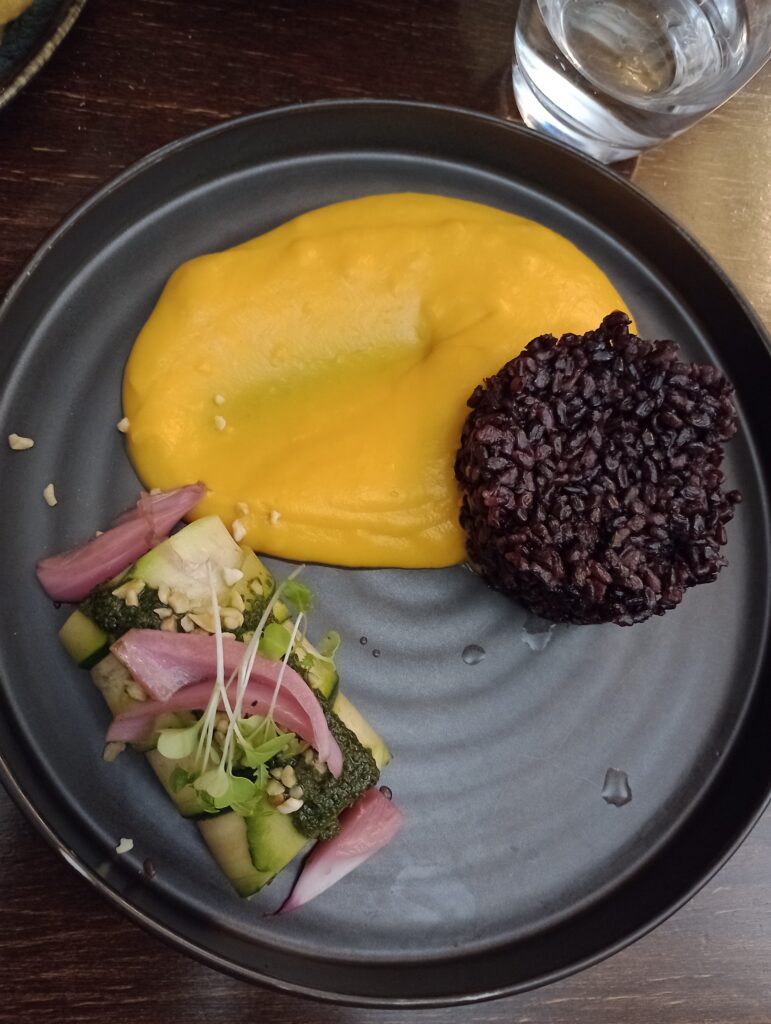 Part 1 – Avignon and Lyon
I'll start by saying that this post is entirely biased and informed by MY taste in food.
There- it's easy to declare conflicts of interest and biases when you have a mind to – take note governments, regulatory bodies and mainstream media 😄
We just spent two weeks in France, specifically: Avignon, Lyon, Orleans and Paris. I feel this gave me a pretty good indication of how it might be in most of France for those seeking to eat great plant-based food.
I'll be honest, I was expecting it to be much better – I guess on a par with the UK – maybe not as great as in the US, but at least similar to how it is here. We visited Beirut, Portugal and Austria in the last few years and had pretty good experiences so I was expecting France to be at least as good as these places, if not a little better.
I eat a whole food, plant-based diet, because I believe it is the most optimal diet for health – both physical and mental. So far it has served me well. Thus, what I'm looking for is food that is not just vegan, but as far as possible made with whole foods – so brown or black rice instead of white, wholewheat (or other whole grain) products instead of those made with white flour, and as little white sugar and oil as possible. I don't act like a fanatic on holiday however and will eat things I know to have SOME oil and sugar in them.
It goes without saying that every meal must be tasty AF too!
I found France to be very much a mixed bag when it comes to healthy, tasty vegan food.
We spent six days in Avignon, a charming city in the Vaucluse region of Provence. We didn't eat out once, unless you count the one time we stopped at a make-your-own poke bowl place, or the time we grabbed some sorbet from a branch of Amorino.
The problem isn't that there aren't lots of restaurants with vegan options – to be perfectly fair, most Avignon restaurants DO have a vegan option – though it usually is just one amongst an absolute meatfest of a menu. The problem for me is that the option is usually either a burger or something yawn-inducing like butternut puree and quinoa (I have noticed that trend on London menus too). That wouldn't be a problem if there were also specific vegan restaurants in Avignon, but there aren't. I should mention that there are plenty of juice, smoothie and chia porridge type places – but these are not the kind of places you can sit down with your partner and have a romantic meal 😄
And forget about it anywhere in the region outside of Avignon. We visited a few other places in this region – Fontaine de Vaucluse, Gordes and Le Sentier des Ocres – all beautiful and absolutely worth a visit, but no bueno for vegan food. This time not even the burger or the quinoa/squash deal. I figured we could do what we've done in the past when in the depths of Mississippi or Louisiana and there has been no vegan option – just explain we are vegan and order a salad and fries – which has always been responded to with careful and creatively presented salads. Whack a bit of Cajun spice on the fries and boom, you got a tasty meal – something healthy and something cheeky – balance!
This didn't wash here however. Every salad was at the very least covered in egg or cheese, and the wait staff I spoke to didn't know what vegan was. Unfortunately the first excursion we were woefully unprepared and I hadn't even packed my bag with the fruit, dried apricots and crackers that I'd normally carry, so we ended up buying some 'artisanal' crisps and hummous from a rip-off joint deli for 11 euros. Yes I'm still bitter 😂
Now the good:
There is a chain of health food stores in France called Naturalia. Most cities will have at least one. These stores saved my life while in the south of France. Thankfully we were staying in Airbnbs so we could cook for ourselves. In Naturalia we found plentiful healthy, tasty food. The French tend to sell many products in jars – I guess 'cos it's better than a can – so we found things like jarred ratatouille, beans and lentils pre-flavoured with herbs and spices, curried tofu; but the absolute gem for us were the Jay & Joy vegan camembert and chevre. I don't buy vegan camembert often in the UK as it's so damn expensive. In France it's much cheaper. I'd never tried vegan chevre before and it was not disappointing – it tasted just as I remember chevre to taste. This made up somewhat for the uninteresting restaurant scene.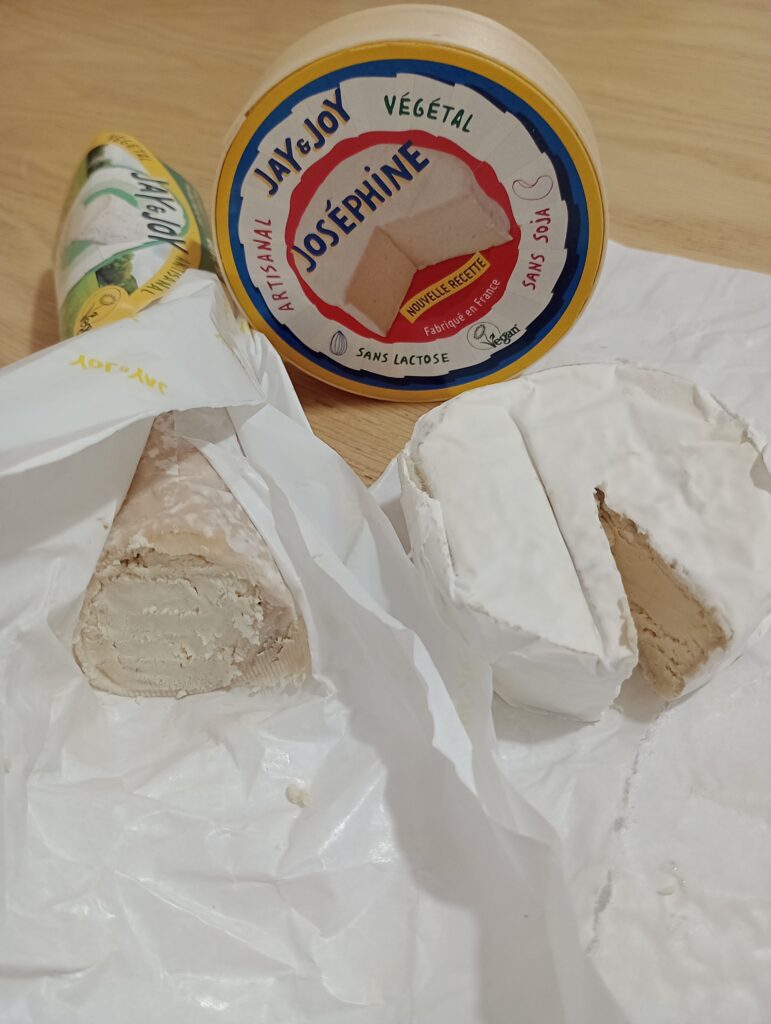 Food aside, Avignon is a beautiful city, but I was excited to get to Lyon, France's third biggest city, for some top tasty grub.
First night in Lyon, we tried an all-vegan restaurant, which I'm about to excoriate so I won't name them.
They had a set menu only, with a choice between two starters and two mains. They say they keep the menu small to avoid waste. Hmmm. Nothing on this menu was really calling out to me. You might ask 'didn't you know this in advance when you looked at the menu online?' HAH! Finding accurate menus of restaurants online in France is damn near impossible as they… pretty much do what they like every day. It's rare that a restaurant will have the menu on their website. Most of the time the restaurant may only have an FB page so either you are relying on a photo of a menu someone took two years ago, or they say up front that they change their menu seasonally and if you're lucky, they may give a few examples of what they serve.
I had a miso soup for starters which was, I guess, fair enough, nothing wrong with a good miso. My main course – that this restaurant believed was their 'piece de resistance' – was a cannelloni made with courgette and was filled with cold, wet, mushroomy..stuff. There was black rice and butternut puree on the side – see the picture that heads this post. I was grateful for the healthy squash and rice but it didn't really taste of much. The courgette cannelloni was just wet, cold and pretty tasteless. The waiter came up to me when I'd finished and said enthusiastically 'did you experience a marvel?' And to my shame, for (uncharacteristically) I had no fight left in me that night, I lied 'yes.'
This restaurant thought it was so much better than it was. I would have been grateful for it ten years ago, but now I just want great-tasting food, like everybody who ISN'T saving the planet gets to eat 🤣
The next day, I was excited to go to Lyons branch of The Copper Branch. This is a Canadian chain of vegan restaurants (with branches in the US and a couple in Europe) that have tasty looking burgers – with healthier options for the bun, and the patties made of yummy spicy beans rather than the ubiquitous Beyond Meat burgers – I don't like these and Bill Gates isn't getting a penny from me (HA, he'll be sorry! 🙂 ) The menu also showed chilis and other delicious looking bowls.
It turned out that The Copper Branch in Lyon is in a Westfield shopping centre – I mean, who wants to be in one of those monstrosities on holiday?? And it also turned out the menu of the Lyon branch had only a fraction of the items on the Canadian menus – and the tastier, healthier burgers and bowls were not available. I think I had a soggy portobello mushroom and some sweet potato fries.
It was back to Naturalia to find food for that evening!
We were only in Lyon for two nights, and it is possible there is a vegan jewel of a restaurant that I just didn't come across. I had researched pretty extensively on Happy Cow, but that isn't always 100% comprehensive, so don't sue me if you know the best vegan restaurant ever in Lyon.
To summarise: you can eat as a vegan in Avignon, Lyon and bigger cities in the south of France in general, if your only requirement is that your food be vegan and nothing else. You will not starve. You may however end up either getting 'burger-ed' out, or your taste buds will go on strike out of boredom.
If you want to eat not only vegan but great-tasting healthy food, my advice is to stay in an apartment or Airbnb and use Naturalia, with the occasional meal out if you get bored of cooking. Take plentiful little snacks with you when sight-seeing – fruit, dried fruit, nuts, crackers, good chocolate, nut bars etc.
Next week – Paris!