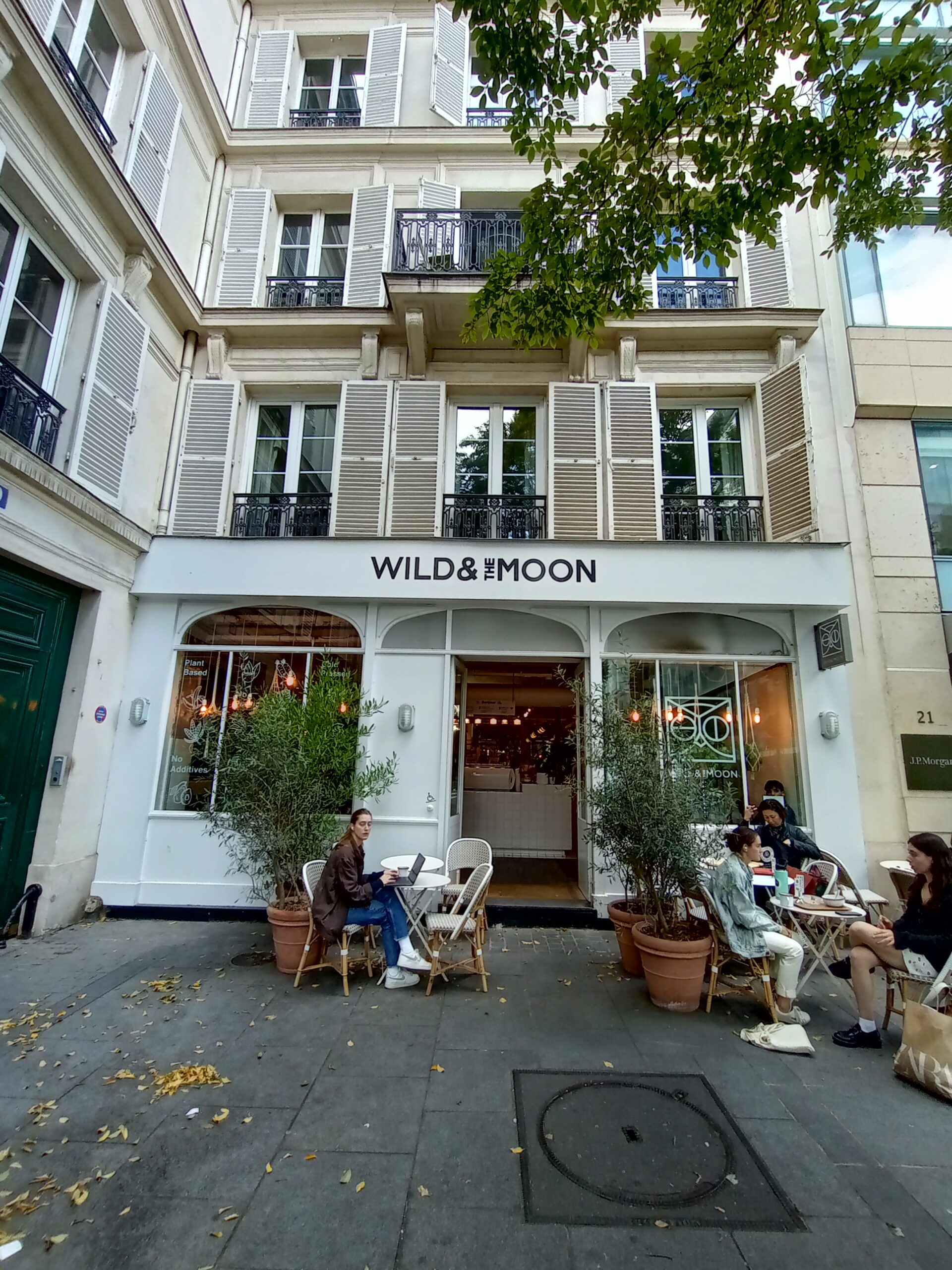 After our decidedly underwhelming dining out experiences in Avignon and Lyon, which I documented here, we were positive that Paris had to be different. We actually spent two nights in Orleans before arriving in Paris, but we were there to see friends and so didn't eat in town. However, I'd noticed a place called Djaam in central Orleans that did great-looking African bowls, several of which were vegan, using traditional West African grains and sauces. We'd definitely have tried this out if we'd had time; my taste buds were yearning for some actual taste by this stage in our holiday 😄
I mentioned this in my previous France post – we eat a whole-food vegan diet, as it has served us well health-wise for many years now; so we're looking for healthy food (with the odd cheeky side of sweet potato fries of course 😋) that is tasty as all hell. There's just no excuse for mediocre, boring healthy food any more.
We arrived in Paris and right off the bat we discovered this vegan, gluten-free and refined-sugar free chain of restaurants called Wild and the Moon. We went there our first night in Paris and I nearly cried to see their dish of the day was a hearty bean chili. This was honestly the first time in two weeks I'd eaten food that was the same standard in both 'healthiness' and taste to what we make at home. My partner had their 'Jack's bowl' – a tasty Thai-inspired concoction. We had a second bowl of chili between us, so starved had we been of spices for the previous two weeks.
Wild and the Moon, in typical French fashion, is hard to define. They sell healthy cold drinks and snacks in fridges near the entrance and at first glance could be mistaken for one of the ubiquitous juice/chia/smoothie bars that you get pretty much everywhere these days. Only when you venture in further do you see the hot food menu, and realise it's a gorgeous space in which to sit down, relax and enjoy your lunch or evening meal. It's hard to glean information on their hot food on the website too, as their home page just shows detox juices and superfood snacks. A quick skim would have you thinking it was a juice bar in a yoga studio. Only right at the bottom of the drop-down does it say 'menu at restaurants.'
They also have a range of sweet bakery items available every day. The Wild Brownie is worth coming here for alone. In fact I'd probably jump on Eurostar for it alone 🤣 Unlike most 'healthy' sweet treats, while the ingredients list of the brownie is holier than thou, the taste and texture are pure sinful choc-gasmic delight. I may have eaten more than I should have of these and I ain't repentin.'
We ended up eating at WatM three times in four days. We wanted to be adventurous and try lots of different places, but after our next experience (which I'll get to in a sec), and because we'd been so starved of taste for two weeks, we thought f**k it, let's just eat here from now on. We ate at the Rue Charlot and the Rue St Honore branches, though there are several others. They are in, I guess, the more upmarket areas of town, which is a shame because we were all over town visiting places I used to know when I lived in Paris, and my favourite areas are decidedly NOT the more bougie parts, but I guess they think they are where their market is. You could say it is expensive, but only in the way that everywhere is expensive in Paris – I certainly didn't find it more expensive than anywhere else.
The next night we thought we'd try a restaurant I'd heard a lot about – Le Potager du Marais – that specialised in vegan French cuisine. It was a Sunday night. We got there before it opened and there was a big queue outside waiting to be let in – which was promising in terms of what the food might be like. Many of those in the queue seemed to be North American, or tourists from elsewhere outside of France. I guess they'd heard the same good things I'd heard.
When the time came to open up, we filed in and the crowd in the queue filled the restaurant entirely – how many restaurants can boast a full house right off the bat on a Sunday night?
I picked the French onion soup as a starter and my partner had a roast potato with tapenade and pesto. For the main course I chose a cassoulet dish. When I lived in France years ago, I loved a good Toulousain cassoulet. Cassoulet is a slow-cooked dish of white beans and sausage – I was never bothered about the sausage but those scrummy melt-in-your-mouth flavoursome beans were everything. I was hoping for a vegan recreation of this. My partner chose a buckwheat mushroom crepe.
The French onion soup is a popular dish of 'Le Potager', and rightly so. It does taste exactly the same, even better perhaps, than I tasted in non-vegan days. The melted cheese, onion, and wine flavouring all meld together perfectly. If you're a vegan lover of French cuisine it's definitely worth going just for this.
However, I'd forgotten that so much is flavoured with wine in French cooking, and that I am allergic to sulphites (of which there are an abundance in wine), and when the back of my throat started itching to remind me of this pesky affliction, I had to abandon the soup. My husband's roasted potato thing turned out to be a small baked potato – nice enough but not what he was expecting.
And the main course? To be fair to the cassoulet it was advertised as a 'Cassoulet de Mer -Pink lentils with smoked tofu, fresh seaweed and fennel grated with hazelnuts.' So obviously I was wrong to expect something similar to a traditional cassoulet, but this was just…taste and texture-less. Edible but boring. Why you'd use lentils (that were undetectable – they'd just turned to mush, as had the tofu) instead of lush, slow-cooked bigger white beans is unfathomable. There was a subtle seaweed and fennel flavour I guess, but it wasn't nice enough to make me want to devour this dish as I remembered doing previously. You'll see it doesn't resemble cassoulet, and the potato thing you see on the side was like pureed, then compressed potato, that didn't taste of much either.
The buckwheat crepe, again, sounded so much sexier than it tasted ('buckwheat pancake stuffed with leek fondu, carrots and mushrooms') but was pretty much the same as the cassoulet – OK and edible, but really not stellar. You wouldn't bother going there for it if you had to travel more than a couple of metro stops.
All the dishes we tried ticked the (sufficiently) healthy box. But they could all (barring the French onion soup, which was excellent) have done that while being crammed full of rich and exciting taste, and they just weren't.
Again, as with our Lyon vegan restaurant experience, it's the sort of food we'd have been grateful for 10 years ago, but nowadays there's just no excuse for not wowing the socks off of vegans just as you'd try to do with non-vegans.
It's possible other dishes at the PdM might be amazing, just as the soup was, so if you're a vegan lover of French food I'd still recommend going – definitely ordering the French onion soup, then something other than what we had.
It's also true to say that I love very taste-full cuisines like Indian, Ethiopian and West African – I live in London and have great examples of these close to hand – so it's likely my taste buds have grown accustomed to very strong flavours, and the subtle herby thing doesn't really do it for me any more.
So for the rest of our stay we ate at Wild and the Moon – as well as the chili I can heartily recommend the Banh Mi and the burger – and bought snacks from Naturalia (that I mentioned in my previous France post).
Of course there are other great restaurants that we never got to – some were closed at the beginning of the week, some may have been too far to travel. Restaurants I've learned of since my return and VERY MUCH WISHED WE'D HAVE VISITED are Jah Jah Le Tricycle which specialises in healthy Caribbean food – particularly galling as we were on Rue des Petites Ecuries where it is based but just didn't see it; and L'Embuscade, again Afro-Caribbean, again healthy, and again annoyingly in an area we were in but just weren't aware of its existence. These restaurants will be top of our list on our next Paris trip.
I surmised several things on this France trip. Unsurprisingly, Paris is the best place for a vegan in France. However, it's still fairly difficult to find that mix of stunning taste and healthiness in a vegan restaurant meal. In my experience other western capitals seem to be ahead on this and US cities even more so. On a subsequent visit to Paris, outside of Wild and the Moon, I'd probably stick to ethnic restaurants to ensure a tasty meal. The problem I noticed with the restaurants I visited that try to recreate French cuisine for vegans is that they don't seem to know how to do it for the best. There is an overuse of mushrooms; I didn't see many (any?) bean dishes – how easy is it to make beans taste delicious!? You could say that French cuisine doesn't lend itself to vegan conversion in a way that could be healthy and tasty, but I think that would be a cop-out. This lagging behind is perhaps something to do with a French reluctance/stubbornness (yes, I'm stereotyping) to change traditions (I noticed the amount of people that still smoke in France, despite restrictive smoking bans), and perhaps great vegan French food will come as more and more people in the country go vegan and demand excellent versions of their traditional food.
I can't wait to revisit. I love Paris – I lived here for a while and it still feels like home. Next trip I'm gonna be all about the Caribbean food; with trips to Wild and the Moon to gorge on enjoy their Wild brownie.