I've been making this tahini sauce for years. It's probably most well-known as an accompaniment to falafel, but it's also yummy as a salad dressing, great on baked potatoes, you can mix it up with falafel and/or salad and stick it in a pita pocket, or you can just plain ol' dip into it with a pita soldier or a rice cracker.
Tahini is basically ground sesame seeds. Sesame seeds are a fabulous source of calcium. You don't need the milk from the cow when the seed of the sesame is around. They are also an excellent way to get your copper, manganese, magnesium, iron, zinc, selenium, phosphorus, and vitamin B1 needs met!
Try and get the paler tahini. Some might say the darker one is better as the seeds are unhulled; but the paler one made with hulled seeds is just easier to work with for this sauce. The dark one can taste a bit bitter.
You can find tahini pretty much anywhere these days, even supermarkets. If you can, I'd try and get it from a local Asian/Middle Eastern grocers. Some of the tahini I've bought in health stores is a bit heavy. The real thing made in the countries that use it the most, seems to be best. It's not expensive at around £2.50 for 454g (1lb). This is really economical as you only use a small bit for each batch, so it lasts a good while.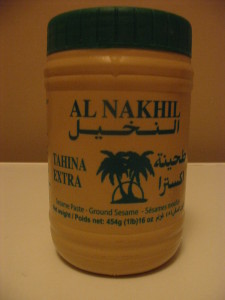 My favourite tahini is the Al-Nakhil brand. It's Lebanese and has a gorgeous, creamy, smooth texture. I'm sure there are lots of other great Middle Eastern brands. Look around.
What you'll need:
– 3 tblspns Tahini
– water
– juice of 1/2 a lemon
– soy sauce (just use salt if you don't tolerate soy)
– the tiniest drop of olive oil EVER
– 1/2 tspn garlic powder
– 3/4 tspn of cumin
– 3/4 tspn of paprika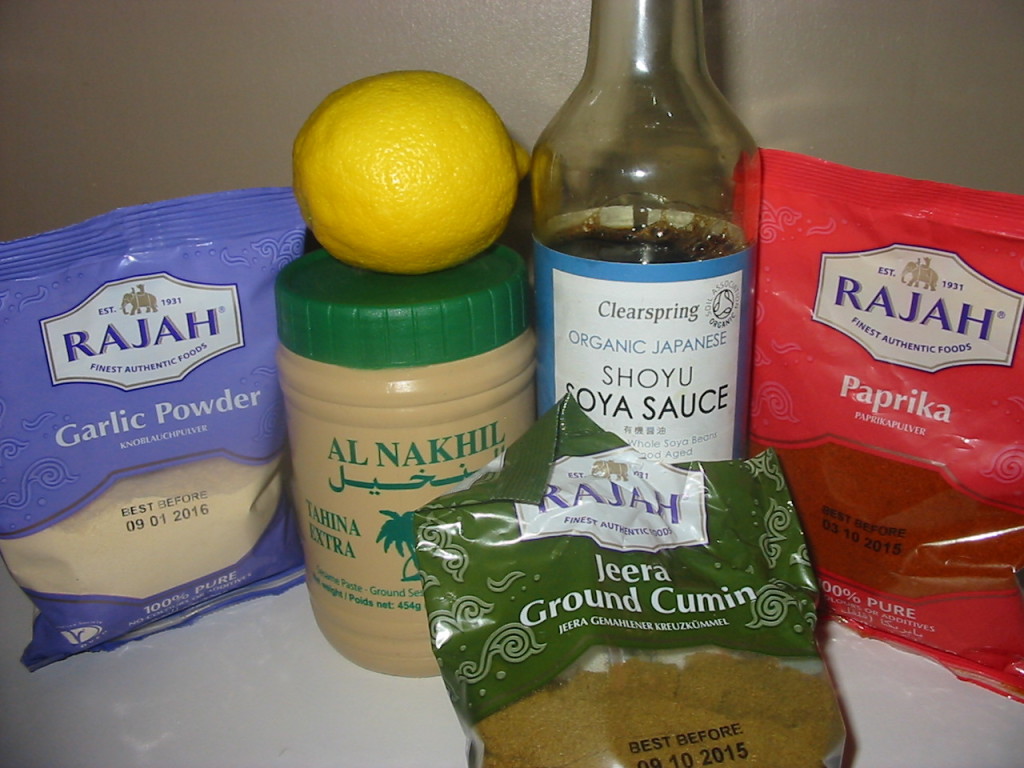 What you do:
I've given specific amounts of each ingredient above, but tahini is really made to taste, so do feel free to add more or less of each ingredient to suit you. The only important thing is getting the right salt taste to lemon ratio, but you will identify this when you taste it.
If you're making it for the first time, and just for a couple of people, I'd start with three tablespoons of tahini, and put them in a cereal bowl (one that has quite high sides if possible).
Then fill a jug with water (filtered, preferably) to put next to you.
Pour a little of the water into the bowl, so it comes approximately 1cm over the top of your tahini. Then grab a teaspoon and stir rapidly. If it is too thick, pour in some more water, and stir again. Continue to do this, until it is almost the consistency of milkshake.
PRETTY IMPORTANT NOTE: At the beginning of the stirring process, the mixture WILL curdle and look disgusting, but don't worry, it all comes back together again and looks creamy and dreamy after just a little more stirring.
Got the creamy milky texture back?
Good.
– Add a tiny touch (really tiny) of olive oil, and stir it in. This just helps keep the texture smooth.
Now to flavour your tahini sauce.
Firstly, add a drop (maybe 1/2 tspn) of soy sauce to salt your tahini. Just keep adding half teaspoons and tasting it until you are happy.
Then add lemon juice. I'd start with the juice of half a lemon, and increase it if you need more. You want it pretty zingy, to complement the salt taste.
When you are happy with the lemon/salt taste ratio (your tahini should already be tasting pretty darn good btw), add a 1/2 teaspoon of garlic powder, or more if you love garlic, and stir it in.
Check your consistency is good. At this stage you want it to be the consistency of milk. Don't worry if it is a little bit thicker. You just don't want it too thick, as it will thicken as it stands. If it is too thick, just keep adding a little water, making sure not to dilute your flavours by adding a little more of each, if needed, until you get a thinner liquid.
Sprinkle 3/4 of a teaspoon of ground cumin, and 3/4 teaspoon of paprika over the top, and leave to stand for around 15 minutes for the flavours to mingle.
It will last in the fridge a couple of days, and you will need to give it a quick stir each time you use it again.