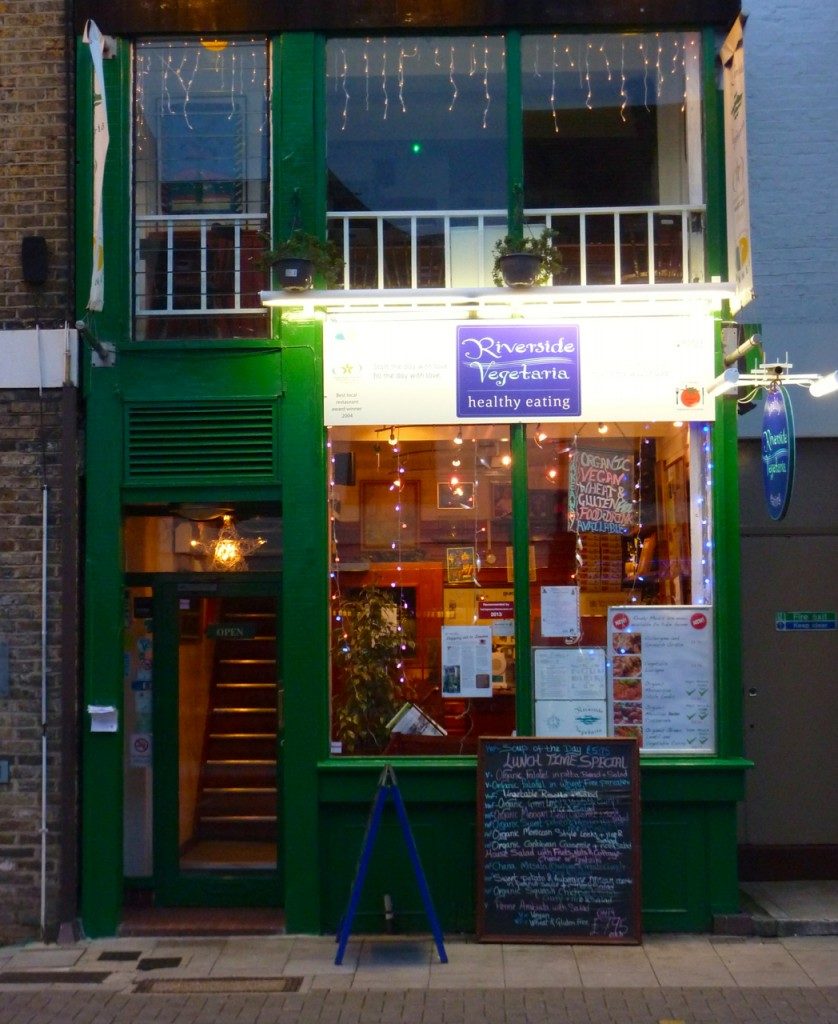 South Londoners and North Surreyites – you need to know about this little gem of a restaurant on the River Thames called Riverside Vegetaria.
I paid my second visit there last week, and for the second time had a great evening.
It's in Kingston-Upon-Thames, and a 25 minute drive from my home in South West London. Although I'd say it's totally worth up to an hour's travel!
The restaurant has been there for almost 30 years, and has won a ton of awards. The owner has a spiritual philosophy of 'love all, serve all' and this definitely shines through in the high quality of the service.
You: 'What about the food already???'
Ok, ok, I just wanted to set the scene.
The menu is approximately 80% vegan, and 20% vegetarian, and everything is clearly marked. If you are gluten-free there are a large number of items marked 'wheat-free;' and if, like me, you are health-conscious, all rice is brown rice, and all grains served are whole grains. Very little oil is used.
There is a huge variety of dishes available, from Indian dishes, to Mexican, Italian and Jamaican.
Now when I say that from my experience the food is hit and miss, you need to know that it's 80% hit, and 20% miss, and even the misses are still good – they're just not exceptional like the 'hits' are.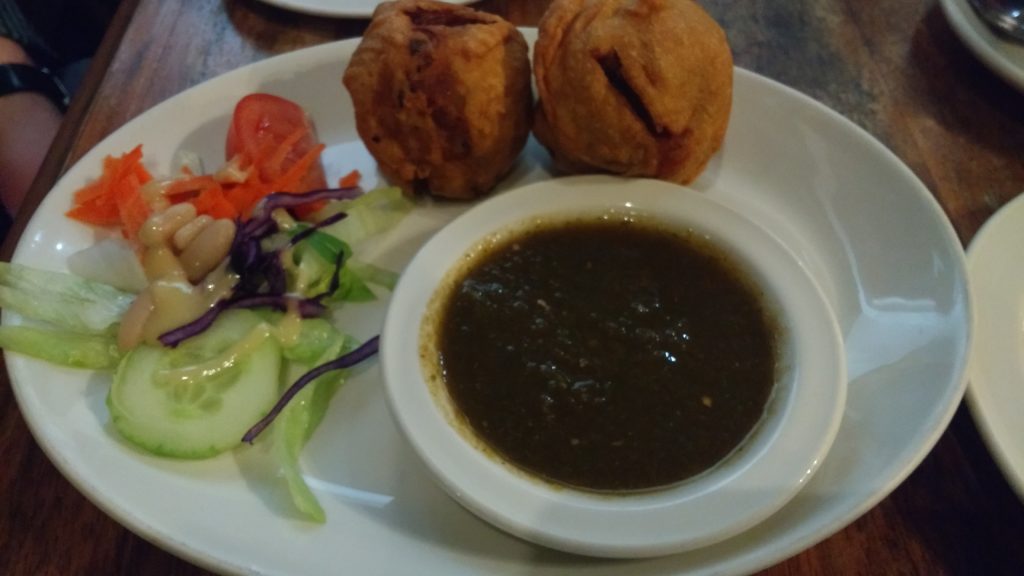 Our stand-out starter is the vegetable balls with coriander sauce. These balls are fried but not at all greasy, and they are brilliantly set off by the intense coriander flavour in the dip.
Now as a health freak, I wouldn't normally entertain the notion of a dosa for a main course. They can be greasy and often contain white wheat flour – which I'm not a fan of.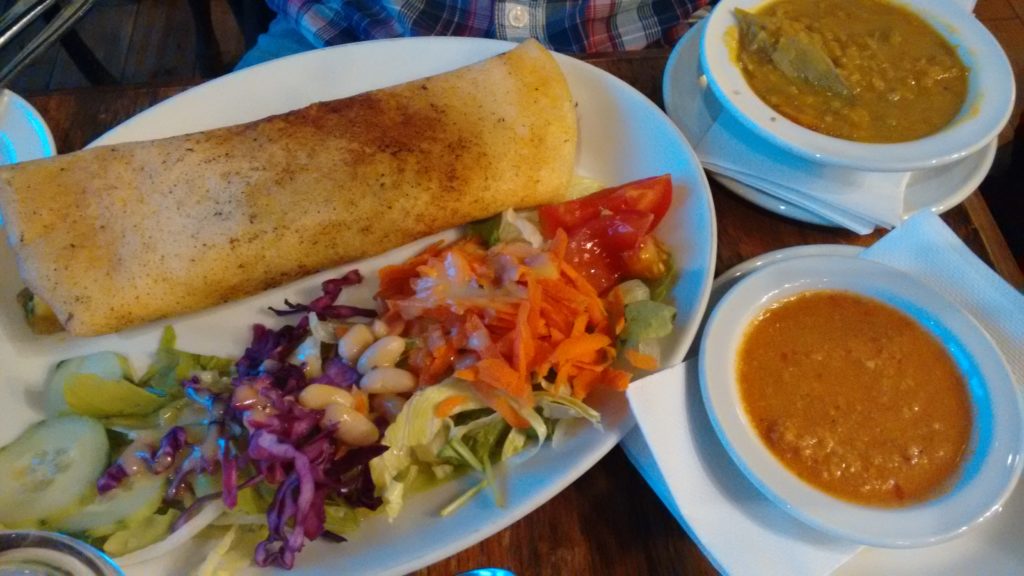 Riverside Vegetaria's dosa is not only To.Freakin.Die.For taste-wise, but it's made with lentil flour, is not at all oily, and comes with the most delicious coconut sambal and vegetable sambar for dipping.
I've also tried the Jamaican stew and a special – green lentil curry, which were both excellent.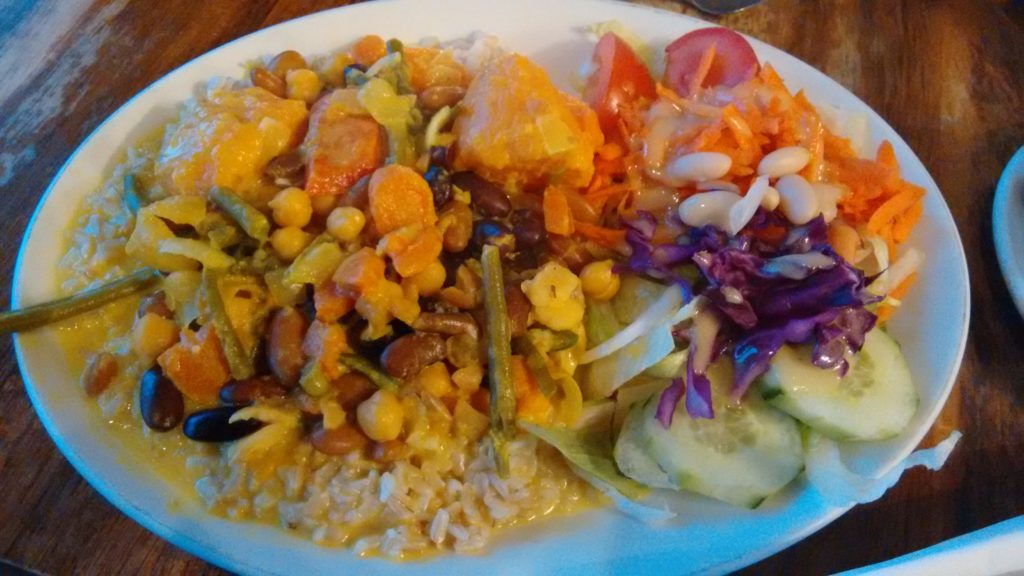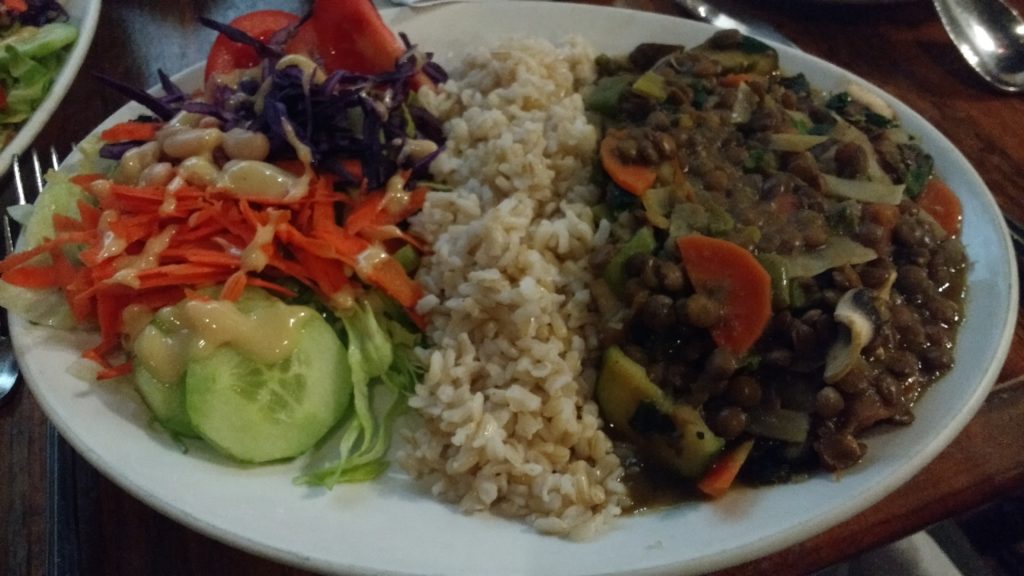 The dosa really is top class though, and my absolute first recommendation.
I've found that the Italian dishes are not quite as good as the Indian dishes, so my advice would be to stick to spicy Indian, African and Jamaican dishes.
I love that the garlic bread is wholemeal – you hardly ever get this in restaurants! And a soup we tried this time was full of fresh okra and herbs, a perfect dunking receptacle for the bread 🙂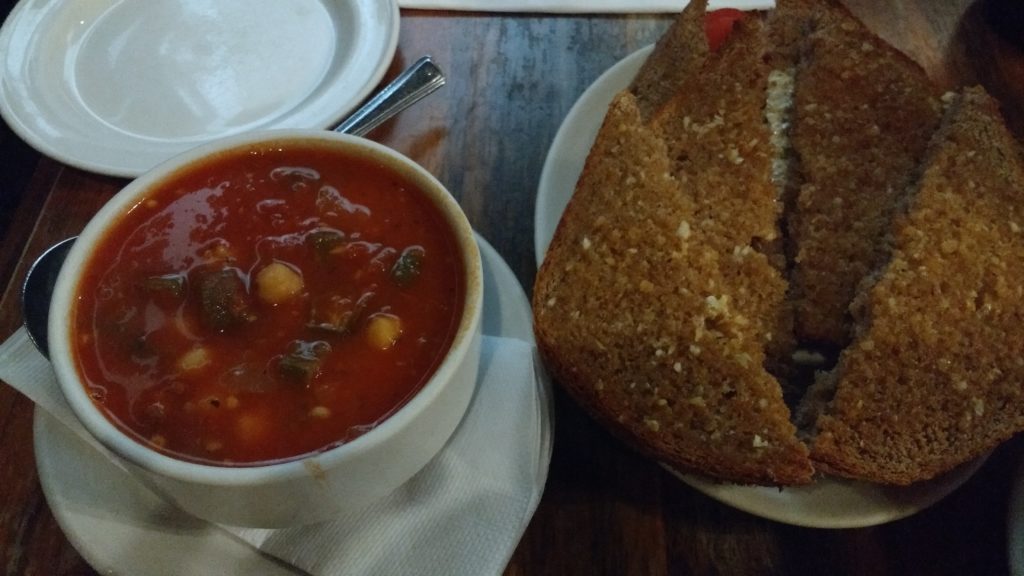 Most dishes come with a colourful salad – not as a sloppy garnish but as a thoughtful, well-presented accompaniment. You'll want to take a pic for Instagram before you tuck in!
You must also consult the 'specials' board as there seem to be a huge amount every day.
As for dessert, my partner says the chocolate fudge cake was great – moist, rich and as decadent as it should be. I had an orange sorbet which was decent.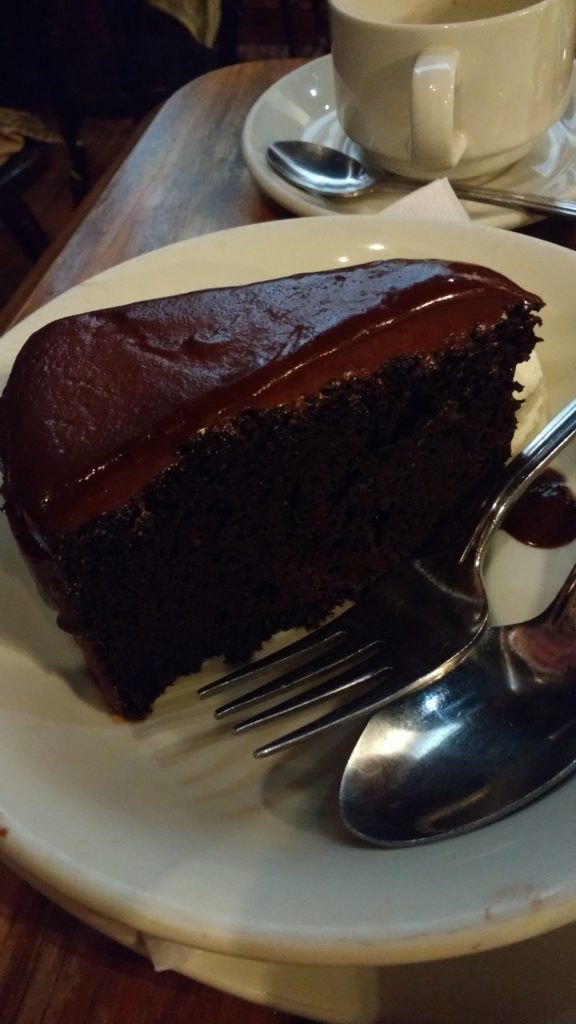 I can't offer much info about the drinks as I just have tea and my partner has beer. Sorry – we're just not wine aficionados!
Riverside Vegetaria is in a beautiful setting next to the river, with a small outside terrace for spring and summer dining.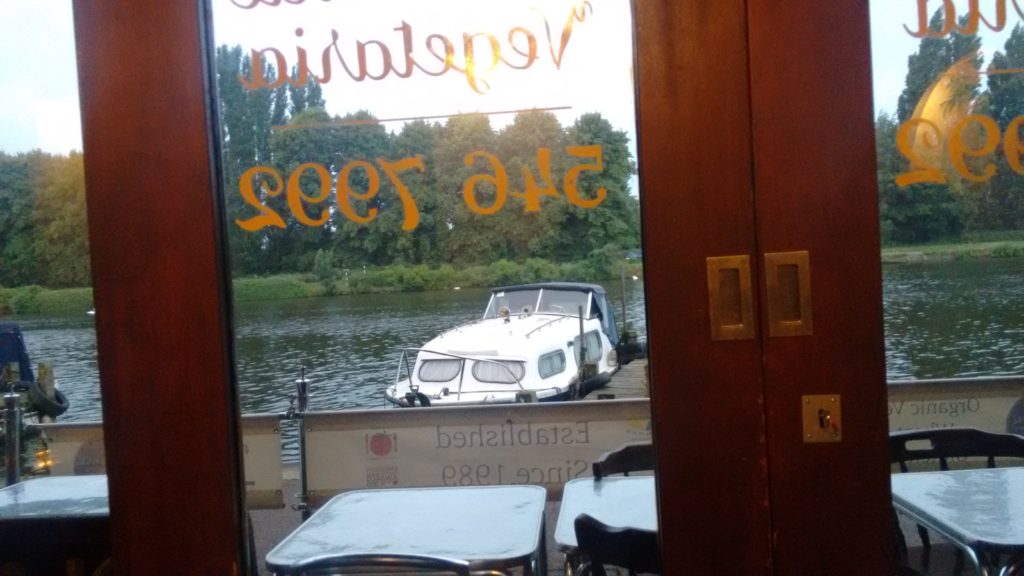 The decor is cozy and cute; prices are absolutely fair; and the vibe is friendly, casual, local and inviting.
The only downsides are that the space is very small, and fills up quickly as the restaurant is so popular. You can find yourself squeezed in tight with the neighbouring table practically joining yours. Not too cool if you wanted a more intimate meal with a friend/partner. I guess this is worse in winter because the outside space is closed, so they have to maximise covers inside. My advice is to visit on a Monday or close to the beginning of the week, or wait until later in the evening when the restaurant has emptied out a bit, to have your meal.
I haven't yet visited on a summer evening but I can only imagine that if you go on a warm night, and are lucky enough to snag one of the riverside tables, you'll find yourself in heaven for a couple of hours…