1. The word 'vegan.'

So you don't like the word 'vegan' because you feel it has lots of negative connotations?
Fine. If it helps, don't call yourself vegan.
You can call yourself 'plant-based' or 'plant-strong' if you prefer.
Yes, I know there is a difference, ethically, between 'vegan' and 'plant-based' and that some vegans get het up about these terms being used interchangeably. I honestly DO get why, but I find this excluding and not helpful in encouraging people to eat this way.
You should say 'plant-based' if it feels better to you.
Or you don't need to call yourself anything! You're just someone that loves good and nourishing food, end of story!
2. It'll be too difficult.
No, it won't.
It could be more of a change for you if you are a self-confessed picky, junk food, unadventurous eater, sure, but it is still so do-able, there really is an entry point to suit EVERYONE!
If I have just described you, why not start slowly by switching your favourite junk food to vegan versions (just google 'vegan burgers' or whatever your poison – you'll be surprised at the amount of entries there are with alternatives – we are nothing if not a creative lot!). Or try getting rid of a couple of animal products at a time (say, for a few weeks, till you feel comfortable enough to eliminate a couple more), and introduce two new plant foods (sweet potato and avocado for example) to your weekly diet.
It doesn't matter what your starting point is, there is a way to do it slowly and easily, so it sticks!
And rather than framing it in your mind as something that's going to be 'difficult' what about seeing it as an opportunity to expand your repertoire and discover delicious new foods!
3. My friends/relations will think I'm batshit cray.
I doubt it. Not in my experience, and I was vegan long before Beyonce made it kool.
There may be some that think it's a bit 'out there', but it's highly unlikely it will get in the way of your relationship. You don't talk about food all the time do you? Just focus on what you always had in common. If the thing you always had in common was your love of burgers – well then introduce them to the delight that is a portobello burger!
4. It's expensive.
No, it really doesn't have to be.
You SHOULD prioritise and spend what you can on good food. Food is medicine, both preventative and even sometimes curative, and you KNOW you wouldn't skimp on medicine!
I love saying 'health is wealth,' I really believe that if you spend what you can on nourishing food, you'll be happy and healthy and everything else in your life can grow from there.
But that said, if you're truly cash-strapped, it's still easy to eat a tasty, healthy vegan diet. I've got you completely covered – just check out this previous post for some tips on how to stretch that vegan $ or £, or rouble or yuan!
5. I'll have to spend aaaaages in the kitchen and I'm not a 'kitchen'y' person.
Guess what? It's the same as if you're a meat-eater. Granted, it's advisable to spend time playing with recipes while first transitioning to vegan, especially if you don't consider yourself very food savvy. You can get to know a wide range of tastes and textures so you always have great and satisfying ideas for what to eat for your next meal.
But even if you refuse to do 'kitchen;' and even if you're the 'ready meal' king or queen, there are plenty of vegan ready meal options these days, most of them very healthy!
In the UK, try Innocent Pots (available in Sainsbury's), or any of Dee's Wholefood pots.
Ready meal types in the US try any of these products. I've had the black bean and lime soup from this range and it was surprisingly tasty. You just add water – what could be easier? And there are always several vegan options available at the hot and cold bars in Whole Foods, and some vegan choices are already pre-made and packaged in the refrigerated aisles, if you're really short on time.
Please do try and spend some time at least one day a week in the kitchen though – if you make a big pot of soup or stew, it'll last you for the next few days and THAT will mean you don't have to cook for a while!
6. I knew a vegan once and they were obnoxious.
Sweet Lord! Have you never known an obnoxious meat-eater? Did they influence your opinion of all meat-eaters? Yes? Then you have issues too big for me to help with.
Look, an a-hole is an a-hole, vegan or no.
And some vegans ARE going to be obnoxious. To an extent this is understandable. I'm not remotely excusing this, but this can happen to new vegans especially.
They've just had their mind-blown by life changing information, and everything around them is geared towards meat-eaters. New vegans are acutely aware of the cruelty carried out on non-human animals every second, and are often well-informed about animal products being the number one environment destroyer. It's difficult to watch people act blindly and unthinkingly, and to watch destructive behaviours legitimised and reinforced by greedy corporate interests, and I definitely feel angry about that myself sometimes – we're HUMAN!
BUT, as a vegan lifestyle is defined by compassion, in general we try and extend that to everyone. I appreciate there will always be the bad apple, but I can honestly say, the vegans I know are kind, funny, friendly – JUST LIKE LOTS OF NON-VEGANS.
7. But baaaaaaaaycun…
Really?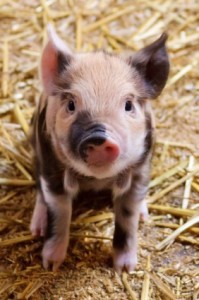 You really want the flesh off this little guys back?
If you ate bacon so much previously that you genuinely miss it, there's always vegan bacon while you're transitioning (in UK here, in US here). True, it ain't exactly healthy – but neither's bacon!
Unsalted and unprocessed back flesh from a pig would kinda taste like nothing. It's actually the salty, smoky, fatty flavour and texture that you crave, so you can recreate this taste and the whole 'mouth feel' of bacon yourself, very simply, like this.