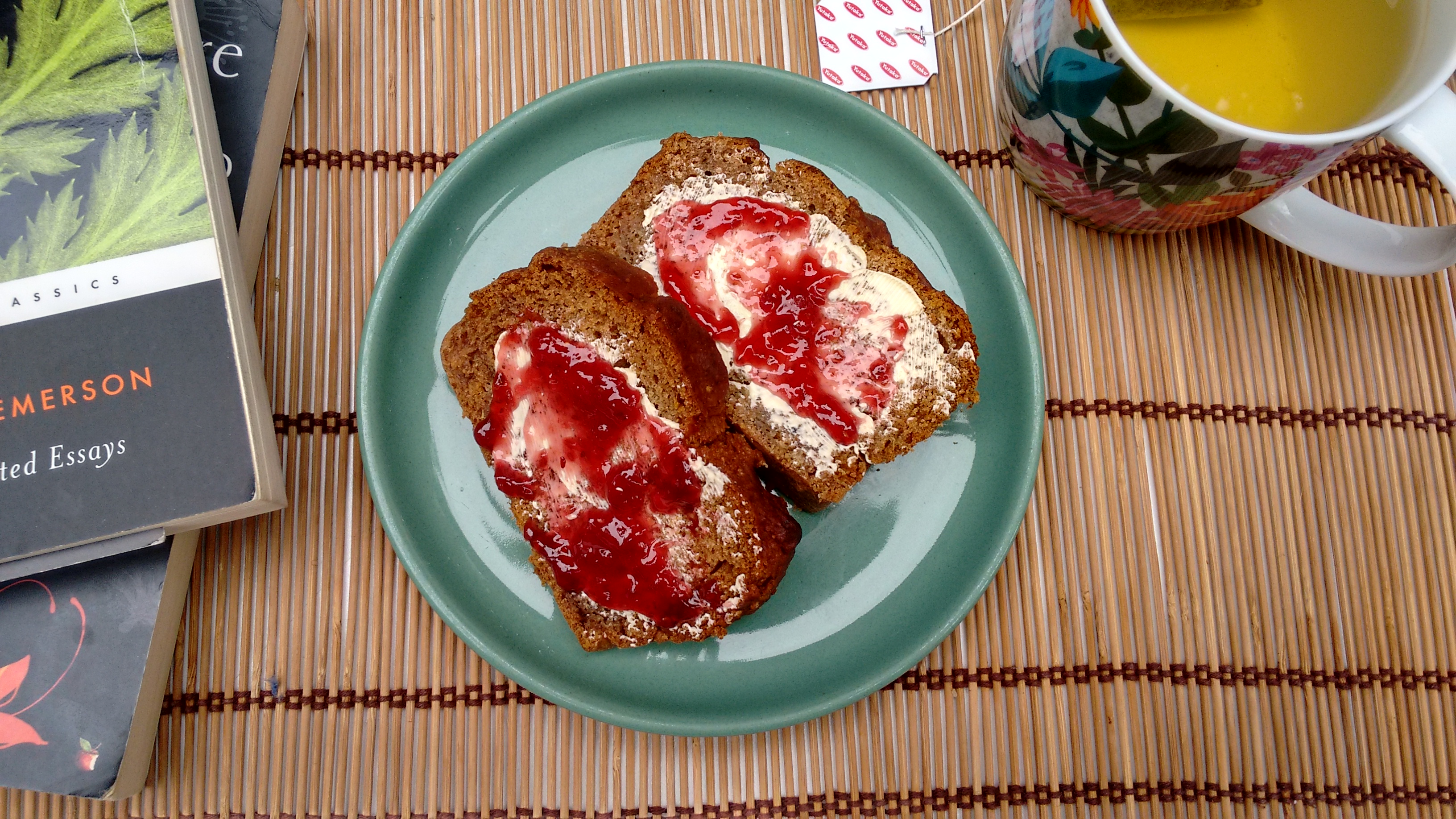 I don't know about you but at the weekend I haven't got time to be experimenting with lots of different cake recipes (though I truly wish I did have).
Sometimes I make something different to shake things up; but mostly, if I don't have too much time, I'll make some good old banana bread.
This particular recipe is genius. I discovered it two years ago, and I've made it pretty much every weekend since.
It's SUPER easy, and it's practically healthy. You can keep it gluten-free if you need, and it's absolutely free of refined flour and sugar (but doesn't taste like it!).
You can sex it up by adding chocolate chips, or keep it virtuous and plain.
You can spread your favourite non-dairy spread and some jam on it, dip it in your tea or coffee, or just munch it as it comes.
It makes an ideal addition to a packed school/work lunch. Grab a coupla' slices and go!
It lasts pretty well too, but if you're in a hot place, or if it's summer, I'd probably keep it in the fridge after the first day.
The recipe is from the Babycakes NYC cookbook, but I add a little nutmeg, and change up half the flour type to make it a wee bit more economical (but you can totally make the original version if you want it super light, or specifically need it to be gluten-free).
Look how well-worn and, er, cake-mix spattered these pages are!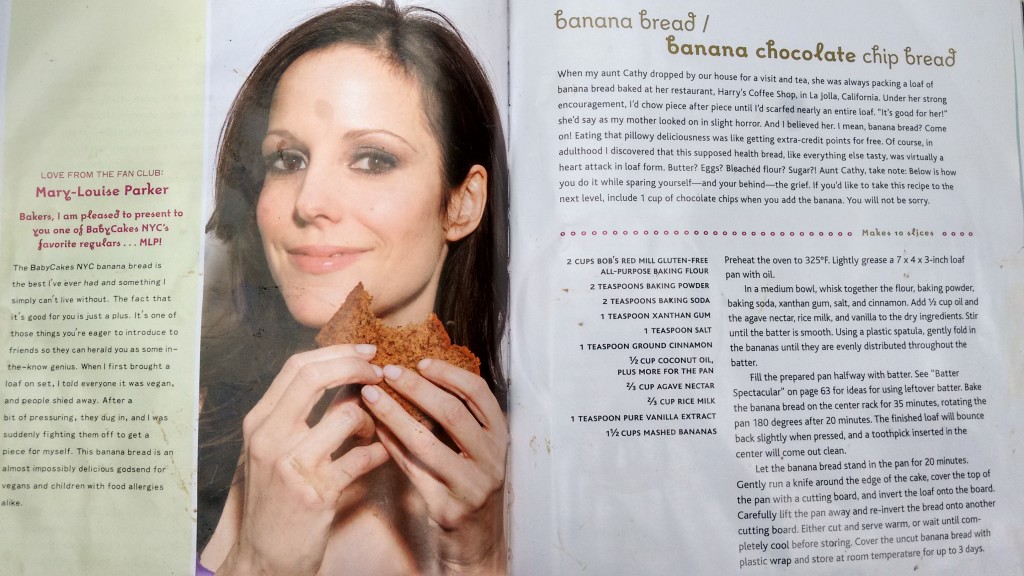 Banana Chocolate Chip Bread
You'll need:
2 cups Bob's Red Mill Gluten-Free All-Purpose Baking Flour (As this can be quite pricey, I use 1 cup of Bob's and 1 cup of whole spelt flour. If you are gluten-free and/or want ultimate lightness of sponge, use 2 cups of Bob's Red Mill; but you'll still get a decent enough texture with 1 cup of Bob's and 1 cup of whole spelt)
2 teaspoons baking powder
2 teaspoons baking soda (bicarb)
1 teaspoon xanthan gum
1 teaspoon salt
1 teaspoon cinnamon (I like 3/4 teaspoon of cinnamon, 1/4 teaspoon of nutmeg)
1/2 cup coconut oil
2/3 cup agave nectar
2/3 cup rice or soy milk
1 teaspoon vanilla extract
1 1/2 cups of pureed bananas (I usually use around 4 bananas for this)
To take this recipe ALL the way to heaven, add 1 cup dark chocolate chips at the same time as the banana
If you're wondering what the heck xanthan gum is, it's a plant-based binder. It replaces egg so well you'll wonder why you ever used eggs in cakes in the first place.
You can get it from any supermarket, witness: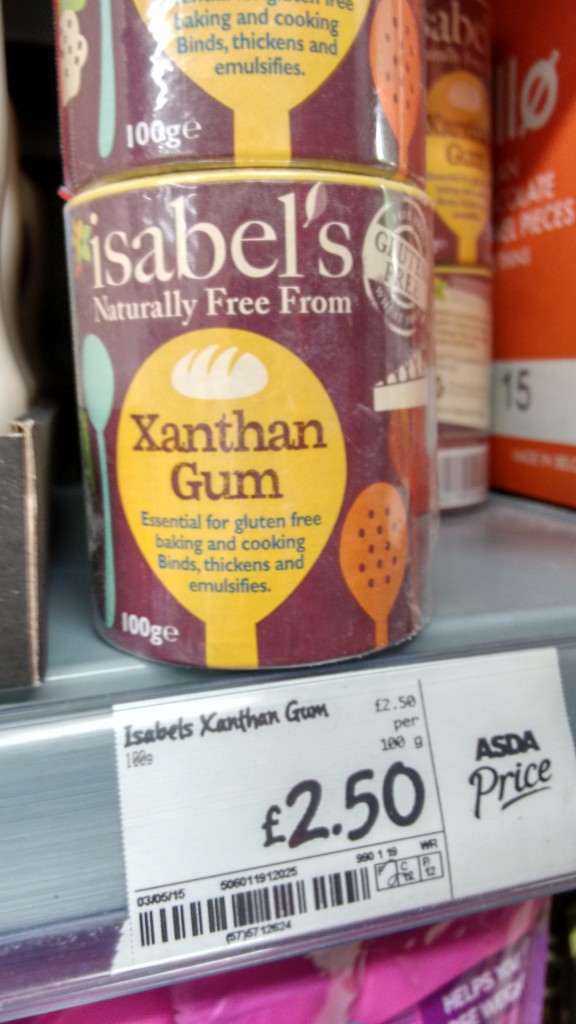 What you do:
Preheat oven to 325 degrees F.  Lightly grease a 7x4x3 inch loaf pan with oil (or two smaller loaf pans). Use greaseproof paper if the loaf pans are a little past their best!
Measure all the dry ingredients out into a medium bowl and whisk them together.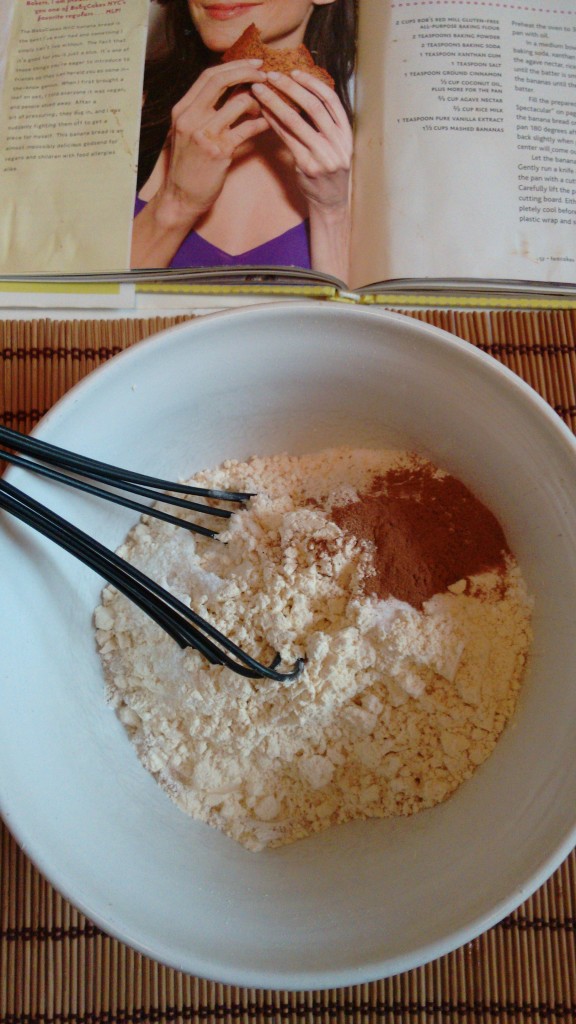 Add the coconut oil (this is my brand)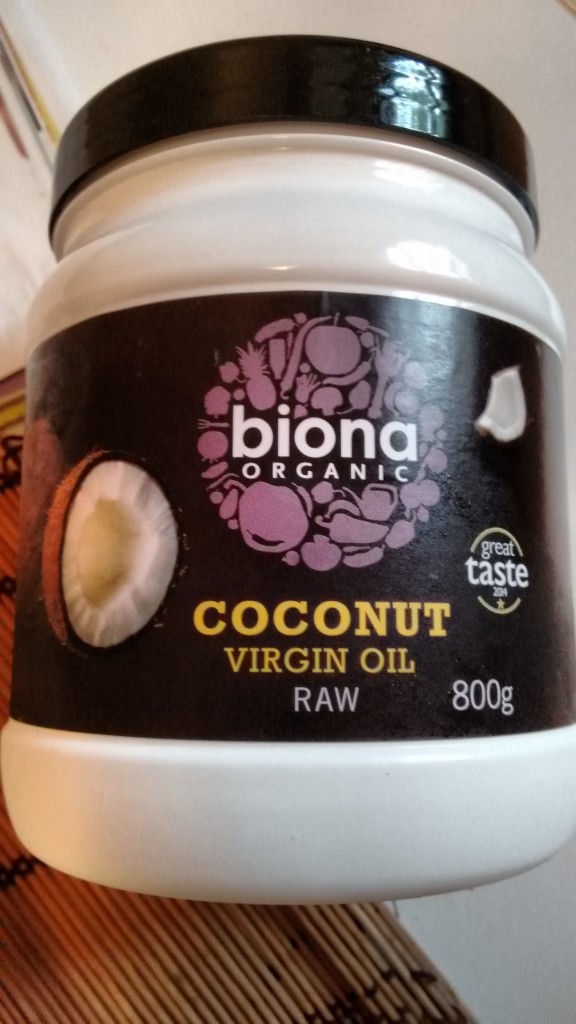 You may need to melt it in a pan first, as it's solid at room temperature or from the fridge – don't let it get too hot!…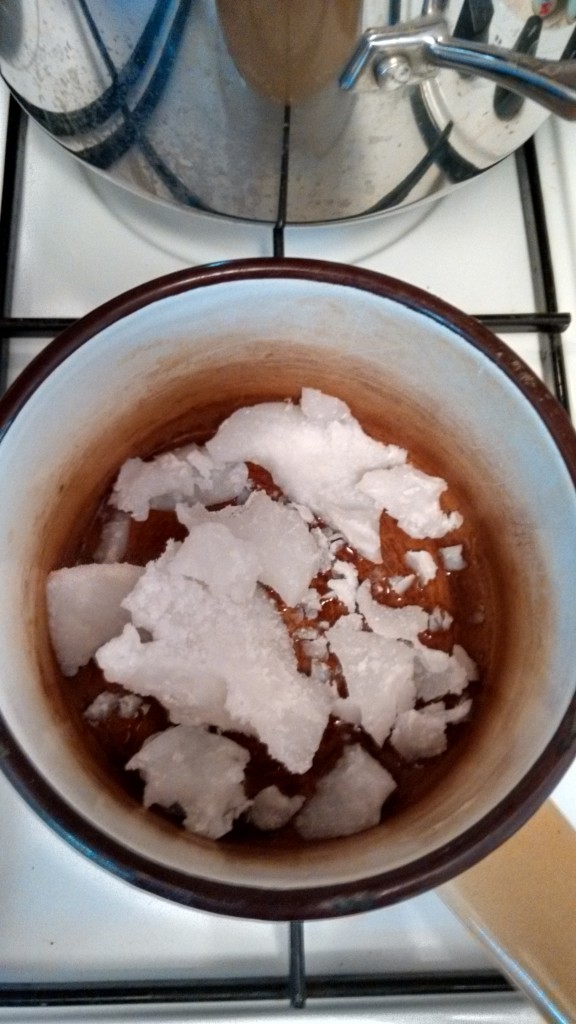 …then add the agave, milk and vanilla extract. Stir with a wooden spoon or desert spoon until mixture is smooth and lump free.
Blitz your bananas and add them to the bowl. This is also the time to add the chocolate chips if you're gonna do this. DO IT!
Lightly FOLD the blitzed banana into the rest of the mixture with a thin spatula. You'll need to do this for a good two or three minutes so it gets well incorporated into the batter.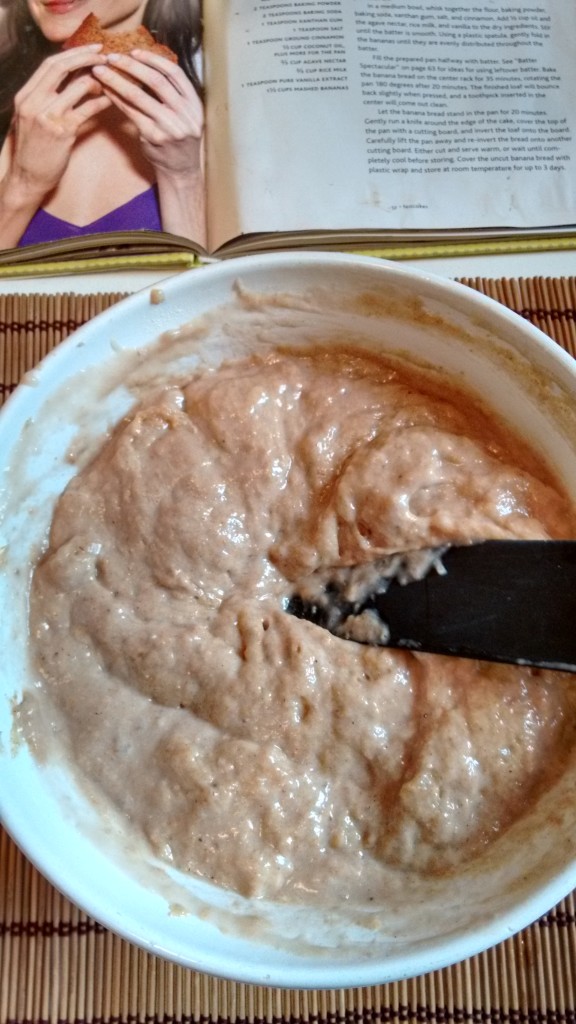 Dollop(!) the mixture evenly into your oiled or lined loaf pan(s). The mixture should fill the pan(s) halfway – trust me it will rise like nobody's business.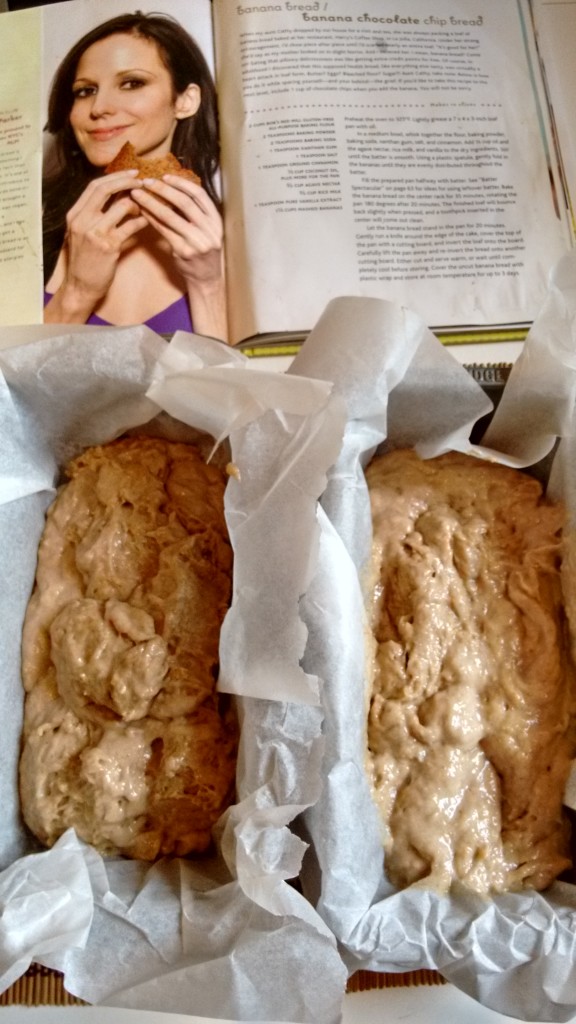 Bake your banana bread in the centre of the oven for 20 minutes, then rotate the pan(s) and bake for another 15 minutes.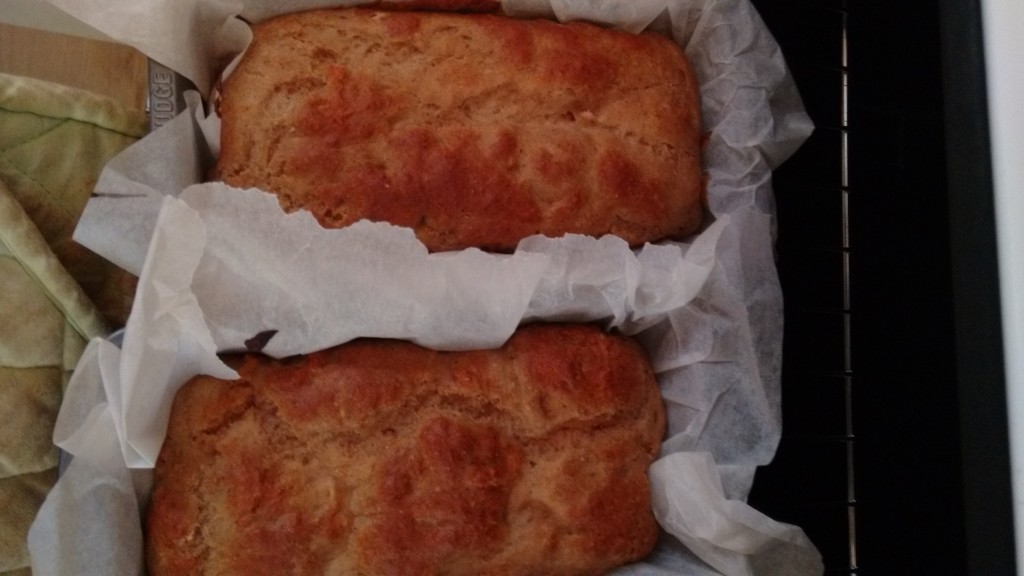 You'll know for sure it's done as it'll bounce back lightly when pressed, or an inserted toothpick or skewer will come out clean.
Let it stand in the pan(s) for 20 minutes or so to cool, then carefully run a knife around between the cake and the pan and empty it onto a cutting board.
Eat warm or cool. It's good any which way!
Behold my pal Lisa, loving on the banana bread…