I'm away for the week discovering Santa Fe, New Mexico; so I bring you this guest post by a company called Mantis, fine purveyors of garden tools and composters.
Now I don't currently garden; but I'd love to. I used to garden, and I remember that there's nothing like working in the fresh air and getting your hands covered in earth to make you feel grounded and part of nature.
We all know the best fruits and veggies are the ones you grow yourself. I don't need to be an active gardener to know this. Look, don't be a ninny like me; if you have some garden space; get out there and start sowin' them seeds. And yes, it's definitely a case of do as I suggest, not as I do – what of it? I live in London; my soil is nuclear waste; nothing would grow; I don't have the time; blah blah blah. Ok I know, I know; I need to get my excuse-laden-ass out there and start tilling that soil!
While I'm away don't forget to check my Instagram and Twitter for pics of yummy South Western food – all of it animal, planet and people-friendly; and possibly some shots of desert, mountains and forest.
If you're not already doing so, follow me on Periscope (the new-ish live-streaming App from Twitter). You'll need to download the Periscope App (don't panic it's totally FREE!), then it's pretty self-explanatory from there. My handle is @karencottenden and I 'scope' several times a week on all things vegan and plant-based. I hope to do a couple of Scopes while in Santa Fe to share my vegan finds and I'd LOVE for you to join me! The best feature of Periscope is that it's interactive so you get to comment; question me; show me love: show me hate (though please don't!) and be a fully equal participant.
(Disclaimer: I am not receiving money for the placement of this post. To the best of my knowledge, Mantis do not sell anything out of alignment with my vegan values!)
Starting Your Own Allotment In 3 Easy Steps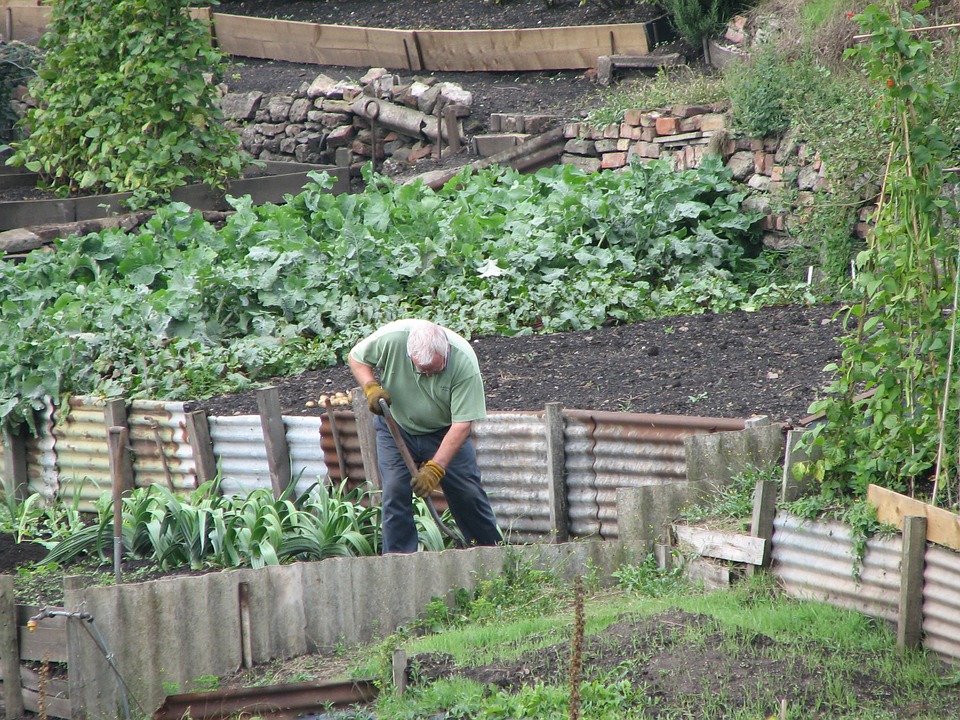 A healthy nutritious plant-based diet obviously includes a ton of colourful vegetables.
They can be incorporated into all styles of cooking, and their high-energy value but low calorie content makes them a fantastic slimming food. The problem is that many supermarket vegetables are, to an extent, unnatural — they have been grown using artificial chemical enhancers and GMOs, which detract from the nutritional value of the vegetable.
The alternative to this is to buy organic food, which can be quite expensive if you're purchasing it regularly. One way to ensure a regular supply of healthy, natural vegetables is to grow your own — and this can actually be much easier than you might think. All you need is a dedicated patch of land, detailed planning and the right growing techniques to have you eating home-grown vegetables in no time. Here is a three-step guide to starting your own allotment.
Find a suitable space
While you may be tempted to start a vegetable patch in your garden, unless you have plenty of space you will not produce a yield that can sustain your diet. You need a large, dedicated space for growing vegetables — an allotment is the perfect option. If you're already aware of an allotment close to you then start making enquiries into how you can rent, otherwise you can contact your local council to identify and rent your allotment space. If your allotment is overgrown, you need to clear it out before you can start cultivating. Remove all traces of plants and weeds to give yourself a clean slate, but don't dispose of your garden waste yet, as it will come in handy later.
Enrich your soil
A patch of soil may as well be a patch of sand if you don't nourish the earth before planting. You should start by digging and turning the soil, using either a spade or a tiller, to ensure there are no weeds or rocks under the surface, as these will inhibit the growth of any produce. When you are satisfied that the soil is free from pest plants and debris, you should think about adding an enriching agent, such as compost, to fill the soil with growth-promoting nutrients.
While you can buy compost from a garden centre, you should stay in theme with your completely home-grown allotment and produce your own compost. The process to do so is quite simple and merely involves stockpiling garden waste, which eventually decomposes into compost. The best way to do so is by purchasing a compost tumbler. This will enable you to store your compost, as well as turn it and add/take away as you please. Gardening specialists Mantis stock a selection of composters and tillers that will aid you greatly in establishing your allotment — these are both available with a long guarantee, to assure quality.
Plan your produce
Growing produce isn't as simple as planting a seed and watching it grow. You should do research into which type of plant grows best in different seasons, and allow your growth plan to reflect this. For a quick-start allotment: tomatoes, beetroot and spring onions are among the easiest vegetables to grow, while salad leaves and herbs can be grown in pots, as opposed to in the ground. Eat Seasonably has a great guide on which vegetables to plant based on the season, as well as instructions on how to grow them.
The important thing to remember with vegetable growth is to be patient, especially with your first yield. Over time, your soil will become more fertile and adapted to growing, but nourishing it will take time. Like everything, cultivating is a learning curve, and the more you do it the better you will get — and the tastier your vegetables will be.