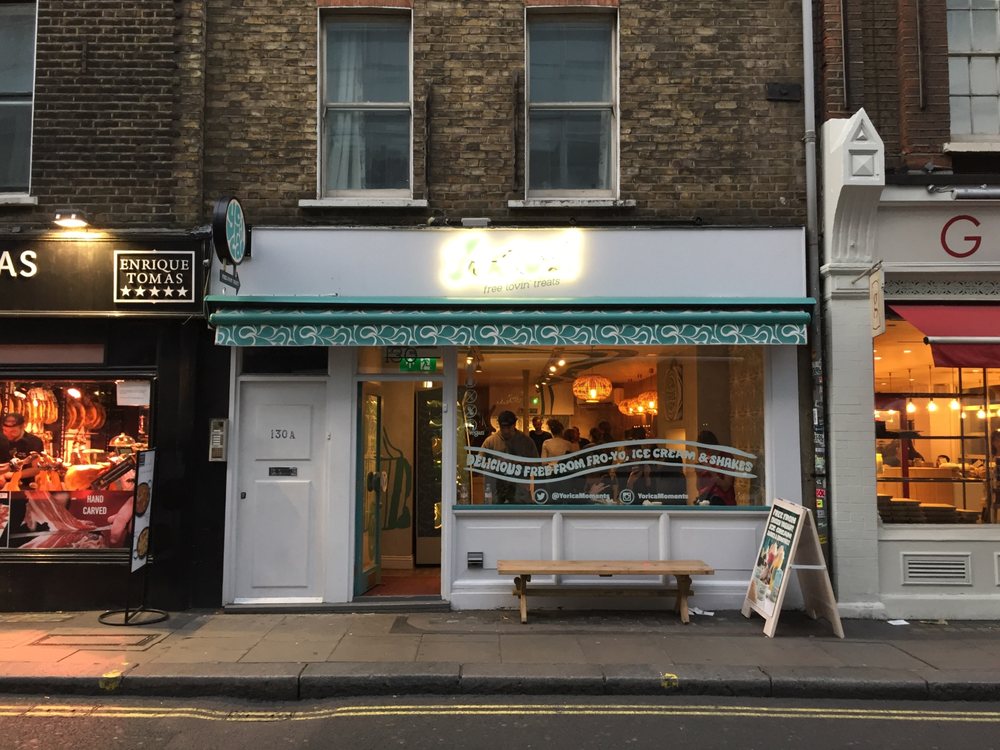 It's way past the time that I should have written my review of Yorica, London's only fully vegan ice-cream parlour.
It's been about three months since I visited the first time, and about six weeks since I went the second time. I put off writing this because, well, you'll see.
I remember being soooo excited to hear there was an ALL.VEGAN.ICE.CREAM place in London.
This stuff normally happens in New York or Austin – not London!
And it's on Wardour St, one of my favourite streets ever!!
It opened in March, but I didn't have occasion to visit until July of this year.
I was with my (non-vegan) mum. The idea was we'd have a mini ice-cream crawl. First, a gelateria in Covent Garden, which has several vegan options, then on to Yorica.
When you enter Yorica as a vegan it seems magical. It has a sixties psychedelic theme going on decor-wise, and is…just…so…pretty! It has fun slogans and signs everywhere like this: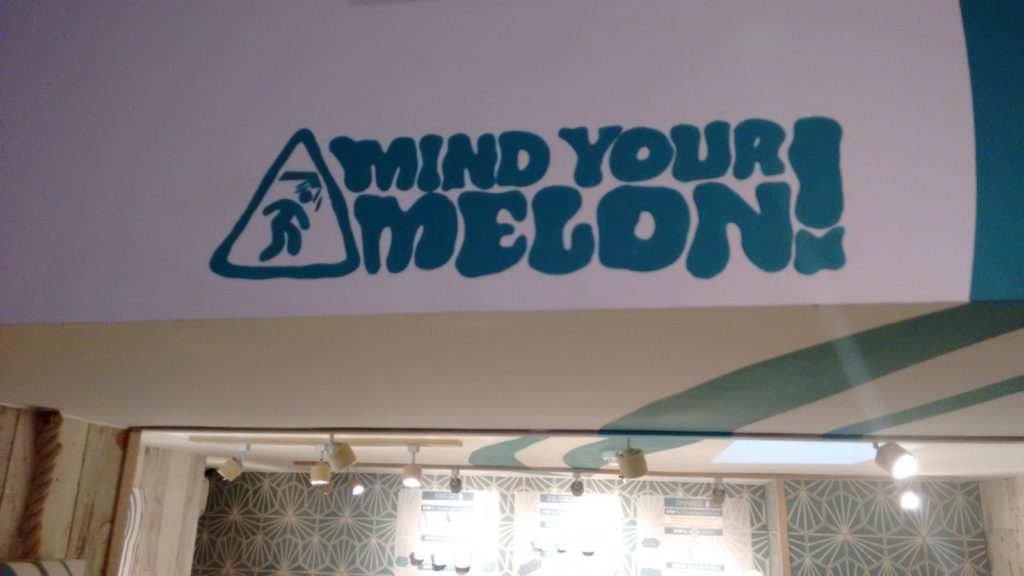 Yorica actually offer froyo as well as ice-cream, so if you want a lighter dessert, you're covered!
They have four flavours of froyo – caramel, matcha, chocolate and vanilla, and there are around thirteen flavours of ice-cream, including chocolate, strawberry, vanilla, bubblegum, cookies and cream, and beetroot (which, while inventive, didn't really sound appealing, at least to me!)
There's a decent selection of toppings at the counter; healthy ones – blueberries, pomegranate seeds etc, along with the old fun favourites – sprinkles, candy, marshmallows, gummy bears, oreos etc.
There are also sprinkle machines in the main space, so you can cover your ice cream in however much crap you want!
I try and limit sugar now for health reasons, but I know that if I'd visited as a kid, I'd have thought this place was heaven on earth.
This visit, I opted for the matcha froyo. Partly because it's one of my favourite flavours, but partly because I wanted it 'soft serve' ('Mr Whippy style' to us Brits!) Only the froyo is soft serve, the ice-cream is scooped.
I chose pomegranate seeds as a topping because I couldn't resist seeing the bright red against the pale green of the matcha froyo, I knew it'd be pretty – and it was: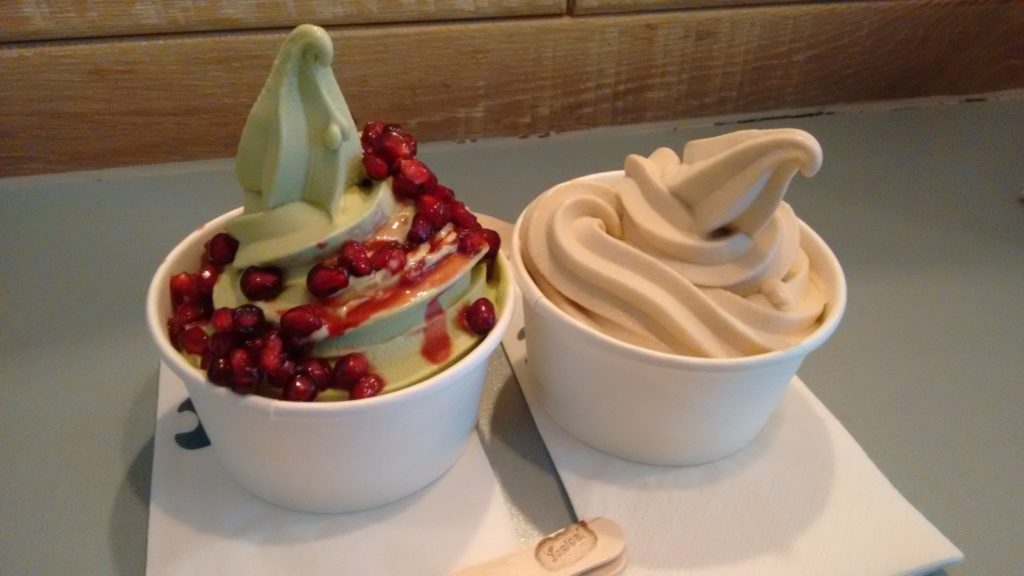 My mum opted for caramel flavour with, er, nothing on top. I KNOW! Boring! 🙂
So what did it taste like?
Look. I can only be honest.
Much as I hate to say anything less than congenial about the first vegan ice-cream joint in London; I ain't gonna lie either. There's no reason why we should hold a vegan place to a lower standard than a non-vegan place. That wouldn't make sense. And perhaps you'll have a different experience to me in any case.
Firstly, the pomegranate seeds were not fresh; they were pretty dry and hard. I was worried I'd lose a filling so I spat them into a tissue.
This alone was not a problem to me. So it was a bad day for the pomegranate seeds, so what? I still had all that luscious froyo right?
You know, the matcha froyo didn't taste bad; it just wasn't great, and didn't particularly taste like matcha. It was pleasant enough for a few mouthfuls. Then, something happened which just does.not.happen.to.me.ever. I found I was having trouble finishing it up!!!! It was just a medium pot; not super big, and bear in mind I can eat a whole pint of Luna & Larry's Coconut Bliss, no problem!
I really wasn't enjoying it as much as I'd hoped to.
The caramel froyo my mum had was a little bit better, but not much.
I think part of the problem was the lack of creaminess, and I figured that froyo wouldn't be as creamy as ice-cream, what with it not being, um, cream, right?
So I thought it was only fair to give Yorica another try before I wrote a review, and I'd be sure to get some actual ice-cream next time.
SO, a month or so later, the next time occurred, and I found myself at Yorica again, on this occasion with a friend.
This time I wanted strawberry ice-cream. When strawberry ice-cream is done well, then it's glorious. No need for bells and whistles.
I had a big scoop of strawberry ice-cream, then inquired about a flavour that I wasn't sure about. I was told it was called 'wowbutter' which is like peanut butter, but not peanut butter. Uh, ok! Nothing else was really tempting me so I got a big ol' scoop of that too.
A drizzle of strawberry syrup to top it off, and then I couldn't wait to get stuck in!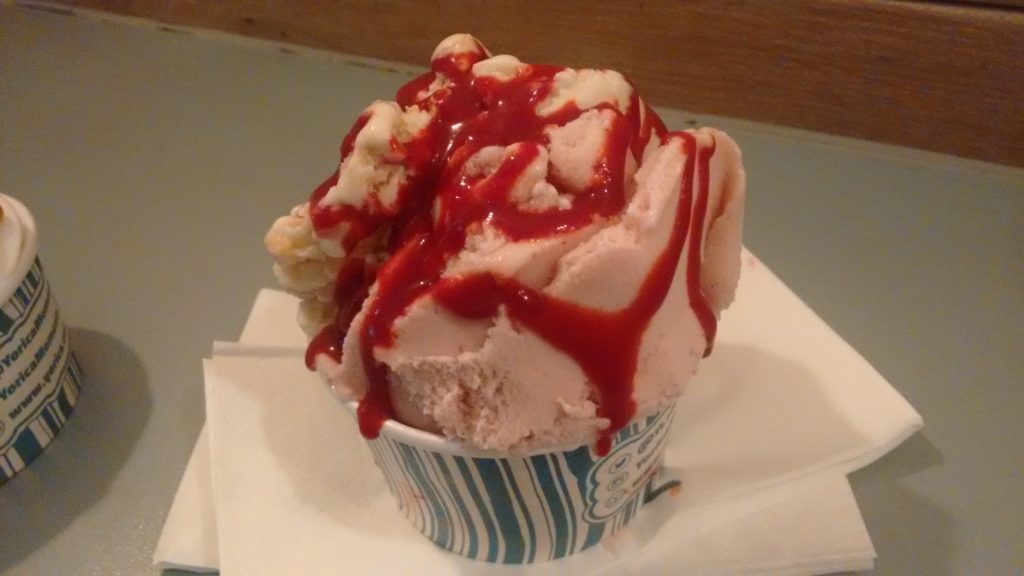 I really wanted it to be great, but….it just wasn't. I had trouble finishing this too. Both flavours just tasted like….cheap ice-cream.
It's a shame.
I KNOW how great vegan ice-cream can be. There's an all-vegan place in Austin, Texas which had me going back for 3 more helpings.
And I already mentioned how much Luna & Larry's coconut Bliss I can devour.
So Delicious, too, are champs at plant-based ice-cream.
So what was the problem here?
I can't work it out exactly.
I asked what the ice-cream was made with, and was told rice milk. I feel rice milk may be too thin to make a decent ice-cream, perhaps this is the problem? I'm not sure though as it was also a taste problem, not just texture.
Conclusion:
The place is pretty; the service is friendly; and it's fun looking at all the things you can top your dessert with.
I may come back with my friends' kids – I know they'd adore topping their ice-cream with ten tons of candy!
And if I was out with several friends just looking for something fun and light to do, I may bring them here.
BUT…if I'm out on the town looking for a truly yummy iced dessert with my partner or a friend, I'll probably go to one of the gelaterias that have vegan options. La Gelatiera on New Row for example (which has a good number of options), or Snowflake, a few doors down from Yorica on Wardour St that has one or two vegan options.