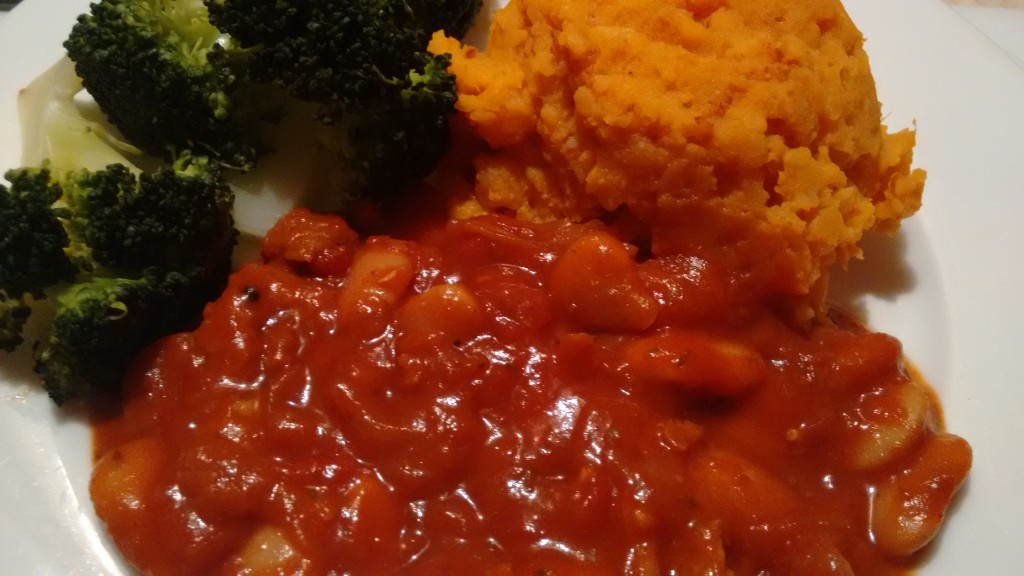 Disclaimer: This review is my honest opinion; I am not being financially compensated for it (though even if I was, it would STILL be my honest opinion). I received the food samples free, with no brief from the More Than Meat company other than to taste test and review them.
I have to admit, when I tweeted Barry responding to his request for vegan bloggers to review his More Than Meat meat-alternative products, my primary motivation was to get my greedy mitts on some yummy free food.
Then I remembered I'm not really a huge fan of meat-alternatives.
THEN I remembered that most meat-alternatives often contain not-so healthy ingredients, like white flour breadcrumbs, sugar etc.
As I'm all about the healthy, I started panicking and wondered if I could make my husband eat all the food and just TELL me how it tasted so I could write the review? Hee.
I checked out Barry's website, plantalicious.com and breathed a sigh of relief. I could see that one of his main motivations for going plant-based was to improve his health, and I realised he wouldn't be making products that were full of crapola…phew!
A few days later I received a hyyuuuuge bag of More Than Meat frozen goodies. Barry had thoughtfully included cooking instructions for each product, and each one was marked with the date it was made.
It looked so good I couldn't wait to get started!
First off, the More Than Lamb Casserole.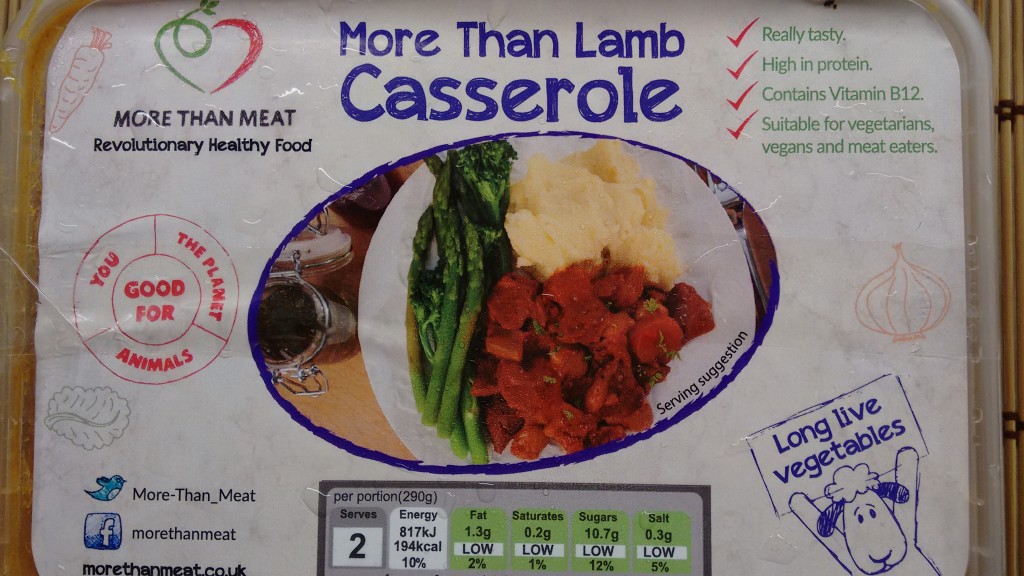 As a 26 year vegan, it's been a long time since I've had a casserole with these particular flavours. I thought that this kind of dish only worked with meat, so I'd never tried to re-create or 'veganise' it.
The 'lamb' is made with wheat gluten – I'm assuming it's similar to 'seitan,' but it's marked in the ingredients list as wheat gluten. All the More Than Meat products contain gluten, so are not suitable for celiacs.
I was delighted to see huge butter beans (I'm a bean freak), and celery, carrots and leeks rounded out the mix.
Check out the rest of the ingredients for the healthiest and kindest lamb casserole you've ever seen!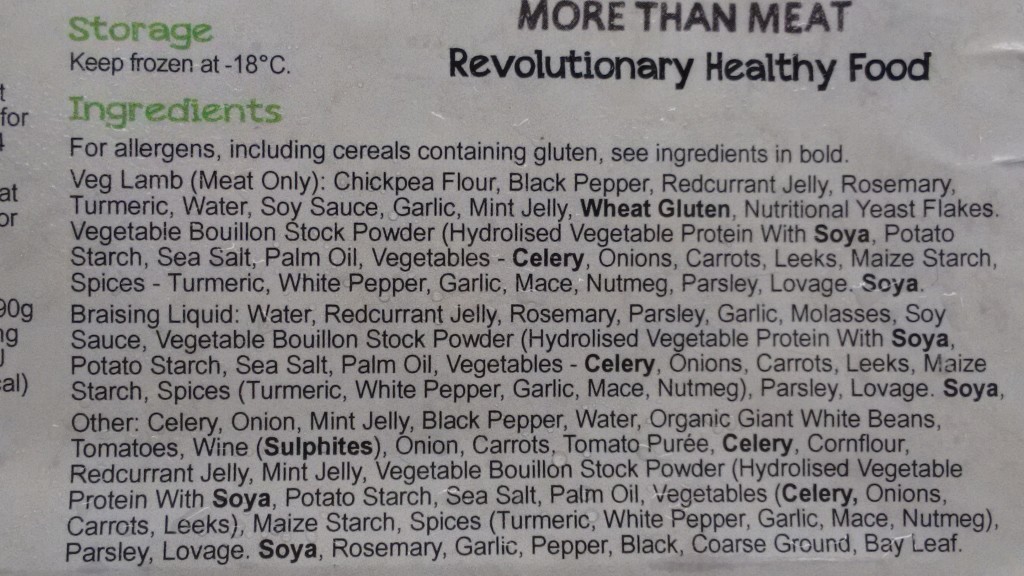 It was VERY easy to prepare. I forgot to take it out of the freezer earlier in the day, and had to cook it from frozen. The instructions say you can microwave it OR heat it on the hob. I don't have a microwave so I went with the hob option. It didn't take long for the frozen block of casserole to break down on a gentle heat; then I simmered it for a few minutes to heat the 'meat' pieces all the way through.
The picture on the packaging gave me the idea to serve it with mash, and as I had a sweet potato and a white potato left in the fridge I went for a white/sweet potato mash combo, and steamed some greens to serve alongside.
This wasn't a bad idea, but now I've tasted the dish I would advise going completely trad-ish and sticking to white potato mash, which would be a more perfect foil for the flavours of the casserole.
AND WHAT FLAVOURS THEY ARE! I'd completely forgotten about this kind of dish; about how ingredients like wine, redcurrant jelly, and herbs and spices can make a savoury dish taste so rich and warming. And very British! As a vegan that is very happy eating mostly ethnic dishes it was a pleasant change to taste flavours of my childhood and teen years but without the cruelty, cholesterol and planet-warping products those types of meals would usually contain.
I loved:
The balance of the flavours, the richness, the fruitiness, and that it had just the right amount of 'tang' – More Than Meat have 100% nailed the flavours of a traditional lamb casserole.
The butterbeans that really DID melt like butter in the mouth. Beans in pre-cooked food are NOT always this good.
The fact that although this was a very rich dish, it was not remotely greasy, so it actually felt healthy.
The fact there were no sugars in the ingredients.
The ease of preparation. To make a dish like this yourself would take hours. To be able to heat this up from frozen and it take 10 minutes was amazing.
My only personal gripe was that I'd have liked the wheat gluten/seitan pieces to have had a chewier texture, but I asked my husband about this and he said he liked them just fine – and he's a seitan connoisseur! So to be fair this is probably just subjective on my part.
Later in the week, we tried the More Than Jerk Burgers.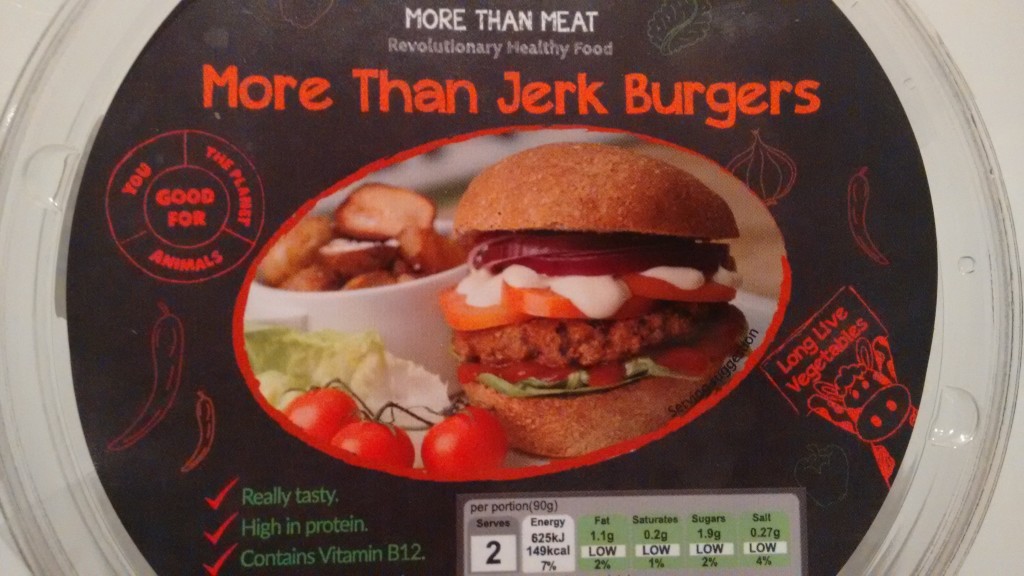 These contain a tiny bit of raw cane sugar, but otherwise it's the healthiest damn ingredients list I ever saw for a burger!
They come with the directive to brush a little oil on them before grilling, because they don't contain any added oil. I really appreciated this – I like to control how much oil I'm getting.
I'd taken the burgers out of the freezer earlier in the day, so they literally only took around 10 minutes to grill – 5 minutes on each side.
Roast squash and steamed greens were my accompaniment of choice (though of course these burgers would be perfect to serve in a bun); some sliced onions and lettuce, and a dollop of my homemade ketchup completed the picture.
Despite slightly overcooking them (my fault entirely – next time I'd cook them a couple of minutes less) they were still delicious. The texture is very hearty and meat-like – it's not exactly the same texture as meat, but it's definitely a good replacement for the density and 'mouthfeel' that meat has – EXACTLY what you'd want from a burger in fact. I feel that even a staunch meat-eater wouldn't grumble about the texture.
The jerk seasoning made itself known agreably, and my ketchup and crunchy (but thinly) sliced onions really complimented this.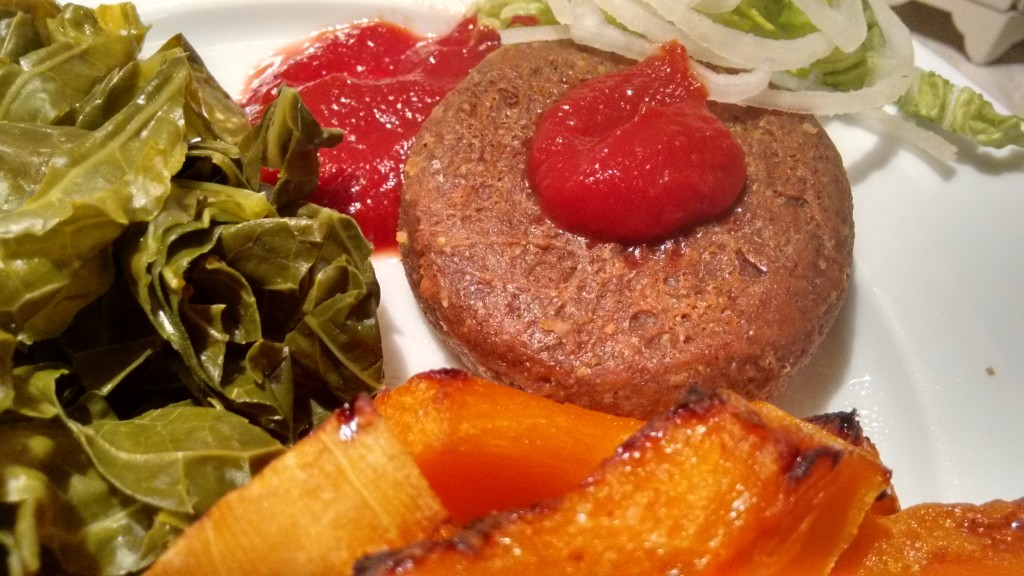 You know what? The burger was over way too quickly for me. I can't blame it on the burger because though its diameter was small, it was quite thick, and what most would consider to be adequate portion size, but it was just so good I wanted more.
A couple of hours later I was working, and could still faintly smell the jerk seasoning from where the burgers had been cooked earlier. It was making me REALLY crave another one, to the point where I couldn't concentrate!
Warning: If you take these mothers to a barbecue or plan on having them at a dinner party, you'd better count on at LEAST two per person – they're THAT more-ish.
Both these products (and many more – check out the full product list) can be ordered from the More Than Meat website, or see the list of stockists to see if there is one near you.