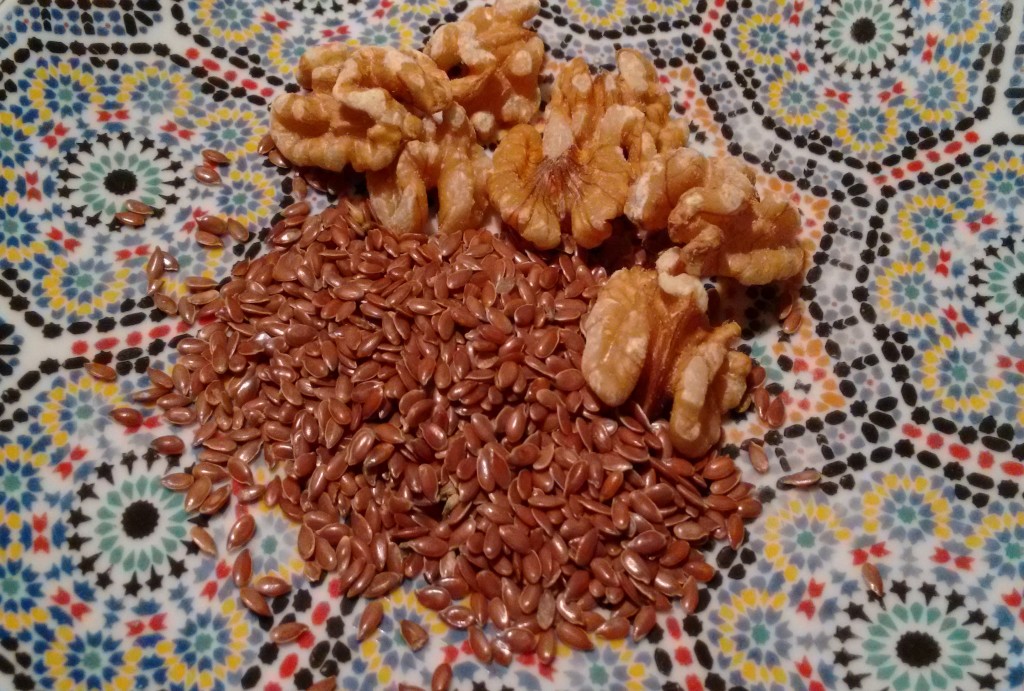 So, you've probably heard of omegas 3 & 6, and that you need them to be healthy.
You actually need a pretty even amount of both these beauties:
Omega 6 is inflammatory – which sounds bad, but it helps clot the blood soooo….useful if you have a wound you need healing for example. Omega 3 is anti-inflammatory and an anti-coagulant, so it thins the blood. They compete with each other for the same enzymes in the body, and too much omega 6 can inhibit omega 3 – hence the need for an equal-ish amount of each.
MANY people's ratios are way skewed however, sometimes by as much as 30:1 (i.e. too much omega 6 to too little omega 3). You need to know that this is NOT a vegan problem, this is a universal problem.
As a plant-based superstar (or plant-based superstar wannabe!) you're most likely getting plenty of Omega 6 through veg, fruit, grains, nuts and seeds, so it's really omega 3 we want to make sure we get enough of, to balance out the ol' 6.
It's sometimes easy to get too much omega 6 through added oils; like safflower, sunflower, cottonseed or corn oil; so ideally stay away from these or use VERY sparingly.
We need omega 3 for basic cell function. And according to PCRM, adequate intake of omega 3 can mean a reduced chance of strokes and heart disease; reduction of menstrual pain and joint pain, relief from ulcerative colitis symptoms, and there is evidence to show it can also mean reduced breast cancer risk.
A deficiency of this nutrient can lead to health consequences that include kidney and liver abnormalities, dry skin or decreased immune function.
Omega 3 comes in three forms.
The main one is ALA (alpha linolenic acid) and this is the only ESSENTIAL omega 3, so this is the one you want to make sure you are getting.
Your body cleverly converts the ALA into the two other forms of omega 3; EFA and DHA.
We've all been sold the bill o' goods that the best sources of EFA and DHA are fish and fish oils, but this is not true. The best sources are our own bodies! Yay for our bodies!
In any case, the fish themselves do not make EFA and DHA in their bodies; they obtain it from the algae and seaweed they consume.
Even though EFA and DHA are not essential nutrients – there is no RDA (recommended daily amount) prescribed for them – it's possible you may need to up your levels if you are pregnant or elderly. But – you can do like the fish and eat sea vegetables (fancy phrase for seaweed; try nori or wakame for example), or take supplements made from algae. Aim for 250mg of DHA/day. You'll also be avoiding the yucky contaminants found in fish this way!
So, how to get the main dude, the ALA?
Oh Em Gee this is soooo easy.
ALA can be found pretty abundantly in plant sources. Flax seeds, walnuts, hemp seeds, black beans, red kidney beans, winter squash and edamame are all great sources.
One easy way – the way that I do it in fact – is to have two tablespoons of ground flax seeds on my oatmeal most mornings. There are a gazillion other great reasons for having flax seeds, but ALA is one of the main ones.
You could have two or three meals a week (stews or soups or casseroles or chillis) with red kidney beans or black beans in; and grab three or four walnut halves a few times a week.
But is it HARDER for vegans than for omnivores to get adequate omega 3?
What? You haven't already surmised the answer to this question?
Though plants contain little fat, they contain enough to help the conversion process in our bodies of ALA to EFA and DHA. The ingestion of higher fat levels (like those found in a meat and dairy rich diet) make this process more difficult. SO, to have great levels of these three forms of omega 3; an overall low fat whole foods, plant-based diet is optimal.
Well…but of course 😉
Sources used: PCRM, Dr Michael Greger