Winter ain't good for much in my book.
If I never see another winter it'll be too soon.
I mean…um…not that I want to die before next winter; but whhhhhhhhhyyyy can't it go SPRING! SUMMER! AUTUMN! REPEAT!!!
But…I guess I love skating on the Christmas rinks. And the new Starbucks mulled apple chai with REAL cinnamon sticks is kinda delicious.
And I loooove hot, warming soups and bean stews and curries.
And………
………Wait for it…….
WINTER ROOT VEG!
It's perhaps worth suffering just a little winter for these?
Now we're all down with the parsnips, carrots and turnips; but there are two others you may not be so familiar with that would love to be players in your winter meal rotation.
Why?
Just 'cos they're darn well delectable that's why!
Uh, it's fair to say these two characters ain't pretty; but their charm is in their rich, earthy taste.
If you haven't tried them already, get some in and see what you think.
It isn't always the prettiest veg that taste the nicest!
And they're cheap as chips, hurrah!
The first is celeriac. This is its prettiest side: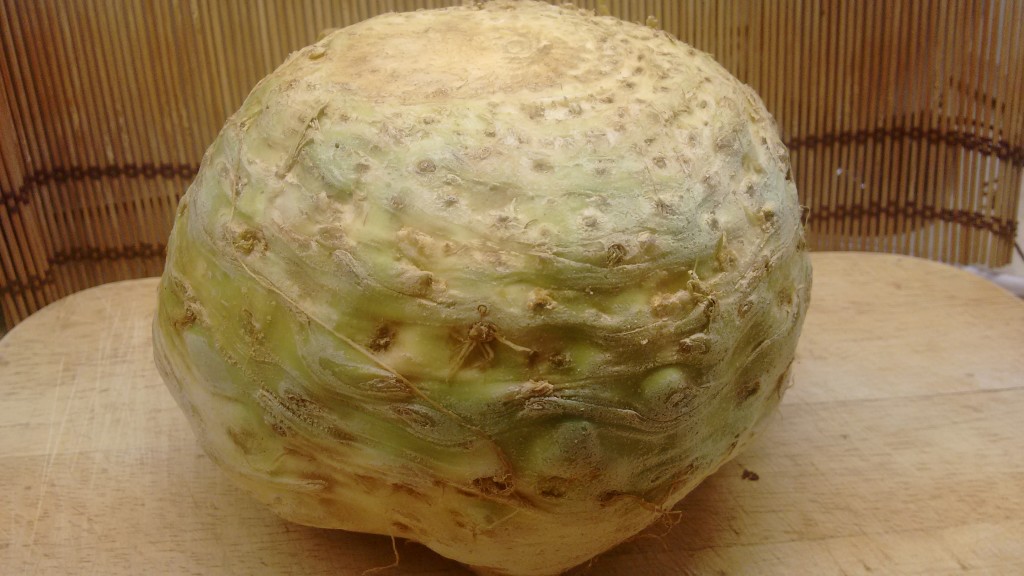 And this is its slightly grizzlier side!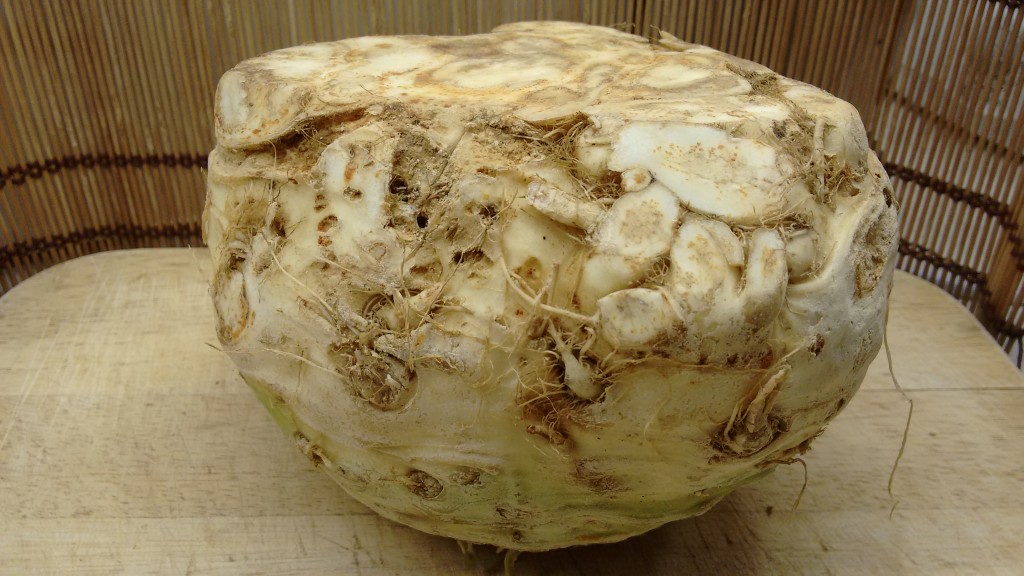 Not to put you off, but it looks a little brain-like to me!
But seriously; please don't be put off by the nobbles or the hairy bits 🙂
The second glorious but lesser known winter root veg is rutabaga; or swede as its known here in the UK.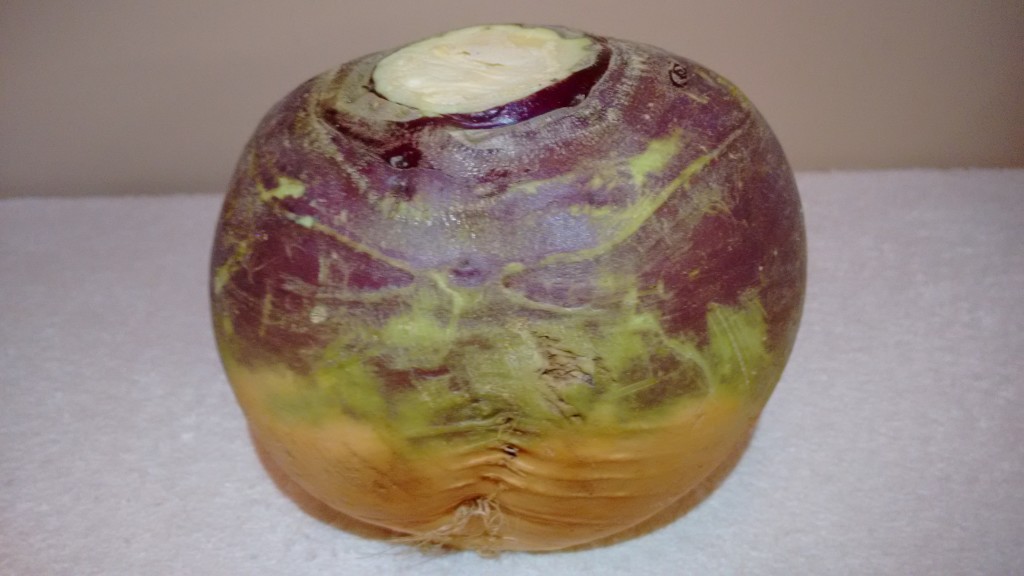 This is a little more photogenic – I love the green with the purple.
Oh, also? These two fellas are fibre-filled nutrient bombs.
Celeriac is a great source of Vitamin B6, magnesium, potassium, manganese and vitamin C; while the rutabagas will provide you with vitamin C, vitamin B6, potassium, calcium and magnesium.
One of the best and simplest things you can do with these two veg is make fries. YAY, friiiiiiiiies!!
Celeriac / Rutabaga Fries
Pre-heat your oven to 200C.
The hardest part of this recipe is peeling your root veg and chopping it into fries; but you're no wuss; you can do it.
You'll want to make the fries quite thin, say, 1cm wide maximum, otherwise they'll take too long to bake.
Lay your cut celeriac or rutabaga fries in a parchment-paper lined baking tray thus; and spray them with either sunflower or olive oil.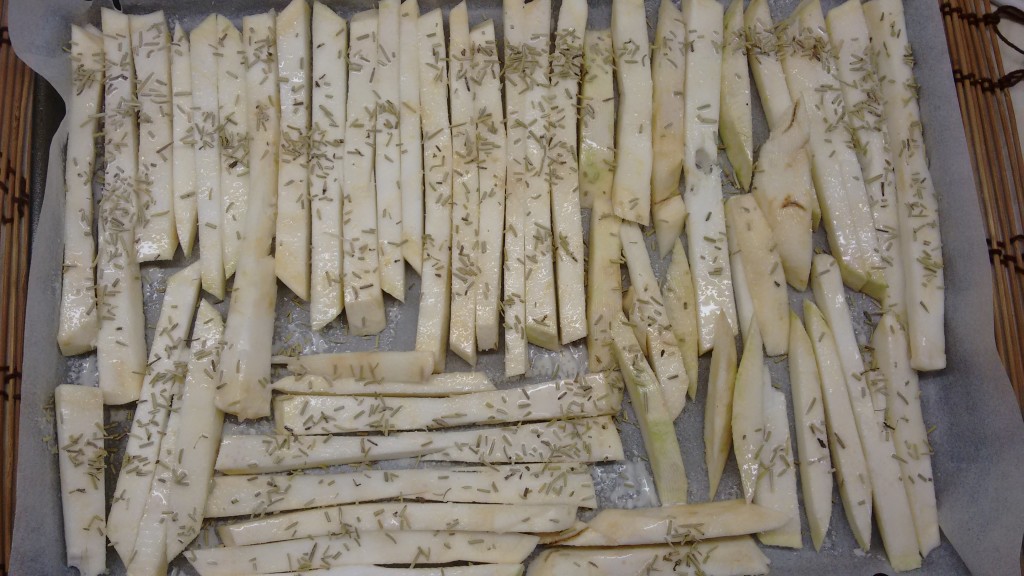 Salt generously and sprinkle either fresh or dried rosemary evenly-ish all over.
Bake for approximately 35 minutes (or until they brown slightly), turning them once half way through.
These are the fries of the celeriac: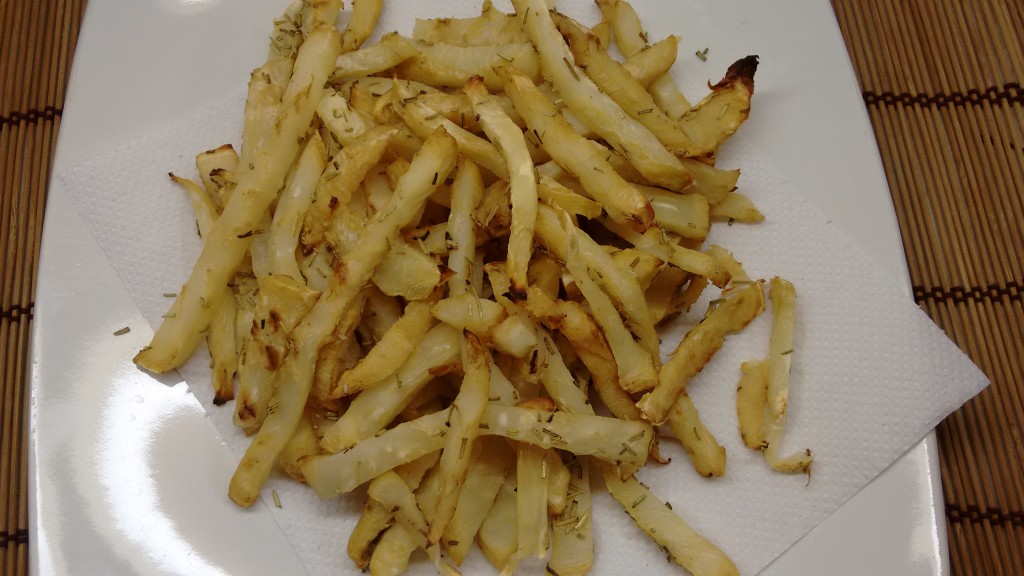 And these are the fries of the rutabaga: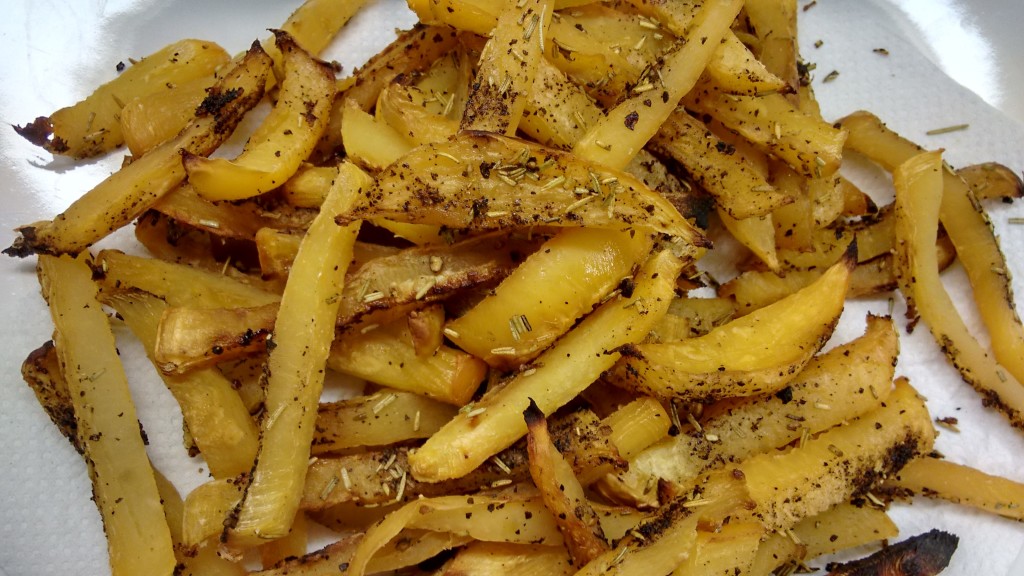 Serve with vegan garlic aioli, vegan mayo, ketchup etc.
Mash
Have a change from potato or sweet potato mash – try mashed celeriac or rutabaga!
You can even do half potato, half rutabaga; or half potato, half celeriac. The other day I mashed a mix of the root veg I had left in my fridge – which happened to be sweet potato, a wedge of celeriac and a couple of turnips. I was doubtful that it could work but it was absolutely delicious!
Make the mash exactly as you would regular potato mash. i.e. boil the veg till soft; drain; mash your veg while adding a splash of soy or almond milk and a knob of dairy-free margarine. Season well with salt and black pepper.
Stews & Soups
Celeriac and rutabaga are great in stews and soups. Try sometimes adding either (or both!) to any recipe instead of potato.
Don't get in rut with your roots! Shake it up! Don't worry about the ugly! Isn't there a saying.. 'ugly on the table, damn tasty in the mouth?' No? Well there OUGHT to be.