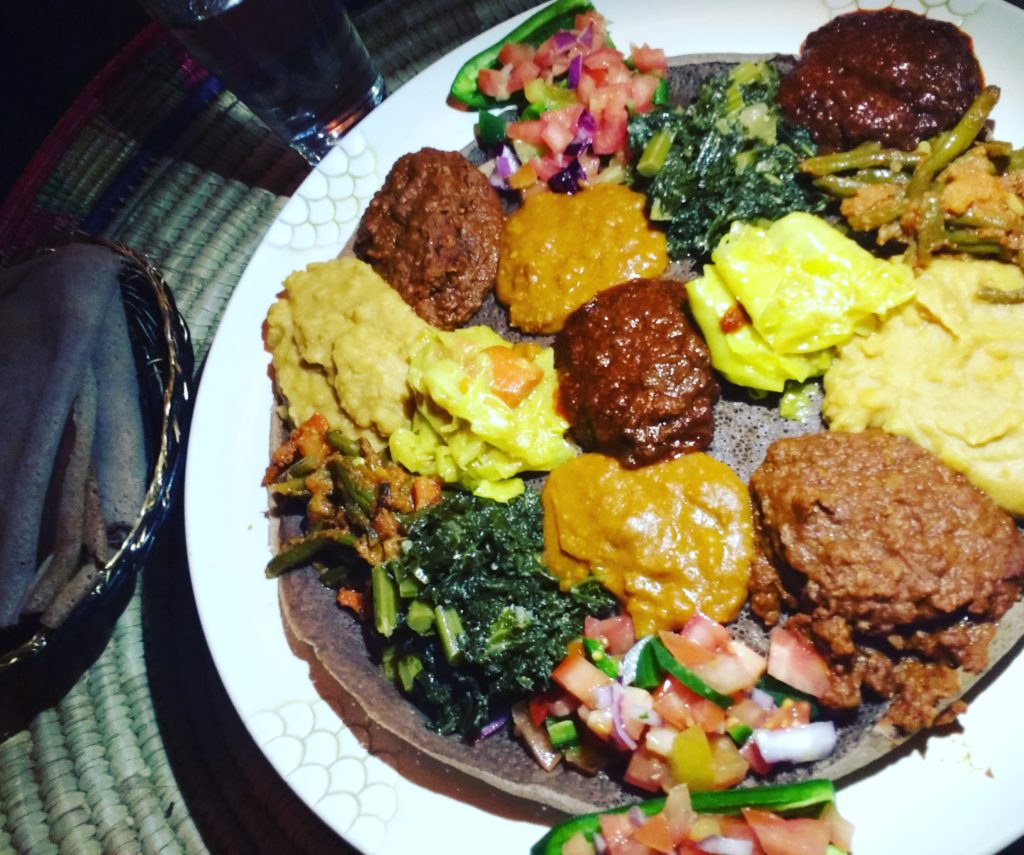 If you are vegan, ESPECIALLY if you have just gone vegan, you need to get to know Ethiopian food.
Why am I ordering you around like this?
Because it's the tastiest food on the planet, period. No meat or cheese alternatives needed, no 'nooch' needed (not that there's anything wrong with these things, I eat them myself, but it's important to know that there is tasty food out there that is vegan by default and mind-blowingly tasty, and it's the plants and herbs and spices that make it so).
Once you've tasted Ethiopian food, trust me, you will have choice words for the next person who dares to tell you ' vegan food is tasteless.'
If you've never tried it before, Ethiopian meals come on a base of a flatbread known as injera. It looks like a pancake with air holes. This bread is made (or should be!) from a highly nutritious grain called teff, native to East Africa. The bread is slightly fermented – which means it is excellent for gut-health. There is oftentimes (where that knowledge hasn't been lost) a fermented food in most traditional national cuisines, and in Ethiopia it's the injera.
The injera is topped with a selection of stews of your choice.
In most Ethiopian restaurants, not only is there a large number of vegetarian stews (which are also vegan), but they will make it easy by offering a vegetarian selection, so you can try all (or a good selection) of the veggie stews for a set price.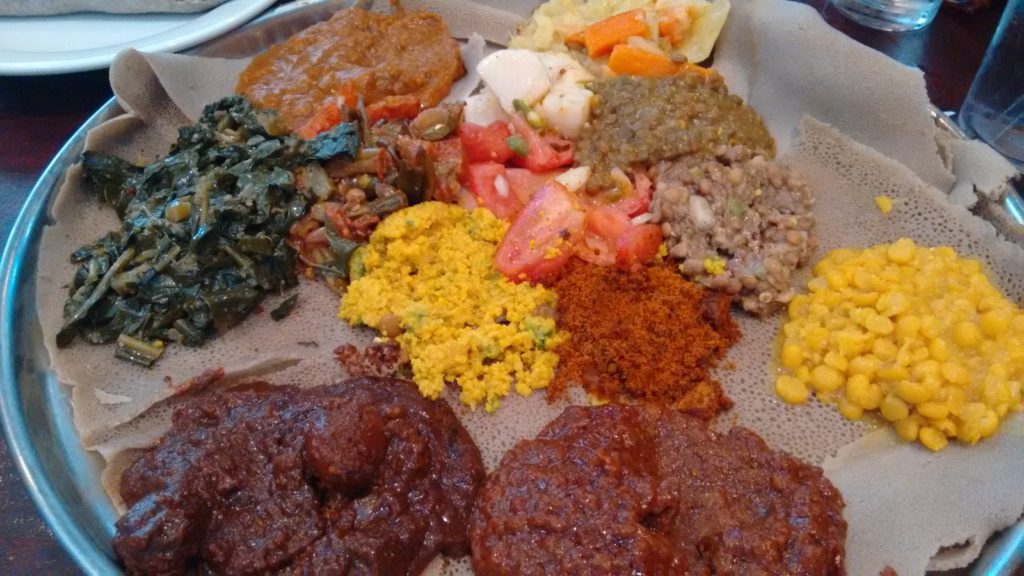 My favourites are shimbra 'asa (a berbere stew with fried chick pea balls), misir wot (a lentil stew), and gomen (spiced collard greens). But you don't need to remember these names, the wait staff will know exactly what to give you.
Call me fussy (though I prefer to call it 'discerning') but one of my pet peeves is restaurants that don't use 100% teff for the injera. In one sense, this is understandable – it is not a cheap grain, but there are ways around it that still give people the option of having an authentic, healthy experience if they prefer.
In the US, lots of Ethiopian places offer authentic 100% teff injera, so no problem there. Otherwise, a restaurant may offer a 'regular' injera which may be made from a mix of teff flour and white wheat flour, but they will also offer an authentic injera (which they may also cannily label as the 'gluten-free' option, as teff contains no gluten) for an extra dollar or so. I have absolutely no problem with this – teff is expensive, I get that, and this gives us health-seekers the option to avoid white flour and get all the benefits from the teff.
You can read about my issue with white flour here, but bottom line – it ain't real food, and I like my food real AF.
At this point I should also add that 100% teff injera is, in my opinion, the tastiest version.
So, your stews come on a bed of injera, and you get several rolls of injera alongside, with which to eat your food.
Yes, you understood right! NO knives and forks required! Second to the taste, this is my favourite aspect of eating Ethiopian meals. You just tear off some injera, grab some food with it and slap it in the ol' cakehole.
But don't worry, you will not be judged if you get nervous and ask for a fork – I've never seen an Ethiopian restaurant that didn't have cutlery for if customers prefer this.
The taste and texture of the injera perfectly complements the berbere and other spice mixes of the stews.
When you've finished the stews, you can then – if you have any room left – eat the injera on the base of the platter, which will have soaked up all the sumptuous juices of the stews.
If you are a coffee nut, there is traditional Ethiopian coffee to be enjoyed which I believe comes with a coffee ceremony. I don't drink coffee, but kinda wish I did every time I see the intriguing coffee paraphernalia in the restaurants.
For the longest time, I couldn't find an Ethiopian restaurant in London that made 100% teff injera, they all cut it with white flour.
But then, one day while casually looking for a restaurant to celebrate our anniversary that night, I stumbled upon Orit, which promised injera made with 100% teff!
I called just to make sure, and was assured this was correct.
Even more good news was that Orit was pretty local to us, so we went that evening to give it a try.
I could barely contain my excitement – an authentic Ethiopian restaurant near my home and not 3000+ miles away seemed too good to be true.
I feared we'd get there and they'd say 'oh we usually have 100% teff injera, but tonight we're out.' You have no idea how many times I've heard this.
My fears were completely unfounded.
When we arrived we chatted with the friendly owner, who has his teff imported wholesale from Ethiopia, and he supplies other London Ethiopian restaurants with it.
The injera was as dark brown as could be (a sign that it's made from teff), and had that deliciously sour taste that authentic injera has.
Orit has a decent selection of vegan stews – not the full compliment – but enough to have ample variety and to make it interesting.
We had the Yetsome Beyeayenatue, which is their selection of vegan stews.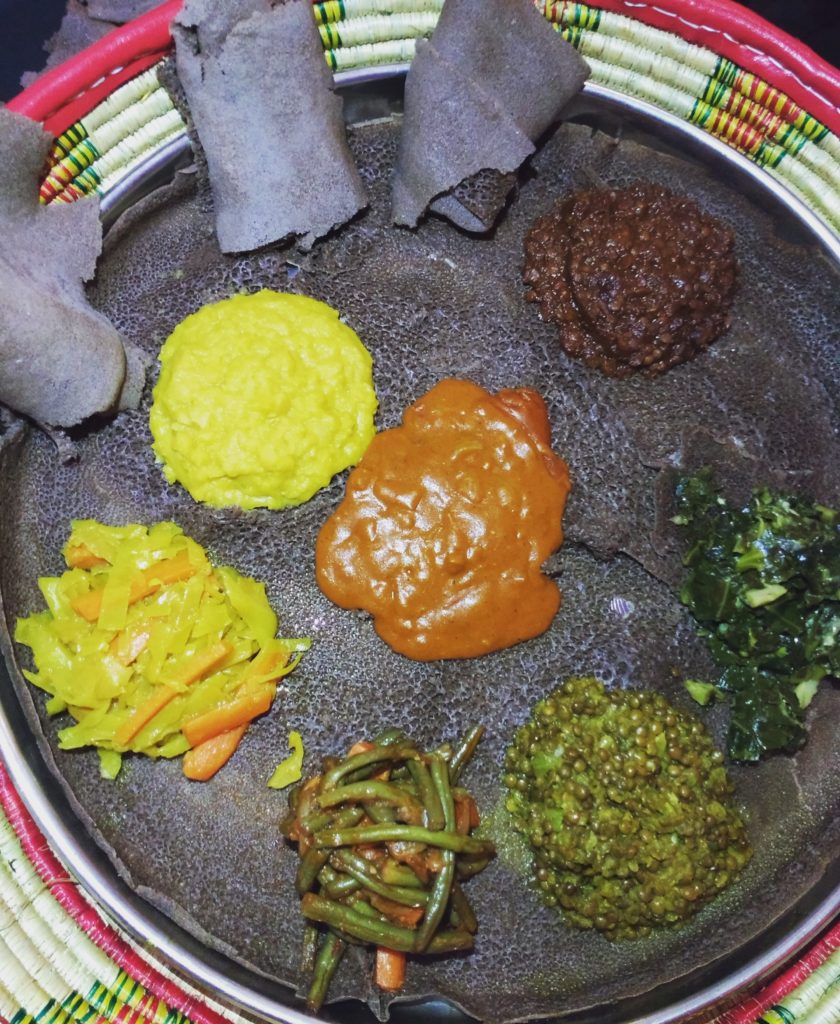 The stews were misir wot (berbere spiced lentils), gomen (collards) and shiro – and I'm not sure what the others are called, but if you are familiar with Ethiopian food, they are the ones you get at most restaurants.
All were perfect, and induced a feeling I only ever get when eating Ethiopian food. It's hard to articulate (as you will see!) I can only describe it as feeling so satisfied with the tastes and textures you've just experienced that it feels like your soul has been fed.
I defy you to eat great Ethiopian food and try to describe that feeling more eloquently (if you do, please know I will plagiarise you 🙂 )
We will be visiting Orit as often as we can. Life is sweet when you have grub this good so close by.