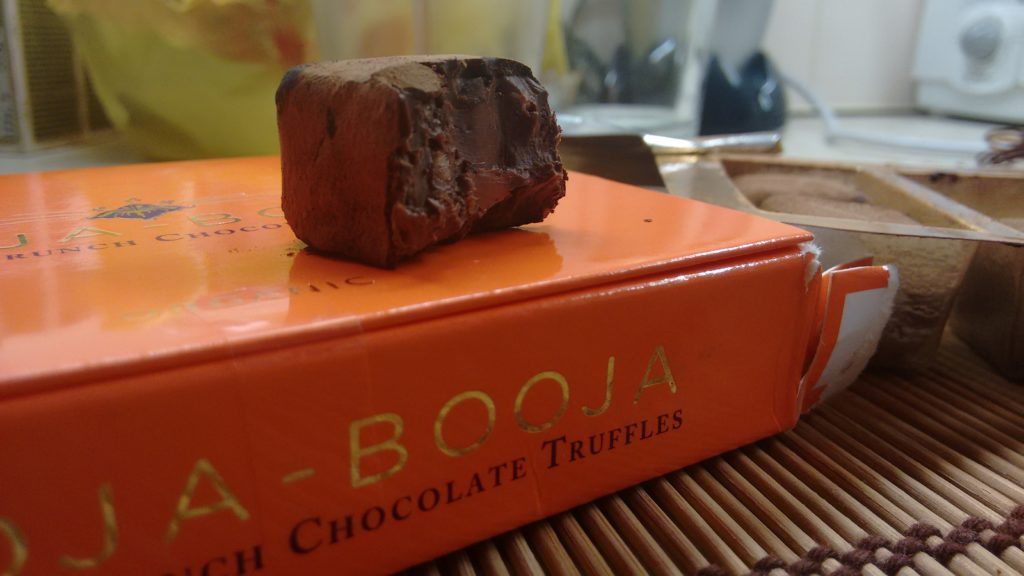 Have you done most of your Christmas shopping, but there's maybe a few little extra things you need to get for your family and friends?
This totally applies to me this year.
I did a lot of my Christmas shopping online on Black Friday. Win-win right? Ridiculous savings and you don't have to trawl around crowded shops that blast out obnoxious Christmas 'music.' I was trying desperately not to be a consumer on that day, in protest at our greedy capitalist society, but once I saw the savings to be had I went a little…er…crazy (ok, a lot crazy) and decided I'll have higher principles when I'm rich and can afford to be revolutionary! 🙂
What I'm trying to say is, as a result of my savings, a lot of the gifts I bought came in under-budget, so I feel like I want to top these up with an extra little treat for the intended recipients.
If this is you too, then here you'll find a few ideas for deliciously decadent, vegan, chocolatey, truffley, praliney stocking stuffers.
Because hello? What says love at Christmas more than chocolatey goodness?
NOTHING, that's what!
Please consider these gifts ESPECIALLY for non-vegans. Good food is good food right? You can't argue with scrummy chocolate. The idea is that it will help them see that vegans do not deprive themselves and can easily enjoy decadent treats.
As we know, good food talks!
If you are worried that dark chocolate may taste bitter, avoid any product with over 70% cocoa. Good dark chocolate however, should NOT taste bitter.
You also need to know that I am not getting paid by any of these companies. Although quite frankly I really should be considering the amount I've spent on some of their yummy products! 🙂
I have 3 top ideas for my UK friends and 3 for my Northern American pals:
Here are my UK suggestions:
Booja Booja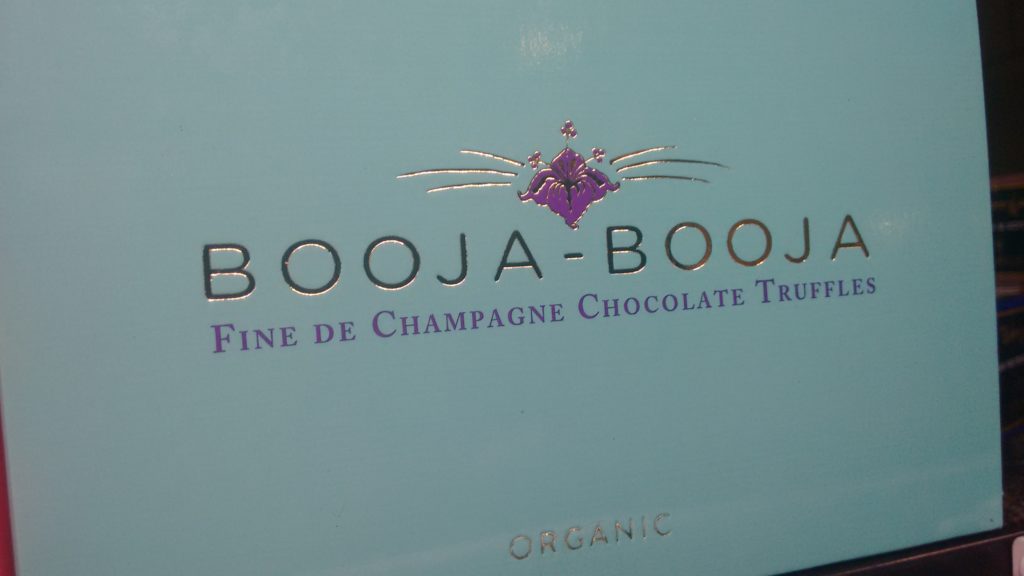 Oooh, What would I do without Booja Booja? It is an all-vegan company, and their small boxes of truffles make the sweetest little stocking fillers, which come in a range of flavours. They are £3.99 each. If you want to splash out a little more, they have bigger boxes for £9.99, or super fancy boxes for £12.95
Available at: Holland & Barrett, Whole Foods, Ocado, Booja Booja online.
I recommend: The hazelnut truffles are scrumptious, as are the champagne, and the almond and sea salt caramel flavours.
Hotel Chocolat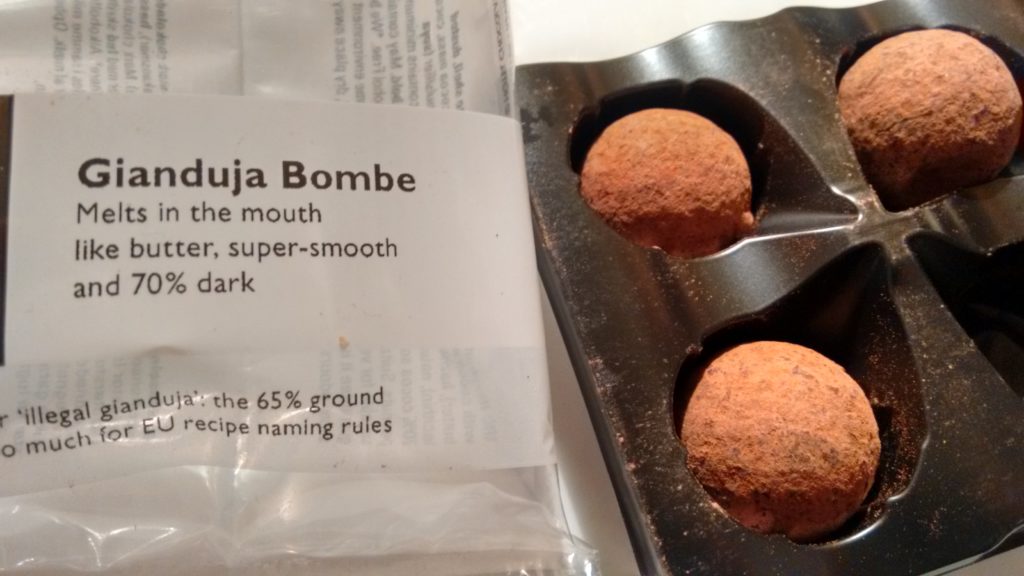 Hotel Chocolat isn't fully vegan, but they have a ton of vegan products – see full vegan selection here. Usually (though not always), the staff can point you in the direction of the vegan chocolates if you are in store.
The vegan products ARE marked 'vegan,' so if the staff are a little clueless, just check the packaging.
They have quite a few cute stocking-filler size gifts around the £3-5 pound mark.
Available at: Hotel Chocolat outlets are in most UK cities, or shop online.
I recommend: Gianduja Bombe Selector (hazelnut pralines).
Montezuma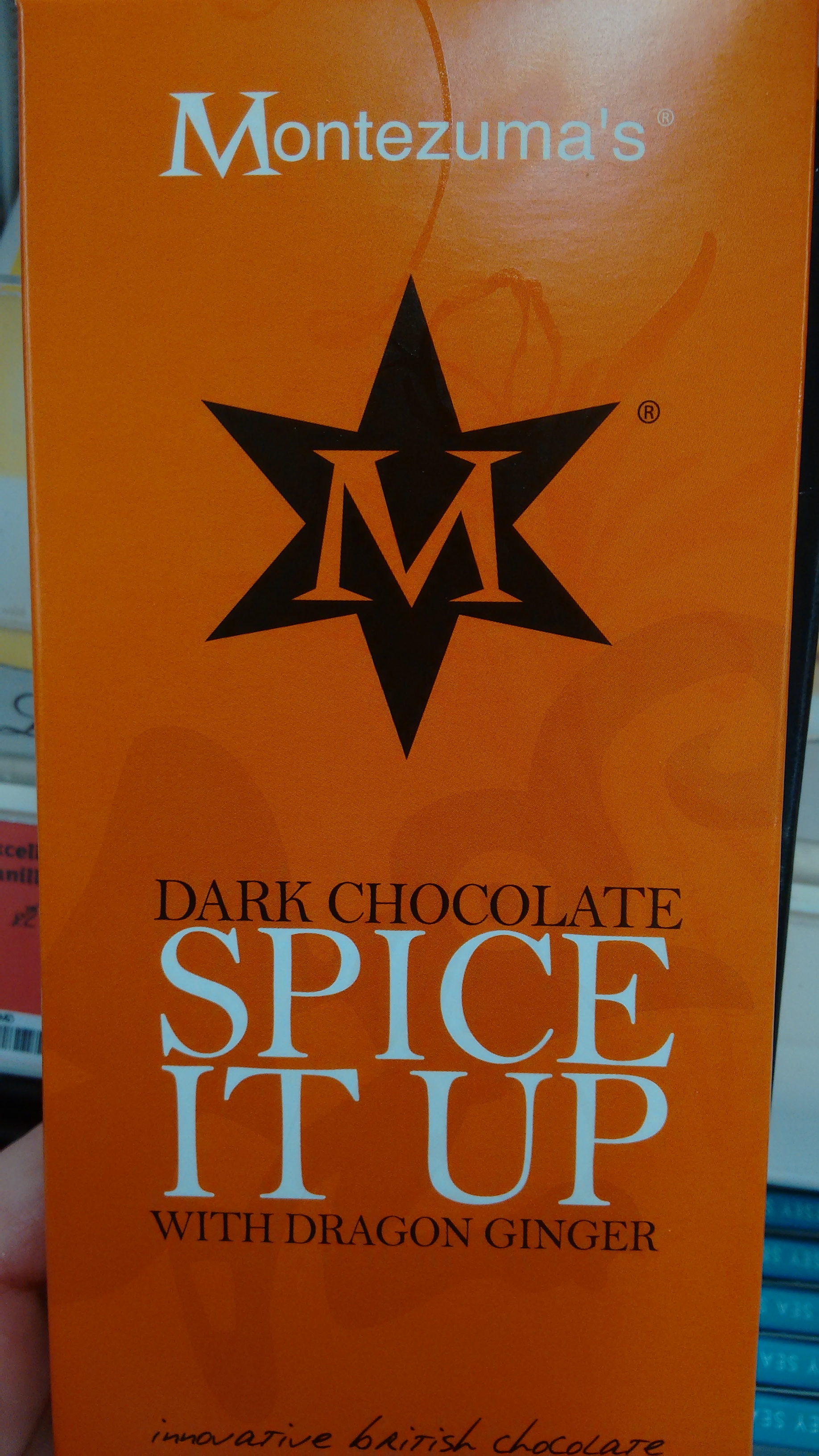 Again, Montezuma are not an all-vegan company, but very vegan-friendly, see their vegan selection here.
Again, several great options at stocking-filler prices.
Available at: Some supermarkets stock Montezuma products, otherwise Whole Foods, Holland & Barrett, Ocado, or online.
I recommend: The chocolate buttons!!!!
And if North America is the continent you call home:
Whole Foods chocolate truffles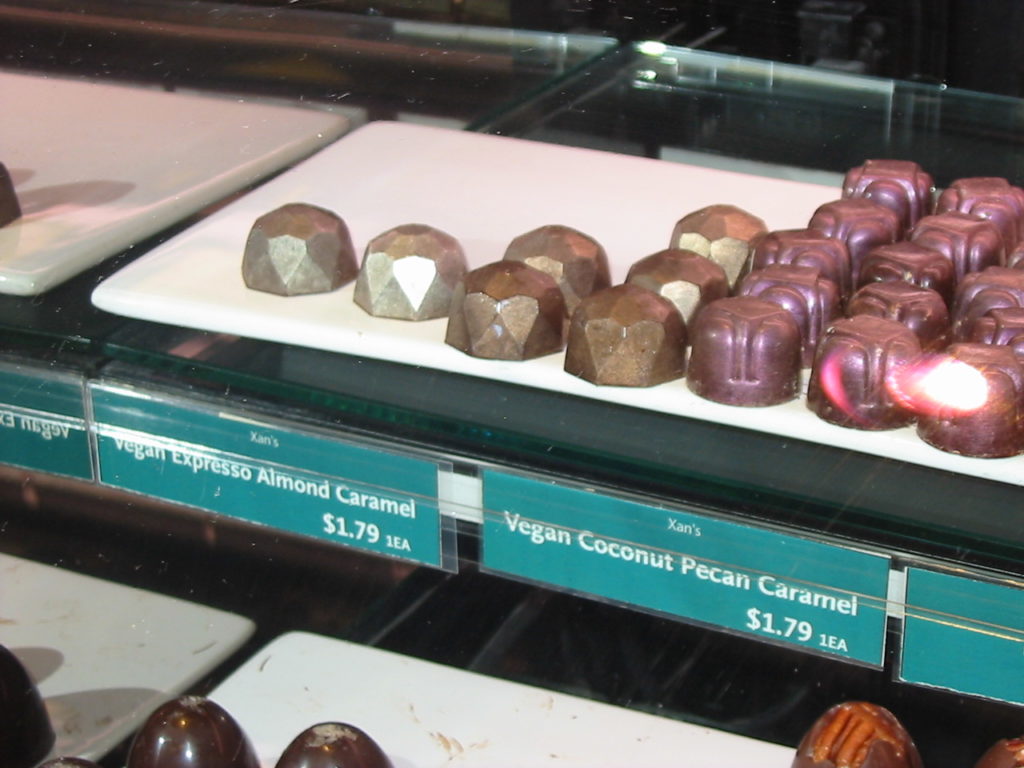 You may have seen these at the artisanal chocolate counter in Whole Foods. I'm pretty sure most Whole Foods have these – though it's possible the smaller ones don't.
They have several flavours that are vegan, so it's easy to make up a small bag of the vegan choices. You really don't need to buy many, they are very rich and decadent, so don't think you need to fill the bag.
Don't worry if your local Whole Foods doesn't sell these single truffles at the chocolate counter – they should also carry these boxes of organic chocolate truffles. When I last checked, these were $6.99/box.
Available at: uh…Whole Foods.
I recommend: Everything. Yup, everything.
Hooray Truffles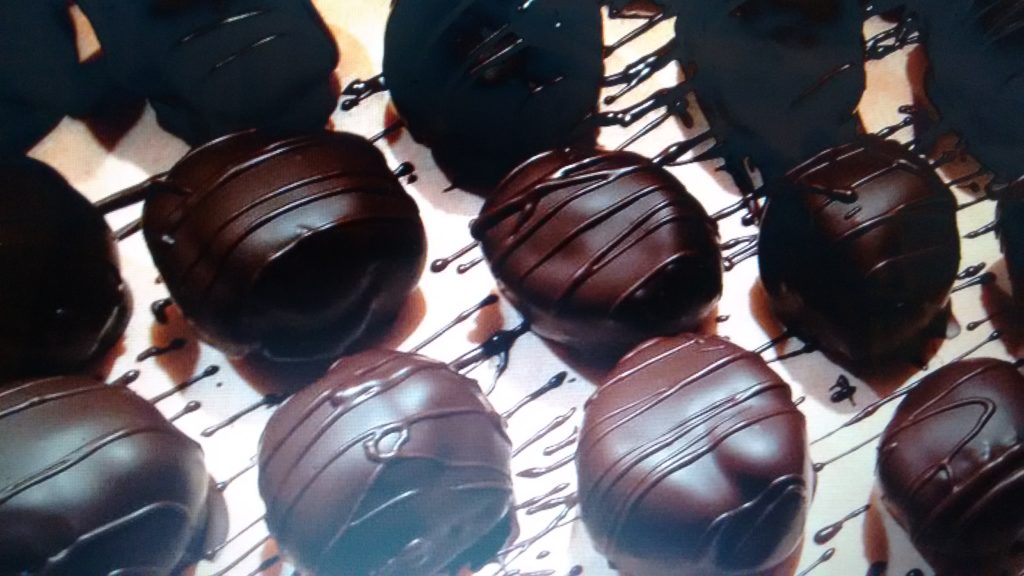 This Canadian online company is all vegan. They have 3 types of truffle; some made with different flavoured balsamic vinegars such as raspberry and blackberry, some with essential oils (I've been drooling over the peppermint one); and some gold ol,' plain ol' chocolate truffles.
These are a little pricier, but you can pick up a stocking filler size bag for C$10.99
Available at: Hooray Truffles
I recommend: I haven't tried these, so I can't recommend any in particular, but a safe bet would be the plain (Simply Naked) chocolate truffles.
Lagusta's Luscious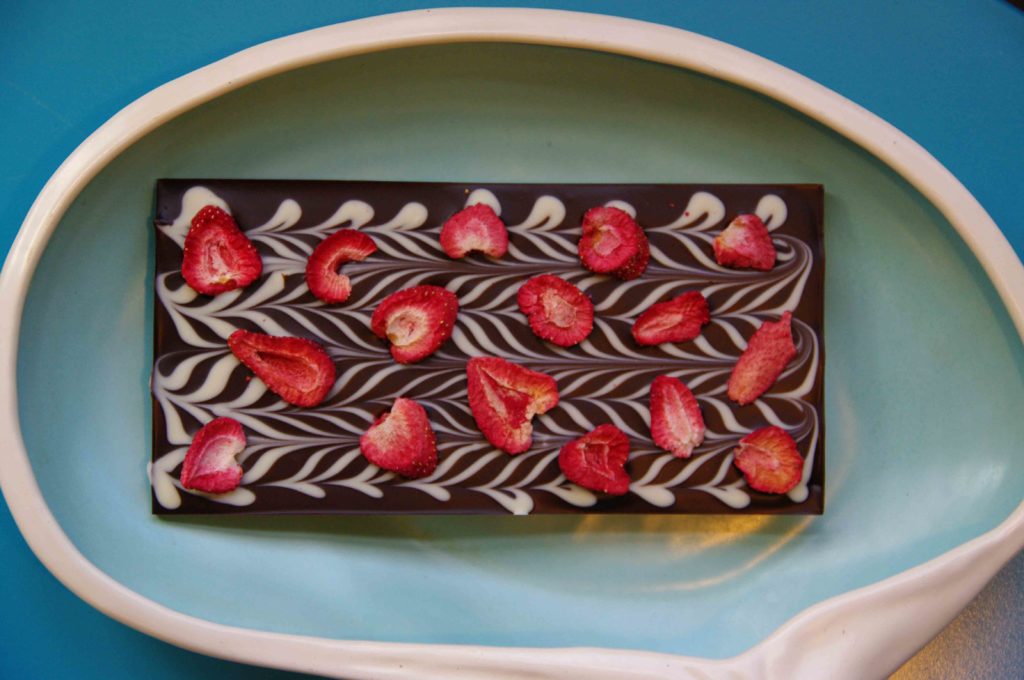 Oh man, did I have fun browsing these goodies! Lagusta's Luscious is an all-vegan artisanal chocolatier, with several outlets across the states – but they ship everywhere too.
From Selma's Peppermint Patties, to Furious Vulvas (yes, you read that right!), to Cardamom Caramel Bars, to Fig & Caramelised Fennel Bark, just about everything sounds delicious.
For more moderately priced gifts, see the bars and barks.
Available at: Here is a list of the outlets, otherwise online at Lagusta's Luscious
I recommend: Again, I haven't tried these, but I'd definitely be willing to try every single product given the opportunity!
For a safe and sure bet stick to more classic flavours, otherwise take a risk on a Furious Vulva!
And on that note dear readers, Merry Christmas!!! May your year ahead be rollicking, and stay tuned for exciting, new, RIDICULOUSLY AFFORDABLE programs appearing here at Vegan Coach. I hope to bring you a weight-loss freebie, and a program based around ethnic vegan dishes. I can't wait to share these with you all!