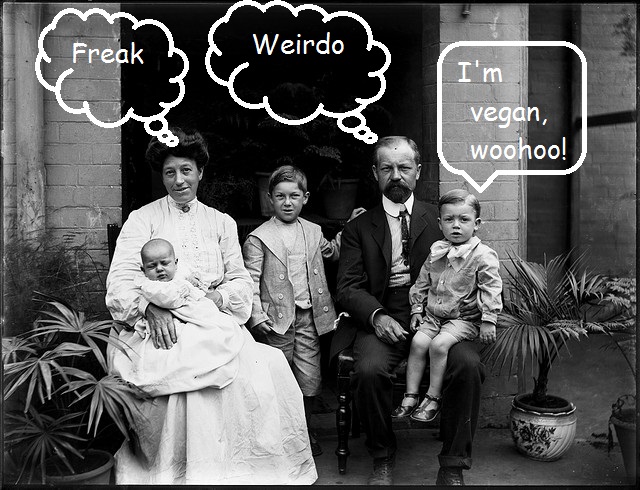 © 1900 Powerhouse Museum, Flickr | PD | via Wylio
Ha! This is a juicy subject.
There are ways to talk about being vegan with regular non-vegans: then there are parents.
How the dynamics can shift!
If you have parents that were completely on board with your decision to go vegan, and in actual fact wanted to go vegan with you JUST to support you – yay you! And can your parents adopt me please?
But DON'T be downhearted if this didn't happen to you; the above scenario is definitely the exception, not the norm.
Now you know as well as I do that if your parents are giving you crap about going or being vegan, it doesn't mean they are shitty parents – far from it.
I mean, they could be shitty parents; I don't know them; but most likely they are not.
What it means, is one or several of these things:
Your parents taught you how to eat. They fed you your first foods. For most of us, they decided exactly what your body was going to ingest for at least the first 16 years of your life (sneaky candy splurges aside 🙂 ). They completely informed your food likes and dislikes, and passed their own tastes on to you.
You going vegan is making them feel that you think they were, and are, wrong. That you've moved on from, and away from them and the life they gave you
Your parents watched with pride as you ate your first boiled egg on your own, ate your first shellfish, and your first piece of French cheese. They have many profound memories that surround you and food. They fear these memories will be negated; that they'll not now mean as much to you as they do to them.
Don't forget that the whole food association thing goes further back than you and your parents. Your parents learned about food from THEIR parents, and they have many food memories associated with THEM. And your grandparents would've taken on THEIR parents' food habits, and so on. This goes a loooong way back, baby. You going vegan, in the minds of your parents, is just changing (and ruining) everything.
Your parents knew you loved spaghetti and meatballs/cheesecake/pineapple-upside-down-cake, and liked to make it for you when you visited. They fear that they won't have the same way of connecting with you through food as they used to; that you won't ever again feel pleasure because of something they cooked especially for you.
Maybe you used to go fishing with your dad (why don't mums go fishing?) and bring the fish home and cook it. Maybe you and your mum or dad always made a special non-vegan dish together at Christmas or Thanksgiving. Food and the acquiring and preparing of it has always been a bonding familial experience for many of us.
When you initially tell your parents you're going vegan, they may well fear that that's the end of something they cherished and always looked forward to (it's most definitely NOT, but I'll talk about communication with veganism-averse parents in another post).
This next one is common:
Your parents brought you into this world and wiped your poopy butt; wiped snot from your nose and cleaned your ears and belly-button. Much as they love you and as much as you are the centre of their world, you will NEVER know better than them (about anything!) in their minds, no matter how old and clever you get.
Now, there are not many bigger authorities on a plant-based diet than Dr Neal Barnard of PCRM, but even HE tells this story about his mother being uninterested in going plant-based, even though he'd written fifteen books on the subject and had many times carefully explained to her about how it would lower her elevated cholesterol levels. It was only when, due to her experimenting with going plant-based for a few weeks, her own doctor noticed an improvement in her cholesterol level and told her she was doing the right thing, that she acknowledged that this diet was best for her health. As Dr Neal Barnard says – sometimes the source has to be unbiased. Lots of parents just won't take information from their offspring, no matter how accomplished.
From my own experience, it's happened several times that I'll give my mother a specific piece of dietary advice hundreds of times over a period of years, and I'll be blown off with a derisory 'hmmm, that's nice.'  Then one day she'll tell me excitedly about how a man she just got talking to down the road told her the EXACT SAME PIECE OF INFORMATION, and how it must be true and she will try implementing it in her own life.
Bless her.
Or something.
Yes, it's always a facepalm inducing moment.
Your parents are not health and nutrition experts (oftentimes even if they are doctors or dieticians!), and are not informed on how a plant-based diet is actually and factually the optimal diet for health and wellness. They are the people that care for you the most in the world, and they just fear that you might be risking your health.
They are probably also influenced by all the negative connotations associated with the word 'vegan,' and fear that you will become isolated socially and become a massive pain in the ass to people and lose friends.
In another post I'll talk about how to communicate with your parents about veganism, based on the above stumbling blocks.
Fret not; it's not difficult when you understand the reasons WHY they are freaking. These reasons are mostly just unfounded fears, and there is nothing that a little bit of meaningful communication, sharing of information and creative thinking can't overcome.