222 vegan restaurant on North End Road in West Kensington is nothing if not a London vegan institution.
I've been there lots of times over the years for lunch and dinner, and it rarely disappoints.
It was my partner's birthday last week, and we were both so busy, we couldn't be bothered thinking of somewhere new to go to celebrate, so we figured we might as well go back to 222 – it's not too far from us, and we knew it'd be good.
Like a ninny I forgot to take a photo of the exterior (so in a hurry was I to get to the food!), but you can get an idea of the feel of the restaurant from their instagram page – as well as perving over some top food porn!
Also, apologies in advance for the poor pics. The lighting wasn't great, and the seating with better light that would have favoured the food pics wouldn't have favoured ME, so I had to make a choice. You understand.
The space is small, but not cramped, and if you bag one of the window seats you've got the sweetest spot, in my opinion.
The decor has recently been revamped, and though it is still a simple and warm rustic style overall, they've installed mirrors down one of the walls, which personally I'm not a fan of. It's obviously the old trick to make the space look bigger, but I find mirrors in your face while you're at dinner distracting and off-putting – and we're not stupid – we can SEE the room is small, but it doesn't matter at all as long as you don't feel cramped or squashed up in it, and the tables are set in such a way here as to avoid this, so the mirrors really aren't needed.
The owner, Ben, has nearly always been on site when I've been there, supervising and checking everything is running smoothly. He is such a humble presence however, that I didn't realise he was the owner till someone told me.
They've had the same menu for a while now, and it works. There's enough variety of tastes and textures to please everyone, and we've been there so much we know what is good and what ain't so great (there's only a couple of dishes in this latter category, most everything else is highly recommended). Usually I can never quite choose between at least three of the main dishes, so it's still exciting.
The absolute, hands down, best starter here is Hearts Desire  'specially selected artichoke heart sauteed with fresh aromatic herbs served on a bed of rocket leaves with a roasted pepper sauce.'
The artichoke positively melts in your mouth and the sauce compliments it so perfectly it's hard to keep from making the 'oooohhmmmmmm' noise with every bite.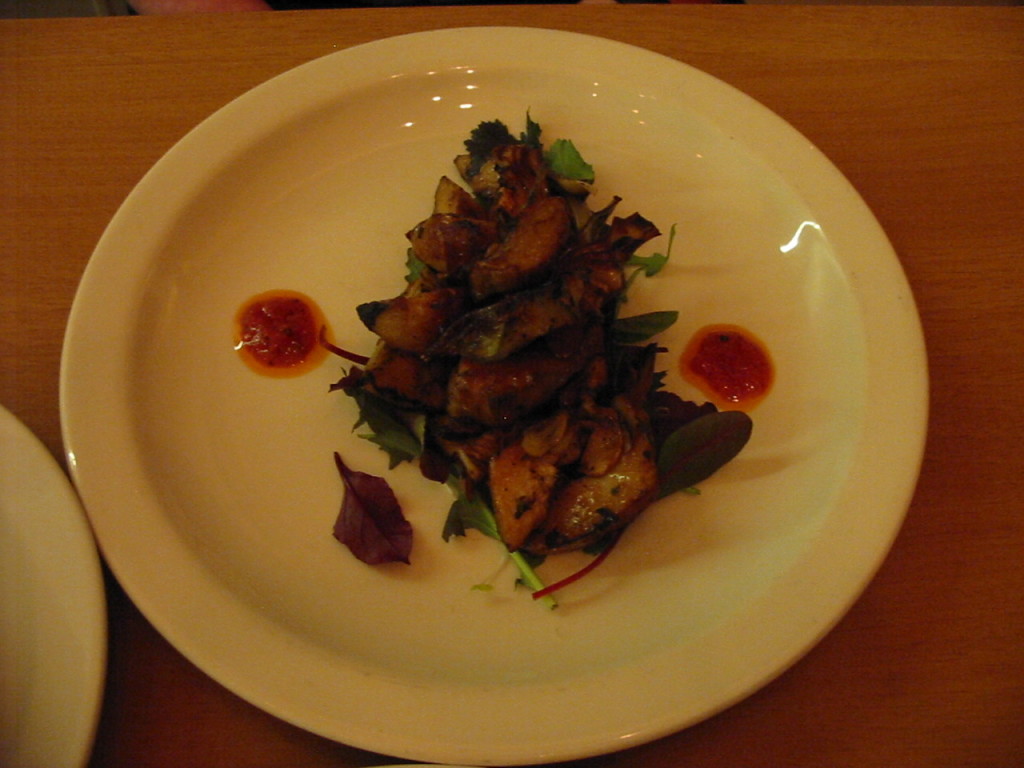 We shared this and some wholemeal pitas with homemade hummous, guacamole and pimento dip.
The only choice of starter that, in my opinion, isn't up to scratch here is the bean and tofu pancake. It's not bad, per se, just not as tasty as the other options.
I was actually craving Indian food (I'm a true south Londoner!), and knew the chick pea curry here was fantastic and authentic tasting, so I opted for that.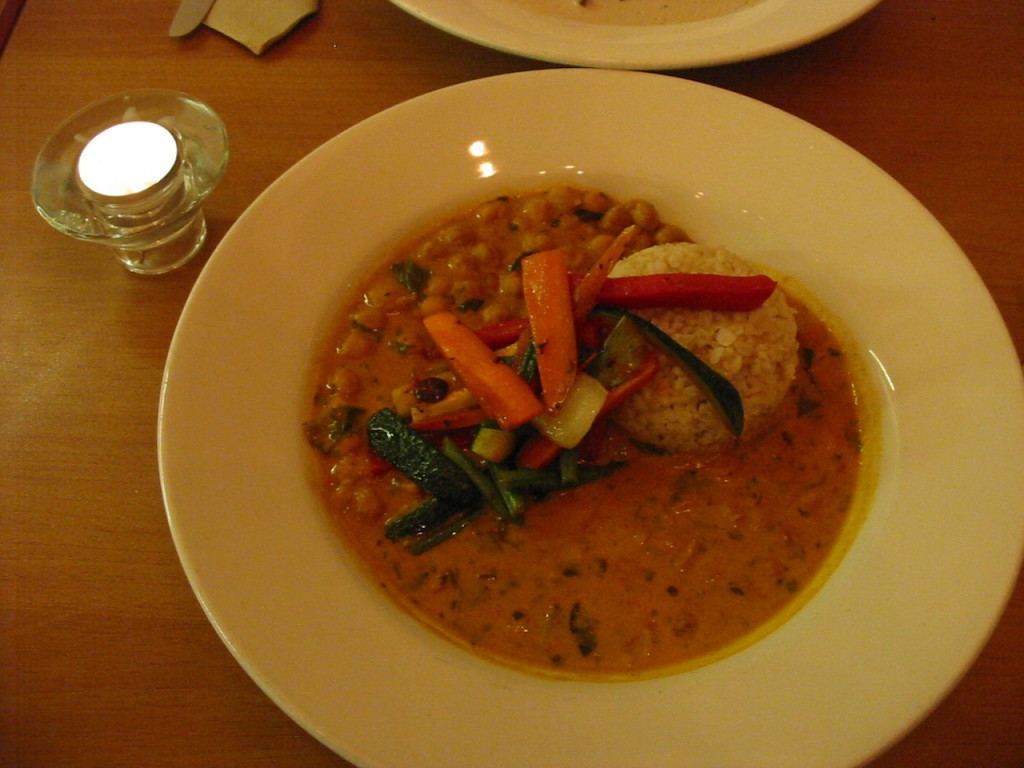 My partner went for the Seitan Stroganoff: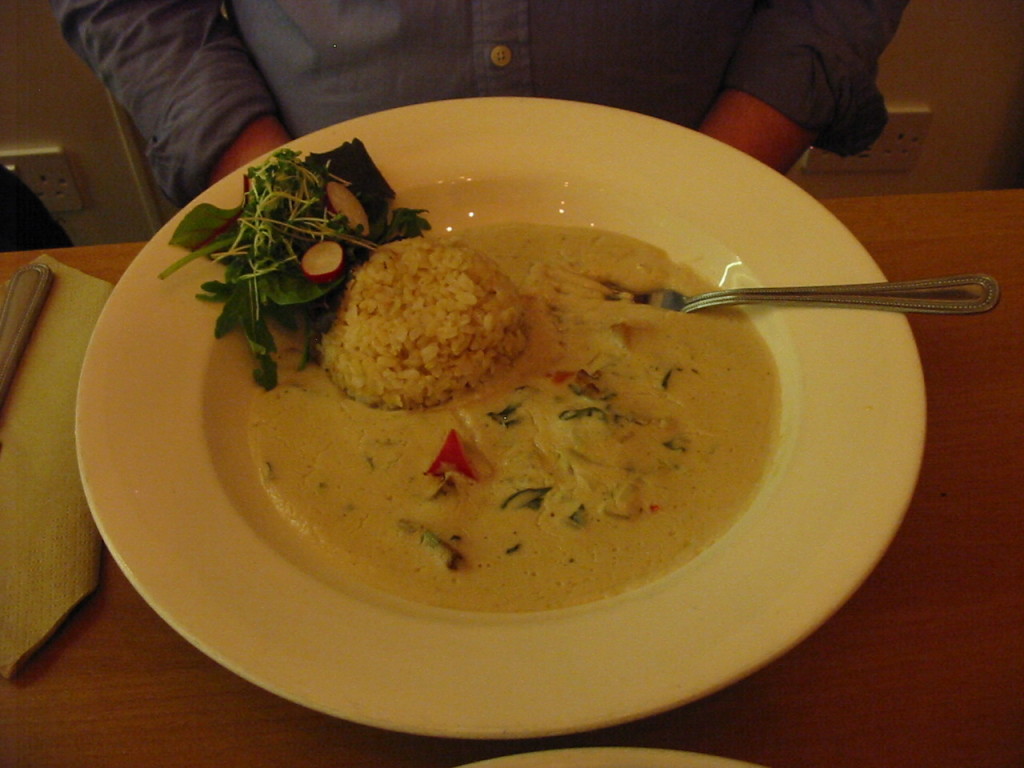 This is apparently a customer favourite. I have to say it was a (cashew) creamy delight, and the seitan strips would have fooled any meat-eater. With caramelised onions, red peppers and herbs, it had a sweet and delicate flavour.
Both mains came with organic brown rice (so refreshing; it's REALLY hard to find brown rice in London restaurants), and all veg and herbs are always as fresh as can be.
The portion sizes, while generous, are not so much that you feel stuffed, and guilty when you have to leave some.
We also had a side of yummy garlic wholemeal (yay!) bread.
We ALWAYS have the same dessert, the Spice Island Pie. Behold:
The menu describes it thus:  'A delicious raw dessert of cashew and almond cream flavoured with cinnamon, ginger and nutmeg on a crunchy nut and coconut base. Sweetened with agave nectar'
It is divine. If I didn't know what it was called, I'd think it was chai cheesecake.
They serve a small, but solid selection of vegan wines and beers, and for any cola or soda loving kids (or big kids!) you'll find a cola and lemonade, both made with natural ingredients and sweetened with fruit juice.
—————————————————————————————————-
I'll be going back again and again for as long as this restaurant is around and performs to this same high standard.
It is very reasonably priced – if you're on a budget the all-you-can-eat lunch buffet HAS to be one of the best deals in town. I forget how much it is (and it doesn't say on the website), but I remember it to have been extremely good value for the amount of delicious food I ate.
Personally, I love the fact that the food is health-focussed, with whole foods and sugar alternatives being used where possible.
Service is friendly, and wait-staff are knowledgeable. Though there has been a problem in the past with servers not speaking English to a high enough standard to understand customers, this time that was not the case.
Don't fear bringing non-vegans here, the meat-eaters I've brought here in the past have all left happy, and review sites speak to the amount of omnivores surprised at how much they'd enjoyed a vegan restaurant.
If you are a vegan visitor to our city, and staying centrally, is it worth you travelling for twenty minutes to West Kensington to eat here? Absolutely! GET on that tube!