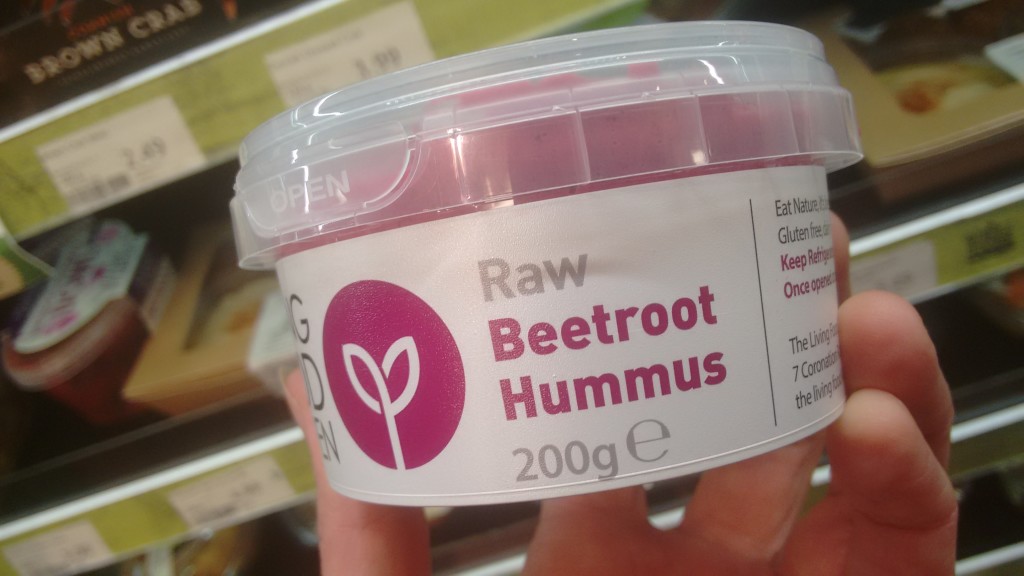 During my weekly Whole Foods shop last week, in the interest of trying something new, and for something I knew I could snack on immediately when I got home; I picked up a tub of Living Food Kitchen's raw beetroot hummus.
I love beetroot; and I love hummus (is there anyone who doesn't, seriously?); and though I've tried several different flavours of hummus, beetroot flavour had never crossed my path.
I don't normally buy 'raw' anything (unless it's fruit and veg obvs). I live in the UK and my body needs hot foods lots of the time, but I thought that this could only taste good. And it was so pretty; so, so pinky purple and pretty. So in the bag it went.
This is what it contained:
Ingredients
Beetroot (41%), cashews, sprouted chickpeas (18.5%), sunflower oil, lemon juice, tahini (sesame seeds), herb salt (Himalayan crystal salt, thyme, oregano, rosemary, chives, basil, tarragon), garlic powder, cumin, coriander powder, extra virgin olive oil.
As you can see, the ingredients are as pure as the driven snow, just the way I like 'em. And if it tastes good too – win-win!
Later on, I toasted some Cranks wholewheat bread, and covered it in this purple delight.
It was soooooooooo good. No, that's not an imaginative description, but that was my first reaction. The beetroot taste is very subtle; sweet but not overwhelming. and there is just a hint of each herb in the ingredient list. It's this subtleness that makes you just have to have more.
The texture (which is possibly what worried me about it being raw) was perfect.
I don't like hummus when it's super smooth and creamy, I like a bit of 'texture', and this had just the right amount.
I can't begin to describe how moreish this is. You better share it with one or two others or you'll find yourself all of a sudden at the bottom of the pot; purple all round your mouth, whistling fake innocently when someone walks in and asks who ate all the hummus.