So what do you do for the twenty-first anniversary of the day you and your partner got together?
Go for a hearty plant-based meal, that's what.
Er… WITH your partner, in case that wasn't clear!
We nearly didn't go anywhere, what with it being a miserable, drizzly and cold London night, but the promise of good food (as always) motivated us to shake a leg, so off we went to try Amico Bio, a family-owned Italian vegetarian/vegan restaurant in London.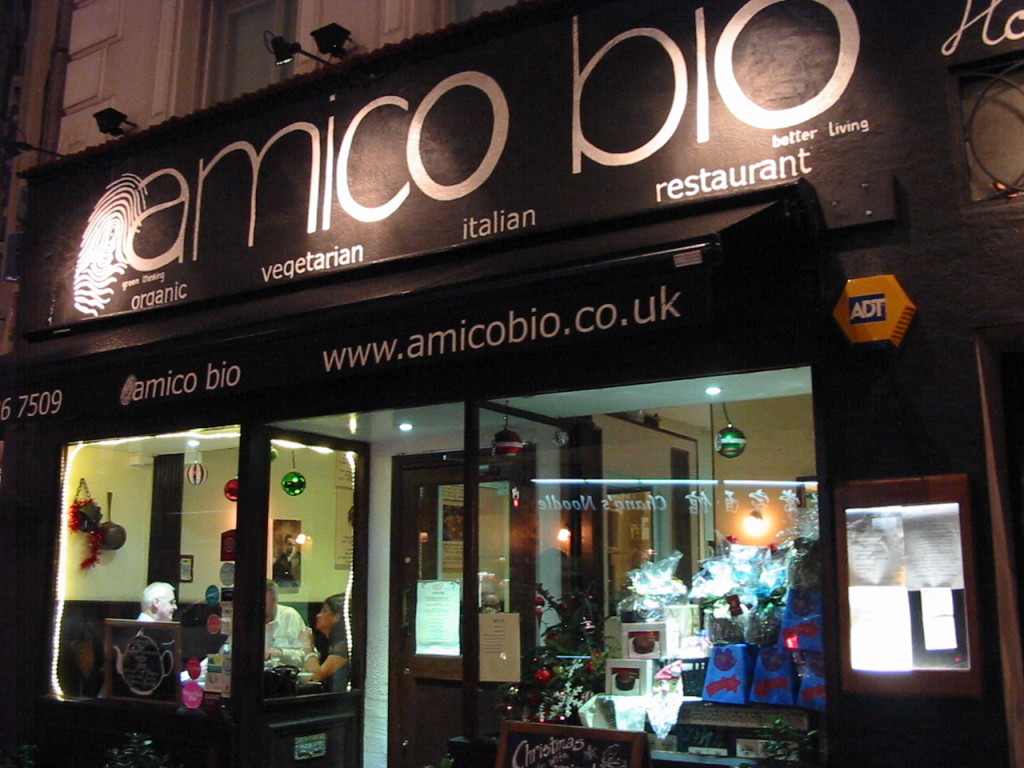 A veggie Italian restaurant is a very rare thing. In fact I don't know any other. Italian food, like French, often includes meat, cheese and cream, so is harder than other world cuisines to replicate in a veggie version – so we were really curious to see what it'd be like.
There are two branches of Amico Bio. I believe the 'original' is in Smithfields, and the 'spinoff' is the Bloomsbury side of Holborn. We went to the Holborn branch – just because it was closer.
I'm not a huge fan of Italian food. My favourite foods tend to come from Africa, Asia, the Middle East and South America and contain a multitude of spices, so Italian food to me by contrast is a little, well, dull.
I KNOW, I KNOW, Italian food can be incredible, and I particularly like the emphasis on fresh, luscious veg and fruit that you find in Mediterranean cuisine, it just wouldn't be my first choice, is all. I think also, the prevalence of white wheat pasta and white bread puts me off a little.
My partner loves Italian food, but hasn't had much of it of late (or since I encouraged him to try food from a little further afield!), so it was nice for him to be reacquainted with it.
The restaurant is in a very pleasant space, very cosy and 'Italian rustic,' but still elegant, with a huge print sketch of Leonardo Da Vinci (who was vegan, as we know from here) on a back wall. It's authentically appointed with huge dark wood (what I took to be very old-timey Italian) dressers and a vast mirror, which contrast with the more modern prints on the walls and arty paper table mats that tell you about the restaurants philosophy: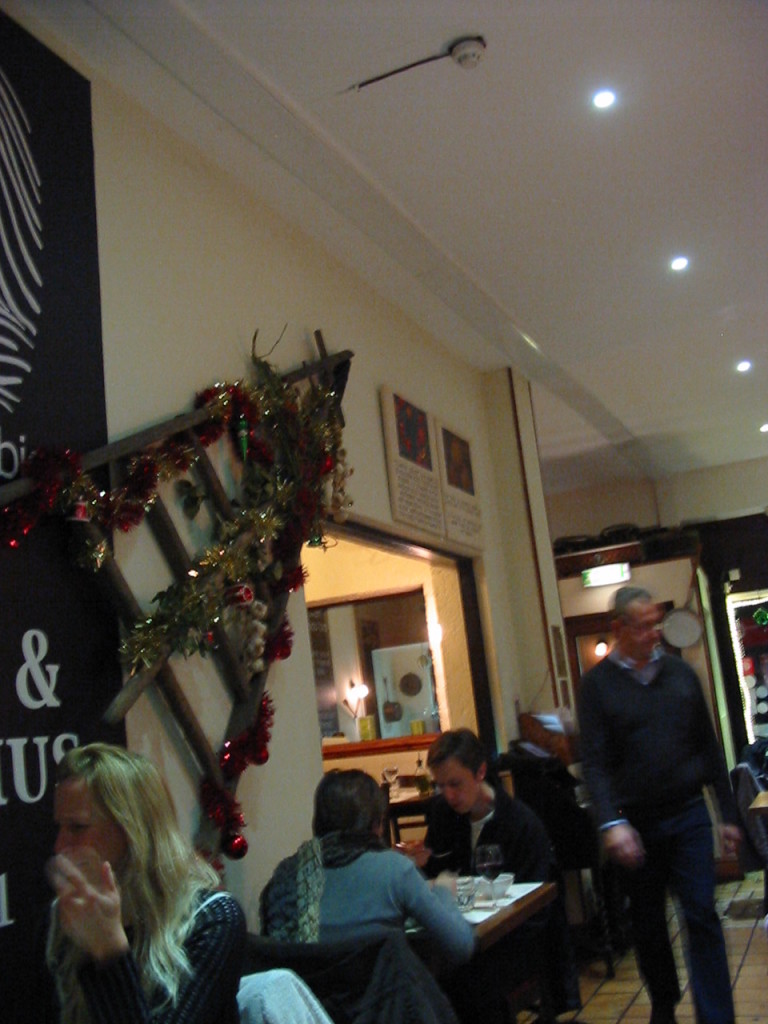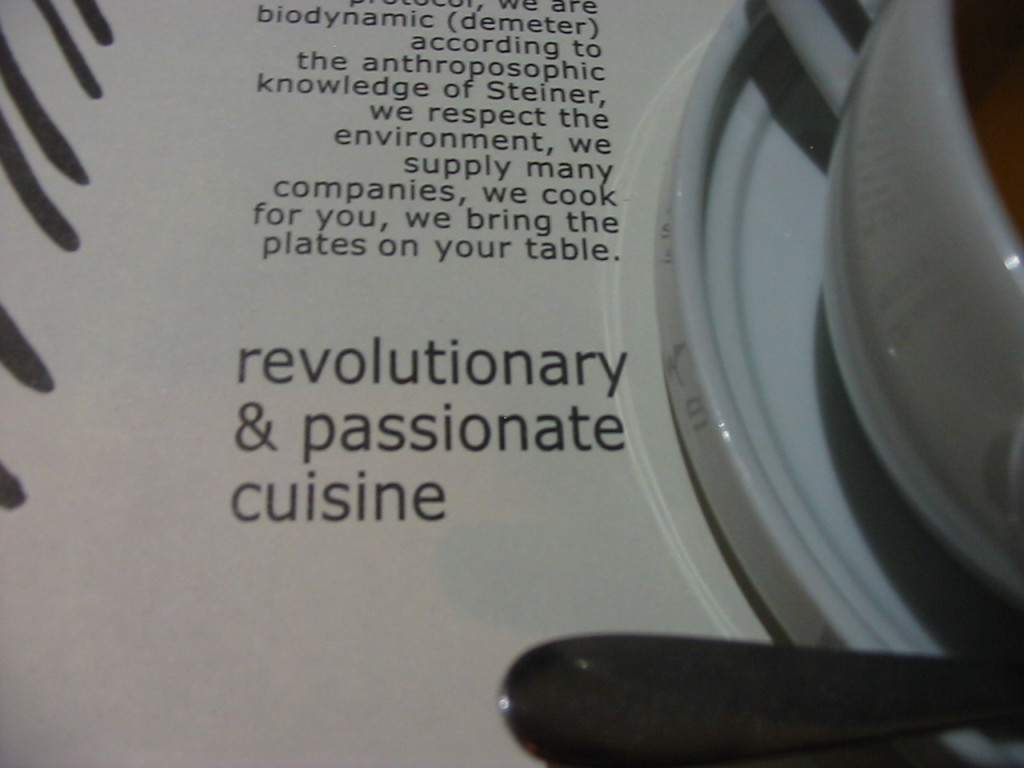 Sorry for the crappy interior photo – you really need to see the back of the restaurant to get the whole effect, but I was worried I was starting to look weird to the other diners.
Apparently all the veg for the restaurant is grown on the family farm in Italy, so it promised to be full-flavoured and divine.
The online menu of Amico Bio offered a whole grain option – a risotto made with brown rice, and I was disappointed it wasn't on the menu the night we went. It DOES say online that menus change according to the produce available, but you'd think brown rice would be available all year? They also have a store in the restaurant that sells wholemeal spelt, and buckwheat flour, so you'd think they'd want to have some whole grain pastas available on the menu, but it doesn't seem to have been considered.
I don't get this. If you're open-minded enough to drop the meat from your traditional cuisine, and you tout the health benefits of your food, why not also make dishes with whole grains, to really optimise the health and wellness benefits?
There seemed to be more dishes containing dairy cheese than I remembered from online too, but there were lots of vegan or 'can be made vegan' options.
We shared a bruschetta starter which was the most incredible tasting olive oil drizzled over fresh cherry tomatoes and basil. I've never had bruschetta before so I have nothing to compare it to – and it's a shame the bread was white (why use heavily processed wheat in your bread when the emphasis is on whole, fresh foods??) but the tomato, oil and basil mix was gorgeous – to the point of me craving it again today. UK supermarket tomatoes just don't compare to Italian tomatoes grown on a farm.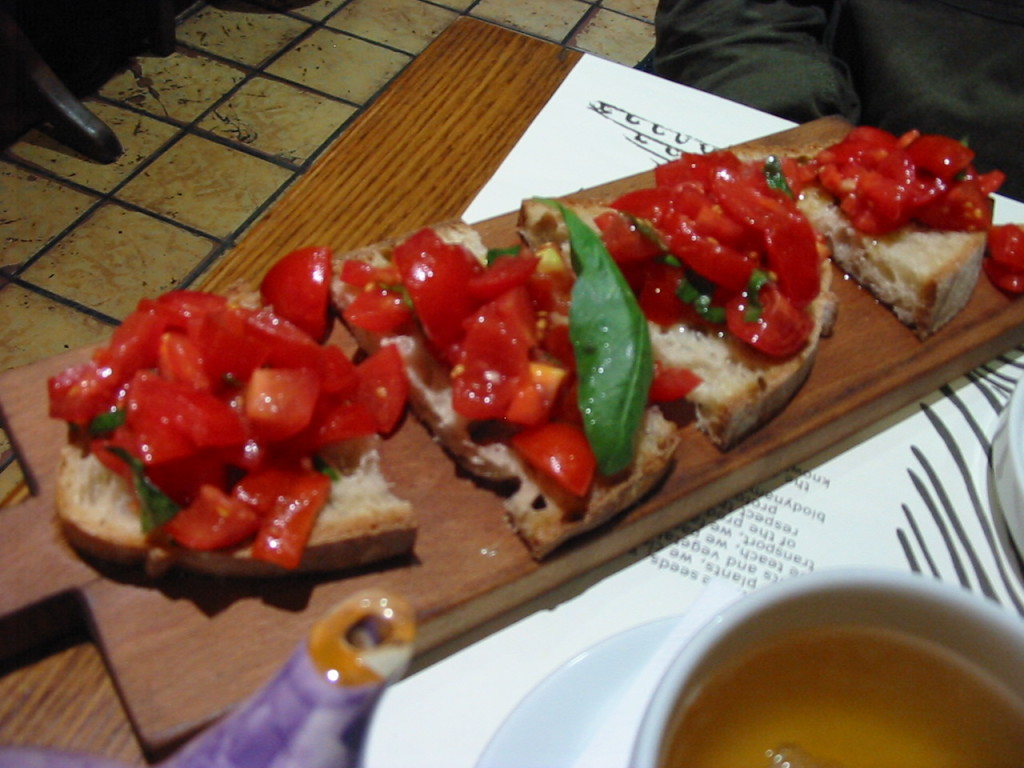 For a main course I chose 'Carciofi e culvofiori brasati con parsinache arrosto e cavolo rosso' – braised cauliflower and artichokes, roasted parsnips and braised red cabbage.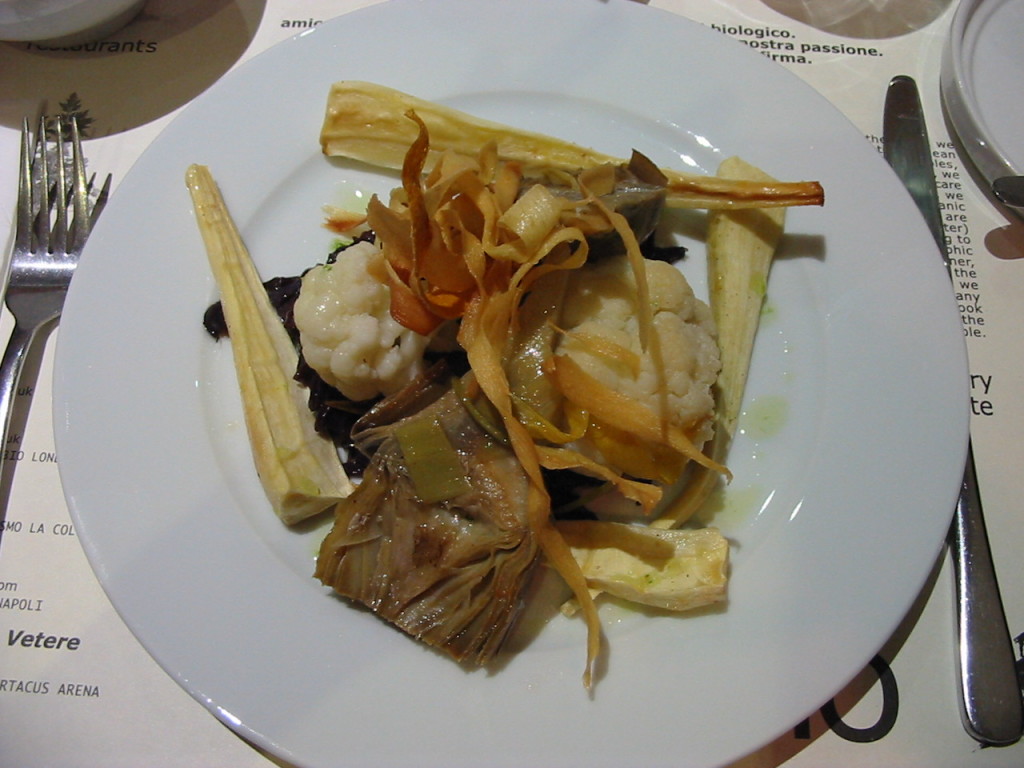 The cabbage, artichoke and whatever the shaved, fried veg was (that you can see on top – but was not mentioned in the dish description) were delicious. The cauliflower just really tasted boiled, and the roast parsnip wasn't as roasted as I'd have liked. All in all, not bad, but a dish really needs a grain or legume to plump it out and satiate. It really wasn't that filling. I like to feel that I've eaten, when I've eaten.
Luckily, my partner had ordered 'Frittelle di farro e insalatina, con fagioli all'occhio nero e cime de rapa,' or spelt and salad fritters, black-eyed peas and turnip tops, and we ordered a side of roast potatoes with garlic and rosemary.
Now to me, black-eyed peas and turnip greens are Southern US soul food (another cuisine I adore). I didn't know they were particularly Italian. This isn't a complaint, I'm always up for black-eyed peas, it was just strange seeing them in this context. The fritters were fantastic; light, not too greasy, and the spelt made the batter taste richer. My lovely partner let me have most of his peas and turnip greens. This, exactly this, is why we've lasted twenty-one years.
We shared the roasties which were bursting with earthy flavour and subtly complimented by the rosemary.
And then, AND THEN, came time for dessert.
I knew the restaurant had a selection of homemade gelato, and I'd seen online that they had pistachio flavour (MY FAVOURITE!!! Or one of them, I seem to have a lot of favourites!) I was almost too scared to ask if they had it this night, what with the menu being as fluid as it was.
But they had it! They also had several other delicious sounding flavours – the only one I can remember is elderflower, but they all sounded so delicious I nearly got thrown from my focus. I stuck to pistachio though, and was not sorry.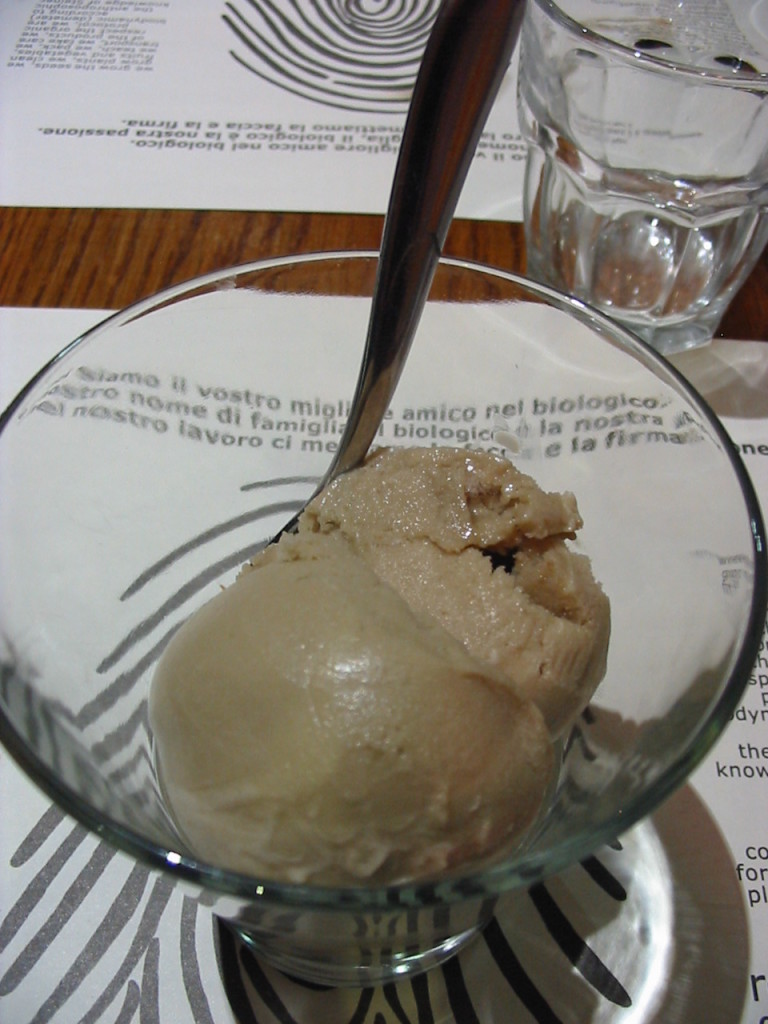 The pistachio came through loud and clear, and the sweetness was at the perfect level: sweet enough so you know you're eating dessert, but not the slightest bit sickly or cloying. I could have eaten a LOT of this!
My partner had a quintessential Italian liqueur, Amaro Alle Herbe, which just means herbal liqueur. It contained herbs like mint, sage, gentian, rosemary, centaury; and spices like cloves and cinnamon.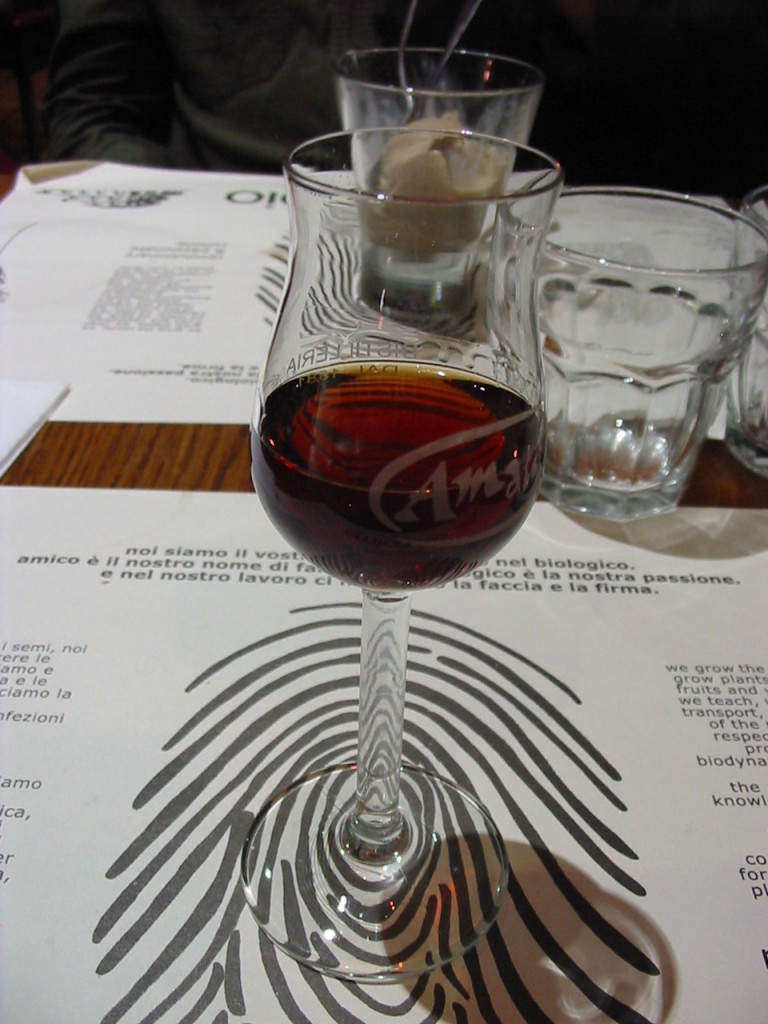 I didn't try this. I don't drink alcohol. It smelled a little like a dental rinse, though I kind of got why it might be nice. If you like that sort of thing. My partner loved it, and said it was very warming.
Conclusion
I'm kind of blinded by the delicious pistachio gelato and my old favourite black-eyed peas, which make me want to say I'd definitely go there again – and I would, that's not wrong.
And the prices are reasonable; and service, while in no way exceptional, was acceptable. And it also should be said that the restaurant is in a nice area and has a great look and atmosphere.
BUT, in my opinion, a bit more thought needs to be taken with menu items. While the veg are certainly flavourful and fresh, and the gluten-free crowd have plenty of options (too many really, when you consider that very few people actually need gluten-free food); there is not enough emphasis on WHOLE foods where the grains and pastas are concerned. This means that those wishing to avoid refined and processed grains do not have much choice. As I said, whole grains ARE offered on the online menu. I have no idea why they are not offered in the restaurant.
You should absolutely try this restaurant. Whether you live in London or visit here from elsewhere, it's a great lunch/dinner venue, and just down the road from the British museum.