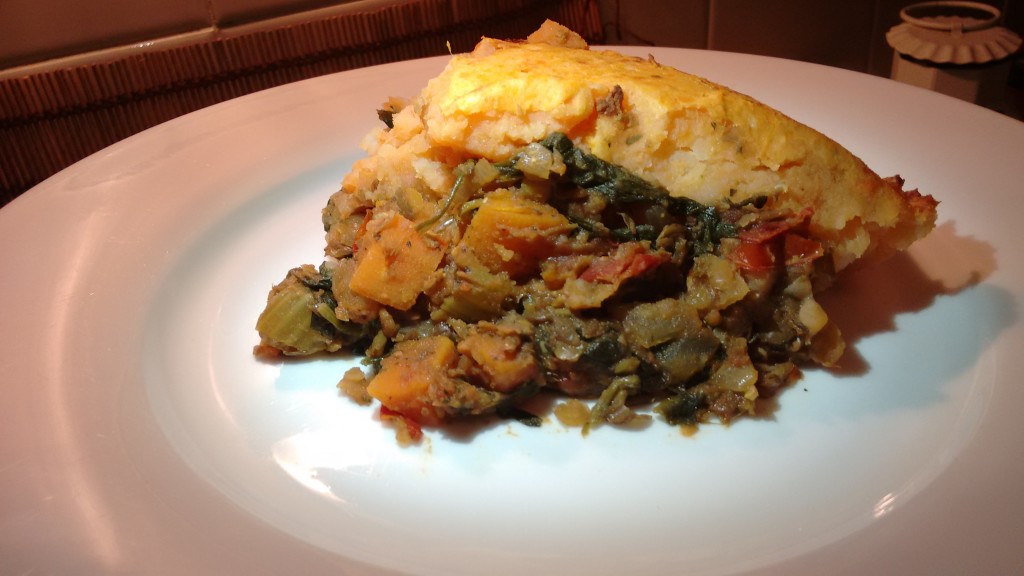 Even though it's eerily warm here right now (what happened? Novembers used to be cold! Oh yes…global warming); we know the cold nights are soon to be a' brewin.'
Or at least I hope they are.
Then I get to make this superb (and simple) shepherd's pie recipe.
It's quite simply the best shepherd's pie recipe I've found and I've served it to plenty of non-vegans who have been so blown away they've gushed embarrassingly over it.
It has all the flavour, and all the comfort and stodge you want from a shepherd's pie, but none of the minced up…um….what animal is mince even from? I just realised I never actually knew this when I used to eat it!! (OK, just googled it, its ground cow).
I found this recipe years ago. It's originally from a tiny, pocket-size book called Vegan A Go-Go by Sarah Kramer – though I've adapted it somewhat and make it a little differently every time.
You'll maybe want to play around and make it your own too.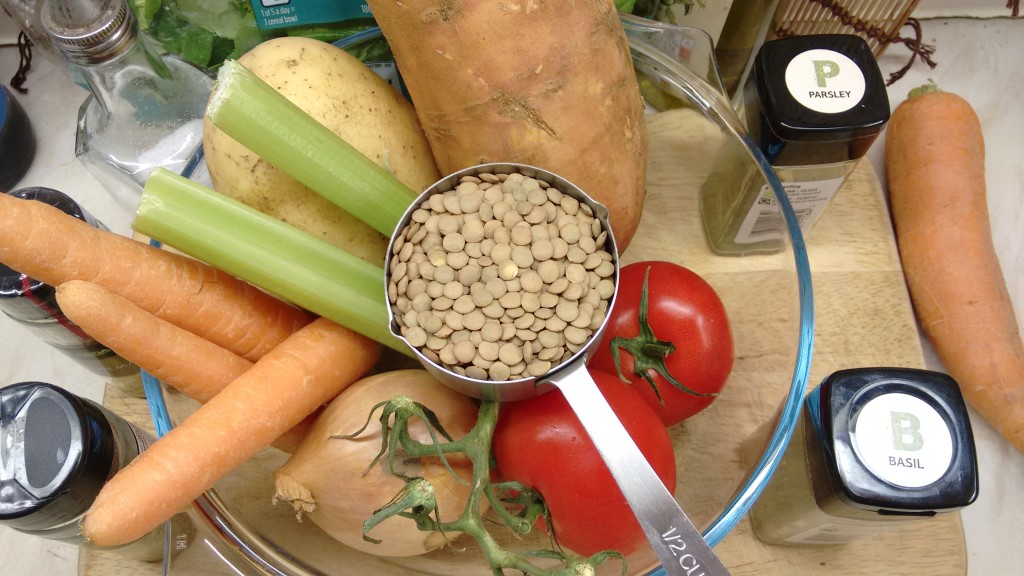 You'll need:
1 medium onion, chopped
3 small carrots, roughly cubed
1/2 cup fresh spinach (or pre-steamed kale or pre-steamed spring greens/collards)
1 large celery stalk, chopped
1 large beef tomato, chopped (or just 2 big tomatoes if you can't find a beef tomato)
splash of olive oil for sauteeing
1/2 cup canned green lentils, drained, rinsed and mashed (

you can also use dried green lentils – throw 1/2 cup dried lentils in a saucepan of boiling water and boil for 20 mins or until soft. Drain. You might need to measure out 1/2 cup again of the drained lentils – as they will have expanded

)
1/2 tspn dried basil
A pinch of rosemary; a pinch of sage; a pinch of thyme and a pinch of parsley – or whichever of these you have
2 tspns garlic powder or 2 crushed garlic cloves (or less, or more, to taste)
1tbsp Braggs or soy sauce
Topping:
3 medium potatoes, roughly chopped  – or you can do half white potatoes, half sweet potatoes
1/4 cup soy milk
1 tbsp (This is what the recipe says – I use a little less) vegan margarine
Salt (to taste)
What you do:
Preheat oven to 350 degrees F (175 degrees C)
In a medium pot of water, boil the potatoes. If you are mixing white and sweet potatoes – give the chopped white potato a 5 minute head start before throwing in the chopped sweet potato.
In a medium saucepan, saute the onions, carrots, celery, tomato, and spinach if you are using it (if you are using kale, add this once you've steamed it).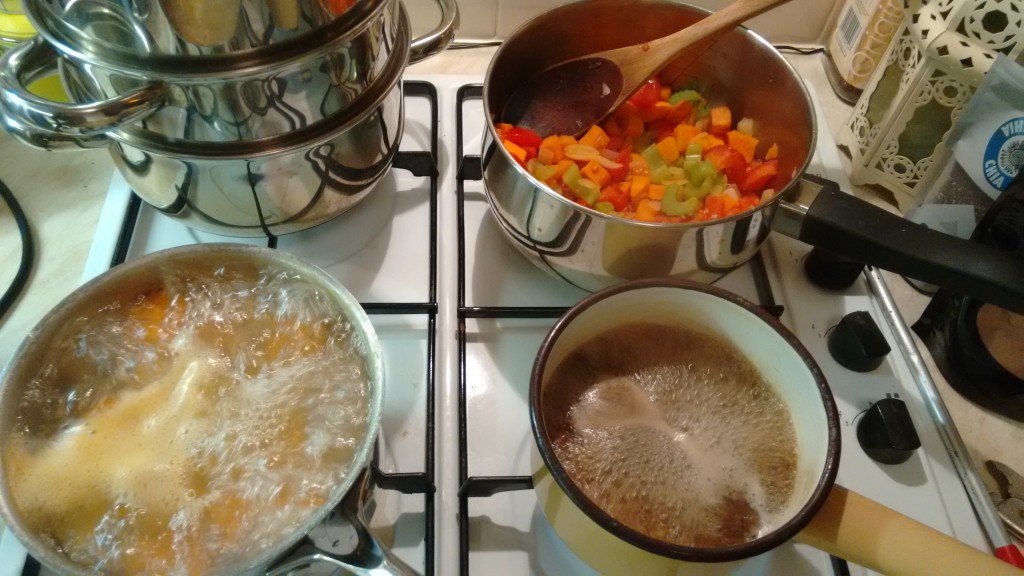 When the carrots are tender, add the mashed lentils, herbs, garlic and soy sauce.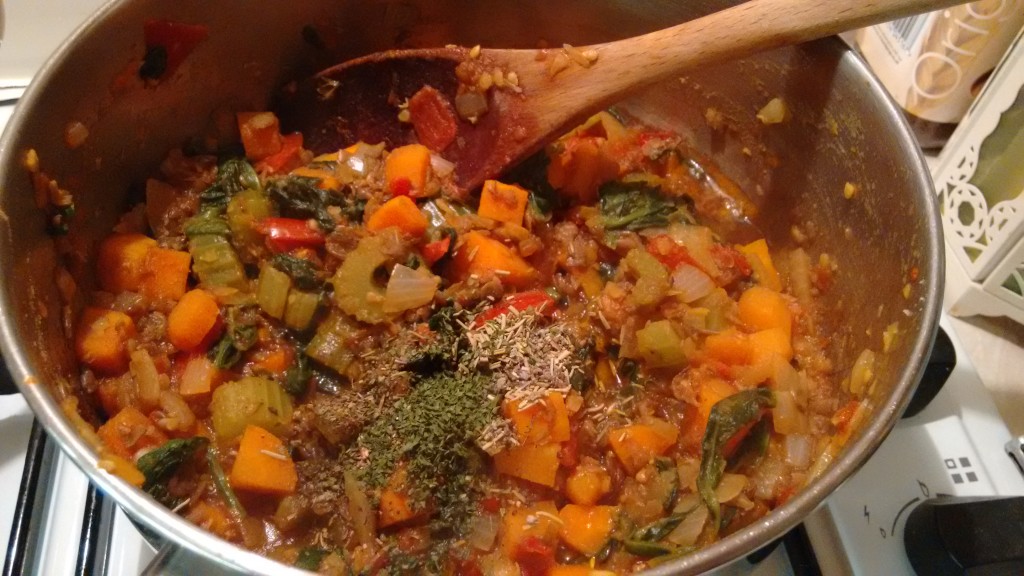 Stir and simmer uncovered until the liquid cooks off.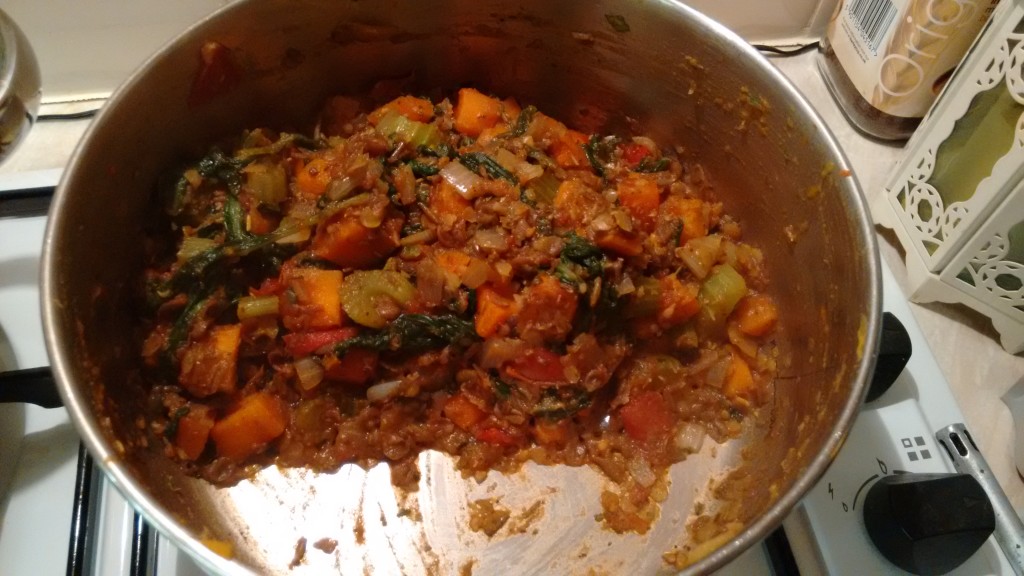 While the vegetables are cooking, mash the potatoes with the milk, vegan margarine and salt. Then set this aside.
Pour the vegetable mixture into a greased casserole dish (use the vegan margarine) and push down with the back of a spoon.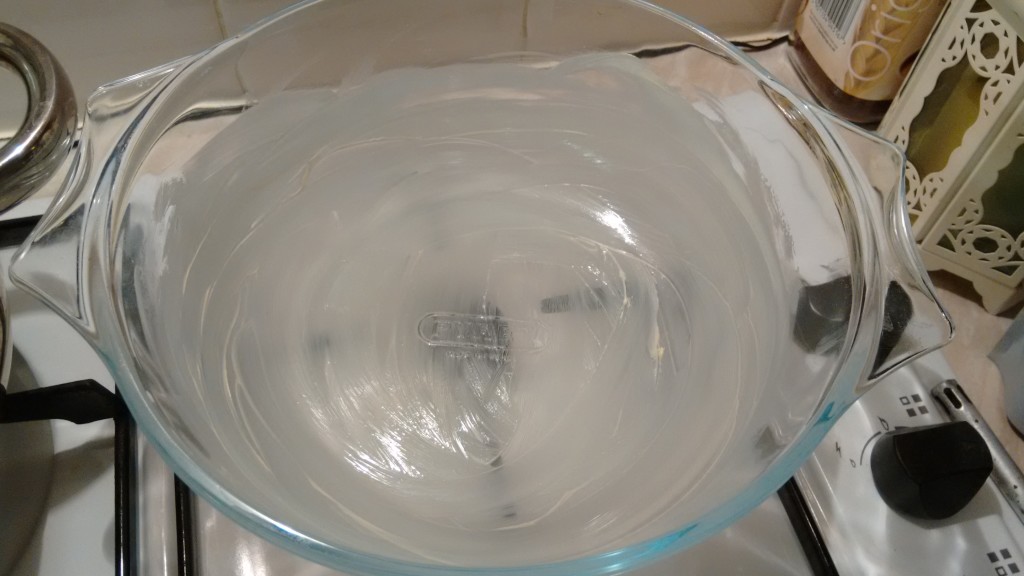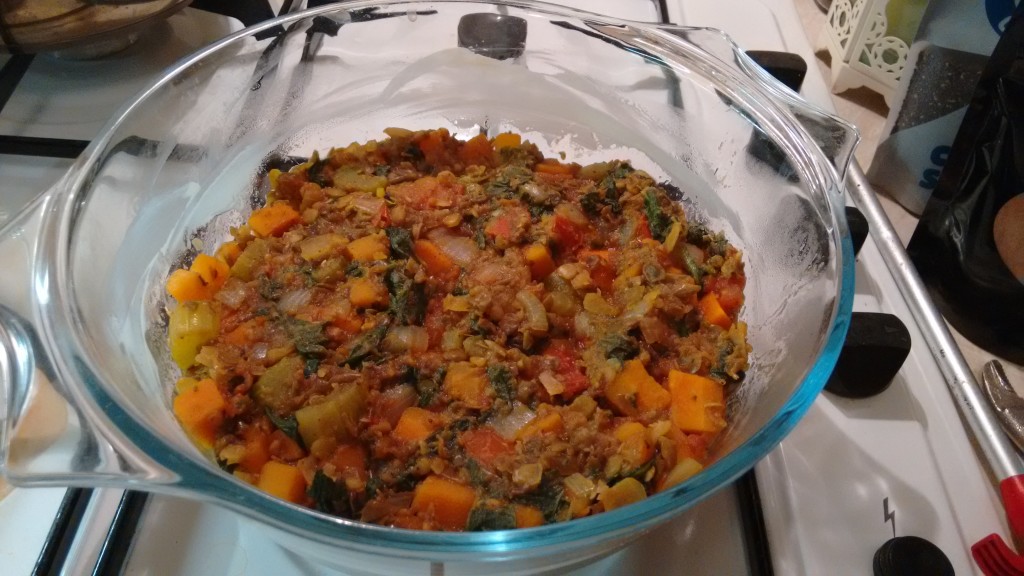 Then layer the mashed potatoes over the top.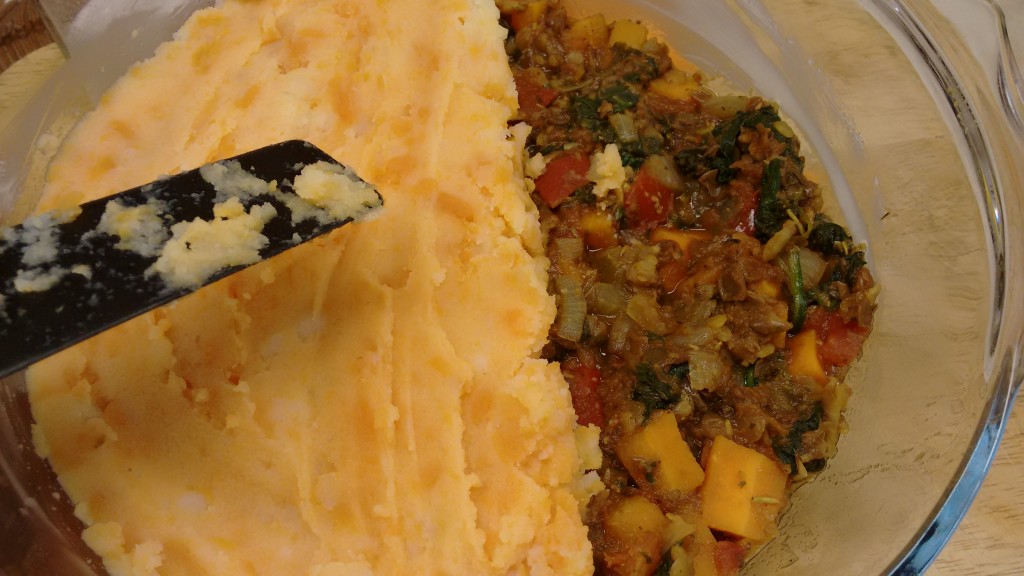 Bake for 15-20 mins
Grill (broil for US peeps!) for 5 mins at the end so it browns a little on top, like so!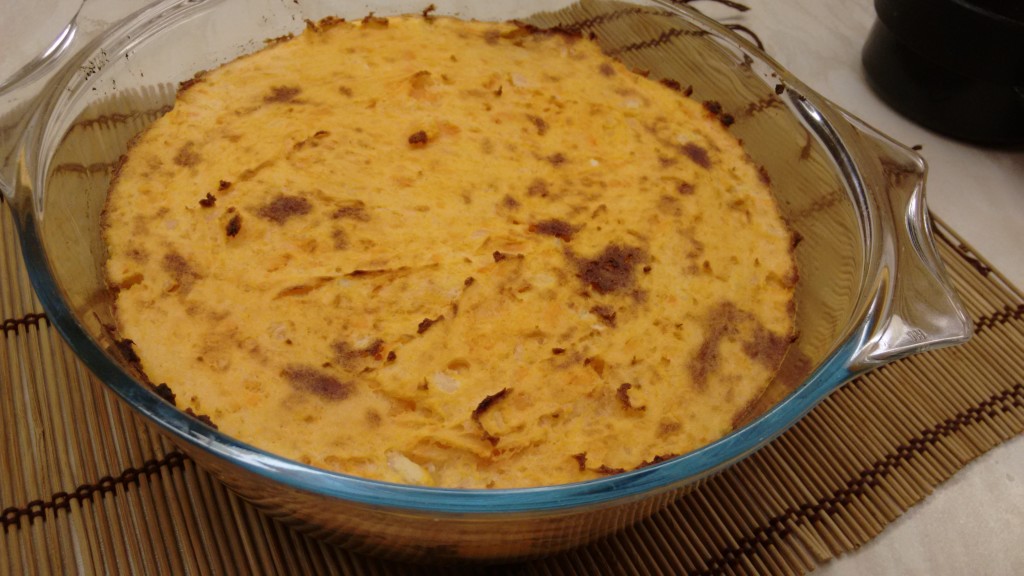 This recipe makes 4 average-sized portions, though to be honest my partner and I often have a couple of servings each and finish off the whole thing!