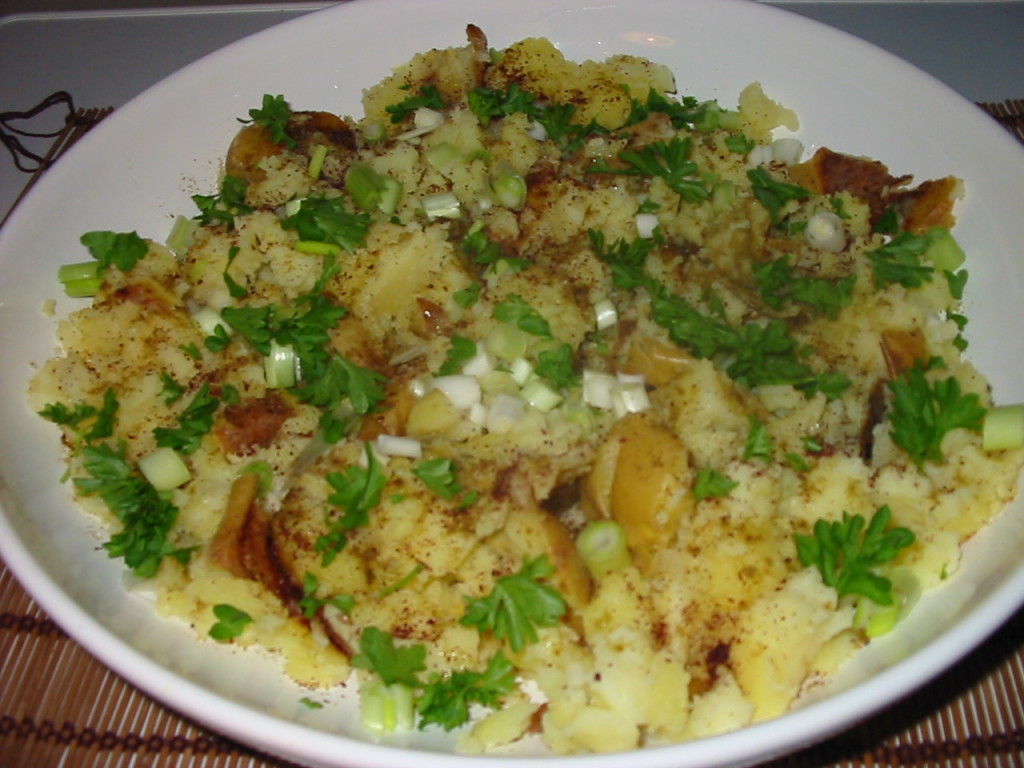 This recipe is originally from a Nigella Lawson cookbook, 'Forever Summer' I think, and it's remarkably healthy, considering her penchant for adding huge dollops of butter and cream to, er, every damn thing.
She calls it 'Baked Potato Salad,' but it doesn't really feel like a salad to me. Maybe because I never have the patience to let it fully cool before devouring it. You can eat it cold, or if impatient like me, warm.
How easy is it to throw jacket potatoes in the oven? And the rest takes about 10 minutes tops.
It's great for kids because it's tasty, but not too refined or acquired a taste for them to pull a face.
It's also a great casual supper to share with friends, lots of whom might not have heard of sumac before (I certainly hadn't till I discovered this recipe!) so you have a great ice breaker/talking point right there to start the evening off.
In case you haven't come across it before, sumac (pronounced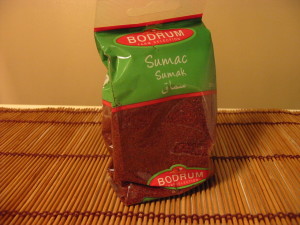 soo-mack) is a red berry that is ground into a powder, and used in Middle Eastern cooking. It tastes lemony, but it's not as tart as lemon; it's slightly sweeter and has a fuller, rounder flavour. You know what? You just gotta taste it. It goes darn well with baked potatoes, that's for sure.
What you need:
2 baked potatoes
4 tablespoons of extra virgin olive oil
juice of half a lemon
1 teaspoon of sumac (or enough to lightly sprinkle the surface of your dish)
1 teaspoon of cumin (or enough to lightly sprinkle the surface of your dish)
2 spring onions, sliced
sea salt
chopped fresh parsley (optional)
Add an extra potato per person, but don't worry if this isn't exact – you'll probably want to serve it with something else anyway, so there'll be plenty.
What you do:
When the baked potatoes are cool enough to work with, roughly mush and chop them up, and spread them out in your serving dish. Please don't be neat. This is a very rustic kind of a meal – no airs and graces here. Nigella actually says to scoop out the potato flesh and not to mind if a little bit of skin comes with it. However, I just chop it all up, skins and all – are you kidding me? The skins are an amazing source of iron, calcium, fibre, B vitamins and potassium – and they're yummy and add great texture!
When you've done this, drizzle your olive oil all over potatoes.
Then the same with the lemon juice.
Salt evenly all over, to taste.
Sprinkle sumac and cumin evenly all over.
Sprinkle chopped spring onions (and parsley, if using) all over.
Leave a few minutes for the flavours to sink in.
Consume with gusto.
Q. What can you eat sumac baked potatoes with?
A. Anything.
Some suggestions:
-veggie sausages
-steamed kale
-Ful Madammas (I'll have to post my recipe for this soon)
-corn on the cob
-steamed asparagus
-a Mediterranean (or really, any) salad