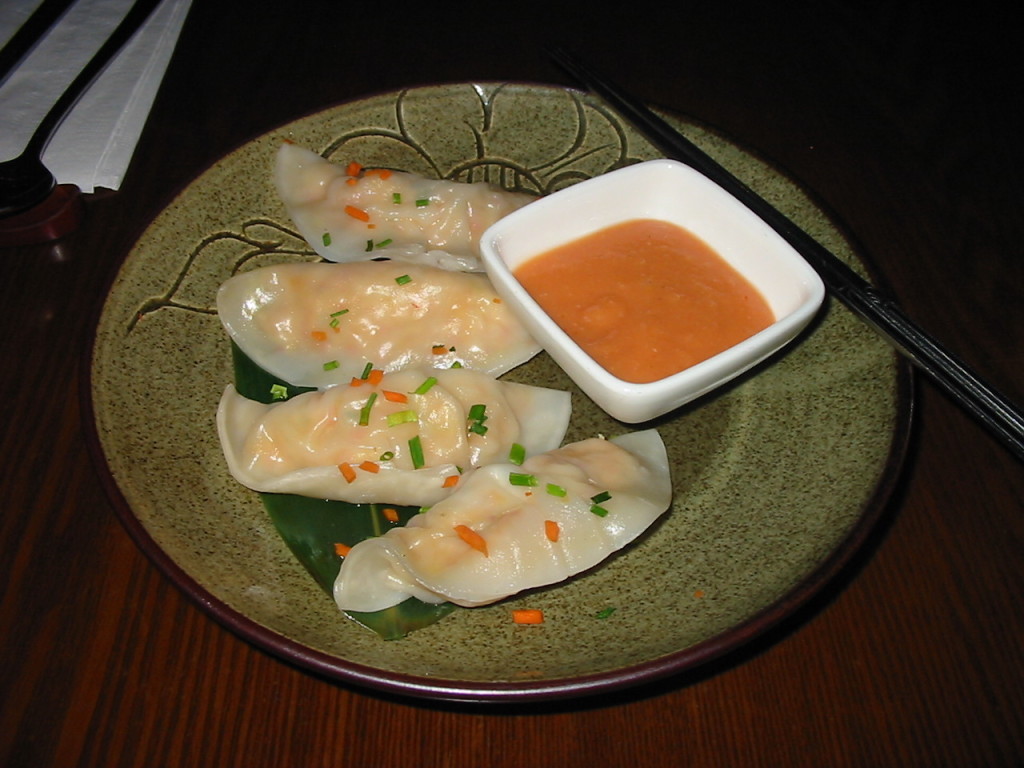 So you have a get-together with friends planned, and you are partly responsible for choosing the restaurant you'll all eat at ?
If you're a new vegan, you may think your choices are limited, or that you'll have to leave it to someone else to choose the venue, and just put up with a plate of lettuce when you get wherever you're going.
Not so.
Yet,  it was so. And really not so very long ago.
I remember a meal, around 12 years ago, in a smart(ish) restaurant in Clapham, London, where, despite the fact that the staff  thought they were cultured, cosmopolitan and sophisticated, all they could offer me was a bowl of lettuce. Um… yeah. Grim.
Thankfully, those days are gone.
Unless you live in a tiny village (though even if you do, I'm guessing there'll be a Chinese or Indian restaurant at the very least, not too far away) your biggest problem is which restaurant to choose from the many options available to you.
If you are lucky enough to live somewhere where there is a good vegan restaurant, don't be afraid to suggest this to your friends. You'd be surprised how many people (while maybe not ready to go fully vegan) are open to trying plant-based food. Even if there is one stick in the mud friend who says they would miss their meat (though does anyone actually say this?)  hopefully they will be swayed by the opinions of the majority.
If you suggest a vegan restaurant and it gets the green light from everyone, make sure it is a tried and tested, good place. You'll want everyone to get the best impression possible of your diet. And once there, don't hesitate to make recomendations – even great restaurants have some dishes that aren't as good as others, so advise where possible.
Being vegan is your opportunity to get to know many delicious cuisines from around the world, several of which don't habitually use dairy anyway, (so no awkward questioning of waiters, checking that there's no milk, butter, cream etc in a dish – phew!).
In my coaching programmes, I give an extensive guide to restaurant dining options, with vegan meal choices available in each specific cuisine.  But here are 6 solid choices that should serve you well:
1. Good old Indian.
Lots of Indian restaurants are vegetarian, so half the battle is won already. There are many different Indian cuisines, but you should be able to find some of the following dishes at most of them:
Starters: Poppadoms with chutney (avoid the yoghurt-y dips),  onion bhajis, spinach pakodas, uttapam, sev puri, veg samosas.
Mains: Vegatable malabar, bhindi bhaji/curry, chana masala, tharka dahl aloo gobi, brinjal bhaji, sambar (Don't worry if you don't know what the dishes are, there should be a description of each dish on the menu, and you can read up online and even decide what you'll have beforehand, if you really want to make it easy). At the very least, there should be a vegetable curry on offer.
2. Chinese.
This is probably the least interesting of all the cuisines I'm mentioning here, in terms of vegans being well catered for, but I appreciate that this might be the only option for some people in out of town areas.
Starters: At the bare minimum, vegetable spring rolls and fried seaweed should be served here. If you're in a Chinatown somewhere, you may get some chili fried tofu,
Mains: The go-to choice if there's nothing else is tofu and stir-fried mixed veg with steamed rice. In a city restaurant you may get a choice of specific veg dishes, like green beans or bok choy in garlic sauce for example.
3. Lebanese (Syrian, Iraqui, Israeli and Egyptian are similar in their dish offerings).
It is usually a good idea to get several hot and cold starters  – these are normally more interesting than the mains, and you can share and let everyone have a taste. Choose from houmous, baba ghanoush, moutabal, hot or cold ful madamas, makdus, falafal, stuffed vine leaves, tabboulleh, moussaka. If you do need a main, spinach or okra bamia is the way to go (maybe marked as vegetarian bamia).
4. Korean.
Starters: Soup (there is often miso soup available, or various veg in clear, soup with tofu), kimchi, pickles (there are several different sorts of kimchi and pickles to try – all delicious), salad (often involving seaweed and tasty dressings – check these are vegan, lots are).
Mains:There should be a veg option in the bibimbap (menu may call this 'pot dish') section, and in the noodle section of the menu. Try soba noodles. These are made from buckwheat – a whole grain. You should also find some variation on the following dishes: grilled aubergine in miso paste, stir-fried tofu and mixed veg in soybean paste stew, cold soba noodles in spicy chilli sauce.
Desserts: Try cinnamon punch (non-alcaholic) if they have it, and don't forget to sup on the traditional Korean barley tea throughout.
5. Ethiopian.
I am not even going to try and be clever and name the veg stews available in Ethiopian restaurants. They have several, all clearly marked. You choose one to eat with your yummy 'injera' (Ethiopian bread resembling a pancake, but made of teff, a fabulous wholegrain). You don't need to check if the stews are dairy-free, they are. Dairy is not used in Ethiopian cooking at all. Most times there will be an offer on the menu where you get a selection of the veg stews at a fixed price. Marvellous. What could be easier. Once you've tried Ethiopian food, you'll be hooked. Point your peepers at this plate of heaven!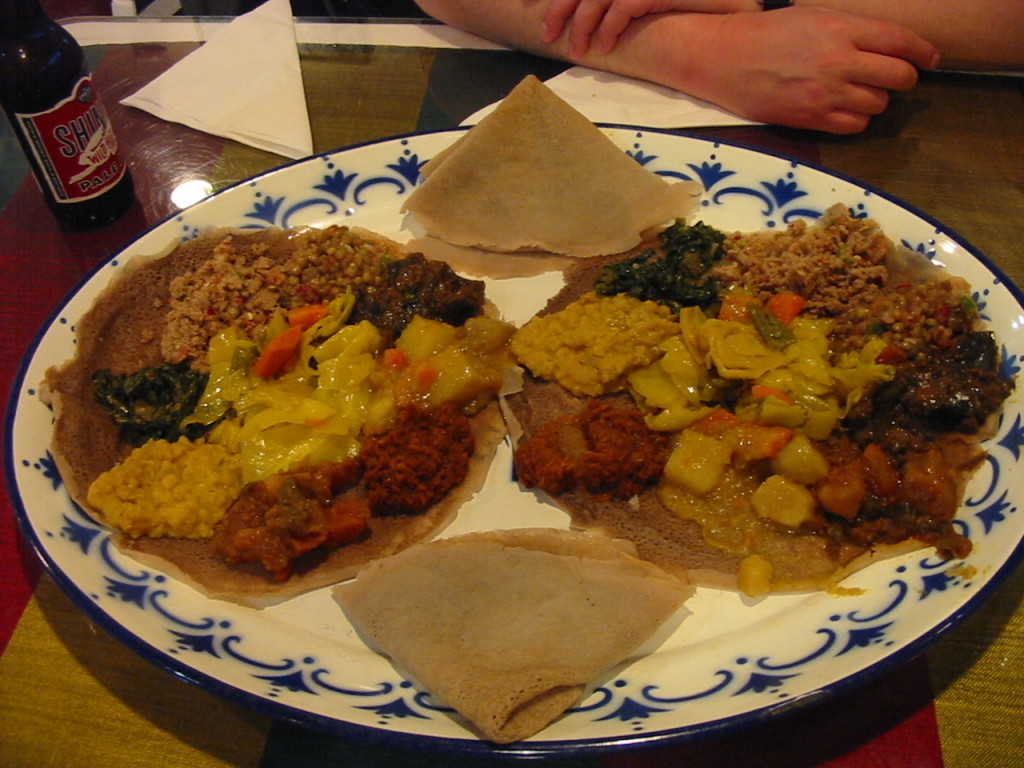 6. Vietnamese
If you think this is just a variation of Chinese food, think again.
Starters: Vietnamese spring rolls in peanut sauce (some restaurants call these summer rolls), salads.
Mains: Fried aubergine on garlic sauce, fried tofu in garlic sauce, fried mange-tout/bok choy with garlic sauce. Steamed rice or udon noodles as a base.
Desserts: Truth be told, the whole reason I included Vietnamese food here is cuz of this scrummy dessert called Che Thai. It's a long drink made of coconut milk, with bits of fruit (usually jackfruit, lychee or longan) and chewy jelly chopped up and thrown in. It's pretty sweet, which I'm guessing is due to a high sugar content – but you're not gonna have one every day, right?
Final note:
Never be shy about checking for egg or dairy if you're not sure, just smile and be lovely while you're asking. Where possible (and only if in small groups!) let everyone try your dish – show them animal products are not the be all and end all of a dish. And, oh yeah… bon appetit!
I love hearing about great restaurant vegan food experiences. Please share yours with me in the comments.